Top 3 Akai Complete Karaoke Machine Systems Reviews In 2020
If you are a karaoke fan and you are considering buying the adequate equipment, keep on reading this article on different Akai karaoke systems.
Here I will describe three very good Akai Bluetooth karaoke machine models that are currently available on the market. You can learn more about their technical specifications and other features. By the end of this article, you should be able to compare the models to one another and decide which is the most suitable for your liking.

About Akai Brand And Their Offer
Wide Offer Of High-Quality Products
Akai is a Japanese established Hi-fi equipment brand. It specializes in audio technology but also offers video products, home appliances, TVs, etc. Also, they have a wide offer of professional audio and video equipment.
Price Range
Comparing to other similar products, Akai holds a place as one of the cheapest on the market. For a fairly priced range, you are able to get a high-quality machine with good performance power.
Where To Buy Akai Products
Even though they do not have an official webshop, on Akai's official page you are able to find the closest store that sells them based on your location. For online shopping, I would recommend purchasing from Amazon because they offer the best deals and you are able to compare the products to one another.
 Warranty And Customer Support
All Akai products come with a warranty that you get with the purchase or can also be consulted online on the official website. For all other questions, they provide numerous articles on FAQs and walkthroughs and how-to guides. You are also able to contact customer service through Akai's website and email.
Best 3 Akai Karaoke Machines For Sale
Akai ks800bt Professional Karaoke System With Bluetooth
Different Music Playing Ways
This Akai Bluetooth karaoke machine features different connections and music playing options. It has a CD player option or you can simply plug in a USB device to play your created playlists. You can also record your performances and store them on your devices.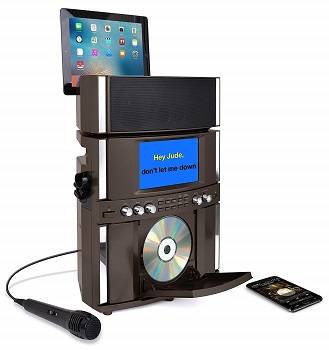 Bluetooth And TV Options
Akai ks800 karaoke machine gives the possibility to connect your Smartphone or tablet to the sound system via Bluetooth so it can also act as a speaker. You can also hook up the machine to your TV with supplied cables and have the lyrics displayed on the screen.
Other Conveniences
The product weighs about eight pounds which makes for a perfect lightweight Akai portable karaoke system. It also features a 7" screen that can display lyrics for your favorite songs. For the perfect sing-along with the purchase, you get one microphone but there are two microphone jacks.
Characteristics:
Multiple connection options
Attached display screen
Recording option
Akai Ks213 Portable Cd&G Karaoke System With Tablet Cradle
Space-saving Dimensions
This particular Akai karaoke portable system is one of the smallest on the market with a good price point and performance power. It is only 11 inches tall and about 12 inches wide and weighs only about 5 pounds which makes it extremely convenient and easy to carry.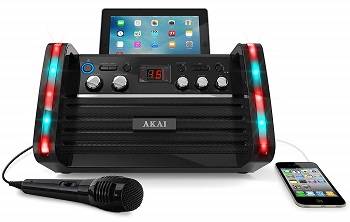 Necessary Karaoke Features
Akai Ks213 has all the necessary karaoke features like multicolor lighting effects, CD player, voice control option and others. It also comes with a wired microphone. Another good thing about this product is that it has a tablet cradle so you can easily read the lyrics and sing along.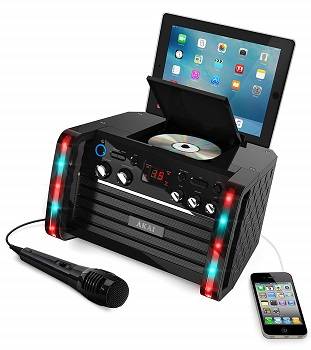 Music Playing Options
There is a top-loading CD+G player where you can put all of your old favorite CDs. If you don't have any, you can hook up your Smartphone with a simple aux cable and play your own music.
Characteristics:
Portable and easy to use
Multi-color lighting
CD player for an old school feel
Akai Professional KS5500-BT Karaoke Mini System
Internal Features
Akai Ks5500 disposes of 2x50W RMS power. It has balance and tone control and equalizers. It also has a digital radio with 30 stations. You are able to connect to this device through Bluetooth technology.
External Features
As well as the previous product, even this Akai Bluetooth karaoke machine has a CD player. It also features two USB hosts and 2 microphone jacks for the ultimate karaoke night. Music is playing from two side speakers for good sound dispersion.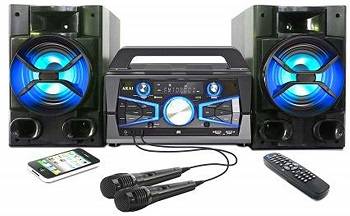 Design
Akai Ks5500 has a stereo-like design. It consists of one main player and two large side speakers. It has a classic, sleek design and is compact looking.
Characteristics:
Both CD and Bluetooth connection possibilities
Digital radio option
Lighting effects
Sleek look
Conclusion: Why You Shouldn't Hesitate On Buying Akai Karaoke Machines?
The first Akai Bluetooth karaoke machine comes handy to those who really want to get their value for money since it has numerous karaoke features and connectivity options. However, the third one, Akai ks5500, is for those who like a sleeker look with options of additional lighting effects.
If you want to know more about other lightweight simple-to-use karaoke machines from other brands, I suggest reading my post on best portable karaoke machine. Or since we already mentioned a few Akai machines with a display, if you want to know more about that kind, read this article on a good professional karaoke machine with screen.