Top Professional & Commercial Karaoke Machine System Reviews
Are you struggling to choose the best professional karaoke system in the sea of karaoke machines?
If the answer is yes, sit back and read the following professional karaoke machine reviews.
I will show you what you need to consider before and when buying new professional karaoke equipment. Then I will present to you a few of the best commercial karaoke machines for sale models and highlight their technical specifications and main characteristics. Hopefully, this article will help you choose the right system for you, if not; by the end, I will link you to some other articles I wrote.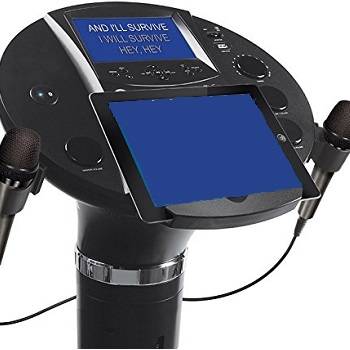 Buying A Pro Karaoke Machine
Different Karaoke Machine For Different Occasions
The choice of your professional karaoke machine will most likely depend on the occasions you want it for. For example, if you need it for outdoor venues, look for a PA pro karaoke system, however, if you are looking for professional home karaoke system choose something with two microphones, multiple connectivity options, etc.
Complete Professional Karaoke System
If possible, look for the "complete package". With karaoke systems that means at least one microphone included, connectivity aux and RCA cables included, good sound quality, multi-format karaoke machine, LED lights feature and other.
Professional Karaoke Setup
Most of the new commercial karaoke machine models should be user-friendly and easy to set-up. Also, they will come with a user's guide and manual so that you don't have to struggle to put it together. If you lose the printed manual, there are almost always uploaded on the brand's website sometimes even with video tutorials.
Price Point Of Professional Karaoke System
Since we are talking about professional karaoke machine models in this article, don't expect that the prices will be as low as for purely entertainment karaoke machines. Still, I will try to present to you a variety of different models at different price ranges.
Online Shopping
For its multiple benefits, I try to always recommend online shopping for commercial karaoke systems. Online retailers like Amazon have really good offers and also you are able to read other customers' reviews before splurging.
Best 4 Professional Karaoke Machines Reviews
Best Professional Karaoke Machine
Vocopro Karaoke System
What Is It?
This product is a very simple Vocoproprofessional karaoke machine perfect for home use. The main part comes in a box like a shape with 14 x 3 x 11 inches dimensions, perfect and discrete to place next to your TV.
Connect It To The TV
Like its name says, SmarTVoke professional home karaoke system is made to be connected to new generation TVs. You can use any analog music source with a 1/8" stereo or RCA input or with a digital optical output. That can be a TV, phone device, laptop and other.
Vocopro Karaoke Microphone
The package comes with two wireless Vocopro karaoke microphones. However, they are not simply microphones, they also have volume and effect controls built into each one so you can easily control the sound.

Package Includes
Vocopro karaoke system besides the two microphones and the karaoke mixer with all the inputs and outputs comes also with these accessories: 1/8″ RCA cable, digital optical audio cable, power adapter, and a 1/8″ to 1/8″ cable.
Characteristics:
Compact design
Two interactive wireless microphones
All connection cables provided
Best Professional Karaoke Machine With Bluetooth
Akai Ks800bt Professional Karaoke System With Bluetooth
Size And Design
This professional karaoke machine has an "old-school" design but still has really good features. It has these dimensions 7.9 x 12.6 x 17.3 inches and weighs just less than 8 pounds making it very portable and easy to store.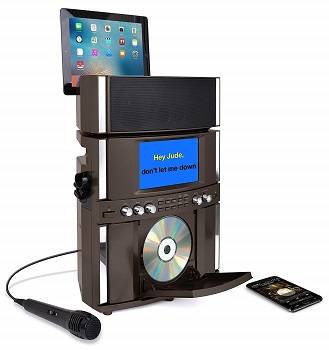 CD Player And USB Reader
One of the main parts on the front panel of this karaoke machine is the disc player. You can put any CD format and instantly play songs and also read lyrics from the screen. Another option is to plug in your USB device into the reader and enjoy your premade playlists or even record and replay your own performances.
Big Professional Karaoke Machine With Screen
Akai karaoke machine features a big 7-inch screen that displays any lyrics you desire once you connect your devices. Another possibility is that you read the lyrics of your phone or tablet since there is a convenient device cradle.
Bluetooth Compatible
To really complete this machine is the Bluetooth technology music streaming option. This is what makes this machine multi-format and allows you to use your favorite music or karaoke apps in only a few clicks.
Voice And Sound Effects
All of the control buttons can be found on the front control panel. There are master volume, AVC, echo, balance, and other sound options. You can also control the microphone volume since one microphone is included.
Characteristics:
Multiple music streaming options
7-inch display screen
External device cradle
USB reader and recording possibility
Best Portable PA Professional Karaoke Speaker System
Pyle Karaoke System
Portable Karaoke Speaker
Considering there are much bigger less-quality speakers, Pyle karaoke system with its 21 x 13 x 13 inches dimensions and around 25 pounds of weight beats a lot of them. This pro karaoke machine has also a top handle and wheels so you don't have to carry it in your hands from location to location.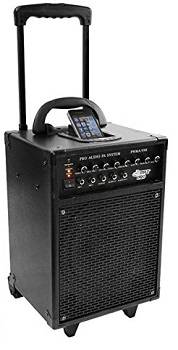 Perfect Indoor Outdoor Speaker
Pyle karaoke system is considered to be the perfect PA system for larger events and venues. It does have an 8" speaker with 600 watts of output power and also is wireless so it doesn't need to be plugged in at all times.
Introduce any advice
Given the amount of external inputs the device has, we can safely say you can plug-in almost any device. There are four jack inputs for wired microphones, MP3 player, iPods, guitar, keyboards, and other devices.

Wireless Microphone
One wireless karaoke microphone comes as part of the purchase. This goes well with the outdoor speaker subject because it can operate on a distance up to 100 feet, perfect for those who like to get carried away when dancing.
Control Panel
Just above the speaker, there is a developed control panel. It contains all of the control buttons from microphone volume, general volume to sound effects bass, treble, balance and other. Also, there are small LED lights that indicate the battery life since it does run on a rechargeable battery.
Characteristics:
Two top handles and wheels for portability
600 watts of power
Runs on rechargeable battery
Wireless microphone wide range
Best Professional Singing Machine
Singing Machine ISM1030BT Professional Karaoke Pedestal
Complete Professional Karaoke System
This commercial karaoke system is one of the best examples of complete professional karaoke systems. It comes in a few different parts: the main karaoke machine part with screen and microphones and also two tower speakers.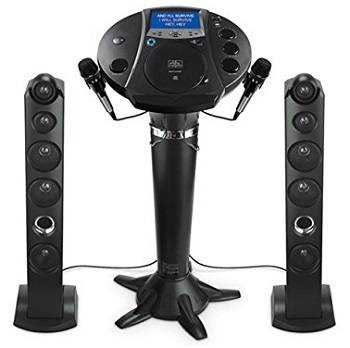 Streaming Music
This professional singing machine is Bluetooth compatible and works with most music streaming and karaoke apps. Once you find your favorite tunes, you can rest your device in the convenient cradle.
Disc Player And LCD Screen
One of the center parts of the main pedestal is the disc CD player. It supports any formats including CD, DVD, and CD+G. With the last one, you can also use it to read the lyrics off from the 7 inch LCD screen placed just above the disc player.
Two Microphones
Another fact that confirms that this is a complete professional karaoke system is the two microphones. Instead of getting only one, you get two so you can include another person to your performances. There are also microphone holders on the main pedestal.
User Manual
Since the device comes in multiple different parts, you will have to assemble it yourself. You will get a user manual where everything will be explained. Also, with the purchase, you will get the machine, 2 wired microphones, cradle, a bonus karaoke CD and audio/video cable so you can connect the machine to your TV.
Characteristics:
Multiple connectivity options
USB reader for recording
7-inch monitor
Powerful tower speakers
Conclusion: Which Professional Karaoke System To Get?
Even though all of the mentioned professional karaoke machines for sale have great features, the most versatile one would be Pyle karaoke system since it can be the perfect both indoor and outdoor PA system. Singing machine ism1030bt professional karaoke pedestal, however, it is "the whole package" of karaoke features, connectivity, and music streaming options as well as sound quality.
If you want to see my review I made based on ratings, check-out my article on best-rated karaoke machine models. If you specifically want to keep on looking for models with screens, read my post on professional karaoke machine with a screen. For something for general, commercial karaoke machine for sale where you have different types of models at different price points.