Top 5 VocoPro Karaoke Machine Systems To Get In 2020 Reviews
VocoPro is a Professional Vocal Sytsems brand.
So, is their karaoke offer great quality?
You can be sure that the VocoPro karaoke system will impress you because they are one serious brand. They might not have too many models in their offer, but those that are here are pretty good. You don't know what I am talking about? Well, find out in my article below!
Information About VocoPro As A Brand
Brand's History
VocoPro is an American company that for almost 30 years now specializes in professional karaoke systems. On their official website, you can see that they offer pretty much all necessary karaoke equipment. Also, the items are sold separately or as a whole system.
Products They Offer
This company has plenty of products, from the Vocopro karaoke mixer to a Vocopro CD recorder. Besides the karaoke systems that will be mentioned in the next part of the article I would like to underline a few other models that are worth looking into like; VocoPro bravo pro, VocoPro CDG 3000, VocoPro DA2200, VocoPro DA3900K, VocoPro DA9800RV, VocoPro KJM 7900 pro, VocoPro DAX10pro, VocoPro Digital 2 and others.
Price Range Of VocoPro Products
As previously mentioned, the biggest selection of products from VocoPro is professional karaoke kits and mixers. In other words, do not expect cheap items for everyday use. However, a good price-quality ratio with VocoPro is guaranteed.
Where To Buy VocoPro Items?
VocoPro karaoke speakers and other equipment can be purchased through some online retailers and in some designated physical stores. However, I would personally recommend looking up VocoPro products on Amazon if you want to find the best discounts and be able to compare different products to each other.
Warranty Options
Most VocoPro products come with a limited one-year warranty that you get with the purchase or can also be consulted on their website or through online retailers. It is worth mentioning that VocoPro is offering an additional optional extended warranty plan that you can also check out online.
Customer Service
Customer support can be reached by phone, which is the way the company recommends on their website. Or, there is also an online form you can fill out with all necessary information about your concern and they will get back to you shortly.
Top 5 VocoPro Karaoke Systems Reviews
VocoPro Gig Star Multiformat Karaoke Machine
Design And Size
VocoPro Gigstar 2 has a cabinet-like design. On the front side, it has a control panel with all of the necessary buttons and below is the speaker system. It has two side handles so you can easily carry around this about the 46-pound speaker. It is about 20 inches tall and wide so it does not take up a lot of space.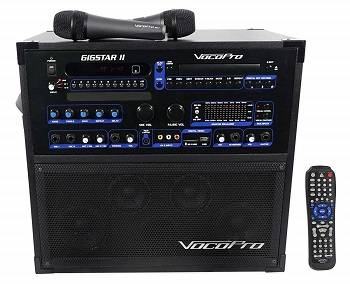 Speaker System
This VocoPro portable karaoke system has a four-speaker sound system so it can produce a really loud sound of about 100 watts of power. This makes Gigstar 2 ideal for both indoor and outdoor settings, smaller and bigger venues.
Music Streaming Options
The Gigstar 2 is called a multi-format player because of the multiple different options to play music. It supports DVD, CD, CD+g, MP3 and other formats.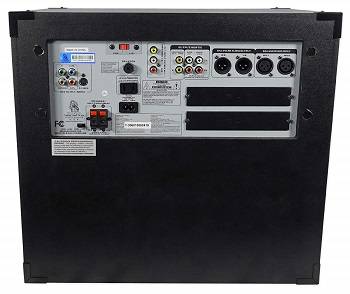 Extra Features
There are also guitar and keyboard inputs and microphone jacks if you want to plug in extra devices for even more fun. You can even plug in another external speaker for a stronger sound. This VocoPro karaoke player gives you a variety of different vocal effects and equalizers so you can control voice as well as the sound.
Main Characteristics:
High quality 100 watt sound power
Multi-format
Big selection of control options
VocoPro DVX890K Karaoke Player
Product Dimensions
VocoPro DVX890K has an old-school DVD player like the design. It is about 17 inches wide and 10 inches long and is very lightweight and can be placed anywhere easily.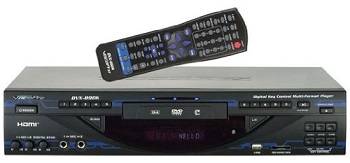 Multi-format Player
DVX890K supports multiple different formats like DVD, DivX, VCD, CD, Mp3 and others. From newer technologies, it also has USB and Memory card readers so you can easily stream your own playlists. The machine can also be hooked up to any TV by using an HDMI cable.
Control Panel
Apart from basic control options, on the front control panel, there are two microphone plug-ins and separate volume control buttons. On the back of VocoPro DVX890K, there are multiple different outputs for additional features.

Other Features
There is also a built-in echo effect for a better voice sound and control. All of the controls can also be easily modified by using a remote control that comes with the purchase and ensuring you do not have to be close to the device at all times to control the sound.
Main Characteristics:
Sleek and compact design
Multi-format player
Variety of outputs for external devices
VocoPro Jamcube
Perfect To-Go System
VocoPro Jamcube is an ideal portable karaoke system. It is easy to set up and to move around with. It weighs not much over 30 pounds and is perfect for any kind of venue or party.Its dimensions are 21 x 16 x 17″.
Design And Main Features
The Jamcube VocoPro as its name says has a cube-like discrete design. On the front side, it has both speakers that produce a sound of up to 100 watts of power. On the top panel, you can find all of the main features e.g. CD and DVD player, volume and effects control options, aux and microphone jacks and others.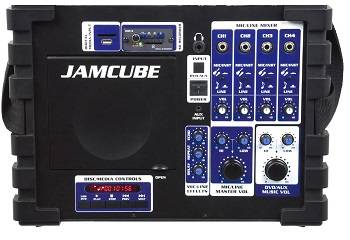 Introduce External Devices
This VocoPro karaoke mixer has four microphones and instrument jacks which is perfect for any karaoke evening. It also has a USB and SD card reader if you prefer to store your playlists on smaller storage devices.
Main Characteristics:
Portable and lightweight
Supports all external devices
Perfect for big and small venues
VocoPro KJ7808RV Karaoke Video And Dj Mixer
Perfect Karaoke And Dj Mixer
KJ7808RV is a perfect choice for anyone interested in a VocoPro professional karaoke machine since it has numerous features and control options. It can also be used with multiple different mobile applications so it is perfect for any occasion from a house party to club performances.
Video Features
This VocoPro karaoke mixer features three video outputs for three different monitors. It also has a professional video toggle and crossfader which switches automatically the video when fading between audio channels.
Volume And Vocal Controls
It has plenty of vocal and volume controls, like echo, equalizers, bass, treble, etc. As well as vocal cancel and vocal eliminator options for removing vocals from songs. Besides, that one of the main features is the 11-step digital key controller and talk over option.

Product Dimensions
KJ7808RV is a perfect size mixer, it measures 12″(L) x 23″ (W) x 8″ (H) and is very lightweight. This makes it perfect for an on-the-go DJ or any karaoke lover. It can also be mounted if wanted.
Main Characteristics:
Professional grade mixer
Multiple video features
Space-saving panel
Vocal remover for creating karaoke tracks
VocoPro SmartTVoke Karaoke System
How To Use?
SmartTVoke can be connected to almost every new generation TV. Either through a karaoke app or simply YouTube, you can just connect this karaoke machine to your TV and stereo system and play karaoke all night long.
Compatibility
Besides TVs, the VocoPro SmartTVoke karaoke system is compatible with any device with a digital optical output and sound systems with a stereo input. It also has microphone output jacks so you can connect your own microphones.

Contents Of The Package
With the purchase, you will get a digital optical cable with what you are able to connect to smart TVs. You also get a power adapter and two other cables; 1/8″ to 1/8″ and a 1/8″ to L/R RCA cable. There are also two wireless microphones provided with the purchase.
Main Characteristics:
Easy to use
Quick TV connection
Possibility to use with almost any new TV
Two microphones included
Conclusion: Why You Should Consider Buying These Best VocoPro Karaoke System?
Between the five VocoPro karaoke machine models and Vocopro speakers mentioned above, the second one mentioned, VocoProGigstar, is perfect for those looking for a high-quality sound and a multi-format player. On the other hand, if you are looking for the most professional player and mixer out of those mentioned, your choice should be VocoPro kj7808rv karaoke video and dj mixer.
You are impressed, but haven't found what you are looking for? Then I suggest reading my post about the best karaoke machine models in general. I am sure that you will find what you need there because it has more than 10 different karaoke models like professional karaoke systems for serious singers on one side, but this article about the best karaoke machine for home use on the other side.