Best 5 Portable Karaoke Mic & Machine Speaker System Reviews
Are you looking for a karaoke machine but the one that you can easily carry around with you from one party to another?
In that case, this portable karaoke machine review may be just for you.
This review will consist of my portable karaoke machine system purchase guide. Later on, I will present to you a few best models currently available on the market and also tell you more about their technical specifications, main characteristics, and features. I will also link you to each machine and help you decide between my two favorite models.
How To Choose The Right Portable Karaoke System?
Size And Weight
Obviously, when you are looking for the best portable karaoke machine, it needs to be lightweight and compact. The weight should be around 20 pounds max so it is easy to carry around with you on the go and also store it easily.
Speaker And Screen
For the ultimate portability, you most likely need to scout built-in speakers that are most of the time the lightest since they are adapted to be transported. Also, if possible look for portable karaoke players with built-in screens so you don't have to use another device for lyrics.
All Around Wireless Machine
Ideally, your portable karaoke machine should work wirelessly. In other words, it should connect your external devices via Bluetooth technology. Also, a bonus is if the karaoke machine runs on rechargeable batteries since it allows you more freedom to place it basically anywhere.
Portable Karaoke Microphone
Most karaoke machines nowadays come with at least one microphone included with the purchase. Ideally but also rarely, the microphone should be wireless for the ultimate control but they are often wired which is also good since they come with the purchase of the machine.
Best Selection Of Portable Karaoke Machine Models
Karaoke machines can be found anywhere from physical stores to online retailers. However, for simplicity I recommend looking on Amazon. They also have really good offers and you can easily compare different models to each other, read other customers' reviews, look through user guides, warranties, etc.
Best 5 Portable Bluetooth Mic & Machine Speakers
Best Portable Bluetooth Karaoke Speaker
Singing Machine Fiesta Voice Portable Karaoke System
Portable Karaoke Player
This karaoke machine really is perfectly designed to be carried around. Not only it weighs only about 20 pounds but also has a top retractable handle and wheels on the bottom. It is great for both indoor and outdoor activities and gatherings.
Good Speaker Quality And A Display
If you remember in my buyer's guide I mentioned this point as an important one. Singing machine fiesta plus portable karaoke system has both really good 8" powerful speakers and a built-in 7" color LCD monitor for lyrics viewing.
Portable Karaoke Speaker With Microphone
Another good thing about this portable Bluetooth karaoke machine is that you will get two microphones with it. Even though they are not wireless, one of them is interactive and has the menu navigation buttons and another one is the basic wired microphone.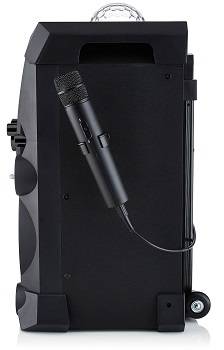 Rechargeable Battery
This portable karaoke speaker system has a built-in battery. This means it needs to be recharged but only after several hours of continuous play.
Other Fun Features
Some of the other good karaoke features are LED Disco lights coming from the multicolored top dome and also the speaker. With the purchase, you will also get an 8GB USB flash drive where you can store your favorite tunes.
Main Characteristics:
Voice effects
Two microphones included
7" colors LCD display
Multiple connectivity options
Rechargeable long-lasting battery
Best Portable PA System For Karaoke
Pyle 500-Watt Outdoor Portable Bluetooth Karaoke Speaker System
Basic Information
Pyle 500-watt portable pa system is essentially a karaoke speaker. It is equipped with a 500-watt 8-inch subwoofer which is the main speaker and two 3" tweeters for the ultimate sound quality and power.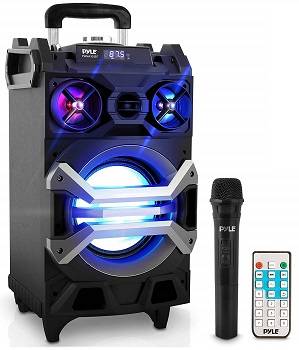 Multiple Streaming Options
This portable Bluetooth karaoke speaker supports most connectivity options. All from basic Bluetooth connection or FM radio, to micro SD and USB readers that allow you to connect most external devices.
Record Your Performances
The next great feature Pyle portable karaoke machine has to offer is the recording ability. You can perform and directly save your performances using a USB flash drive or SD memory card.
Portable Karaoke Machine With Wireless Microphone
This karaoke system comes with a wireless microphone which is a good thing for karaoke parties, especially outside venues and for those who like to sing and dance at the same time. Besides the microphone, you will also get a remote control.
Flashing Lights
If your preference is to do karaoke at night or in the dark, then this machine is perfect since it has amazing flashing lights feature. The lights come out of the speakers and they come in multiple different color combinations.
Main Characteristics:
Bluetooth wireless connectivity
USB and Micro SD reader
Wireless microphone
Rechargeable battery
Best Family Karaoke Machine
Singtrix Family Bundle Portable Karaoke System
Product Dimensions
This next wireless portable karaoke set is a machine that weighs just about 20 pounds so it falls perfectly under the portable system category. Also, these are the dimensions 11.7 x 7.9 x 17.9 inches, making it easy to store almost anywhere.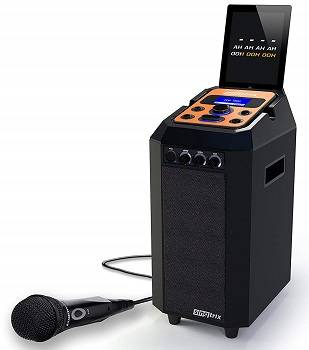 Connect Most External Devices
This machine is not Bluetooth compatible however you can introduce any device with adequate auxiliary cables and stream your favorite music. Also, it works with instruments like guitar or keyboards and also has two microphone jacks.
Portable Karaoke Speaker With Microphone
Singtrix portable karaoke system is known for a good quality speaker. It is, in fact, a 40-watt stereo speaker with subwoofer. The system also comes with a custom microphone with a "hit" button that activates harmonies to facilitate singing those high keys.
Professional Studio Effects
Singtrix brand has a notoriety for being the brand with a studio-quality sound effect. Not only is that but this the only plug and play machine powered by live voice effect technology. This portable karaoke speaker features over 300 different effects for any genre and type of music.
Other Features
This portable karaoke set features also a small LCD screen or if you prefer there is a device cradle on the top so you can rest your phone or tablet while you read off lyrics. Since there are 2 stereo and 2 microphone outputs you can introduce some other external devices.
Main Characteristics:
Professional voice and sound effects
40-watt subwoofer
Custom microphone with "hit" button
Best Portable Wireless Karaoke Microphone
Tzumi Portable Karaoke Microphone
Portable Design
Even though most karaoke microphones are portable, some of them tend to be heavy. However, Tzumi portable microphone weighs less than a pound. It has a nice handheld design with an integrated speaker. It comes in black and white-rose gold.
Built-in Phone Holder
This portable karaoke microphone comes as very practical not only because of its size but also because of the retractable Smartphone holder. It holds any phone device with up to 6-inch screen. This feature makes sure you have everything you need at your fingertips without having to use or plug in other devices for lyrics or sound.
2 In 1 Item
This product isn't only a portable Bluetooth karaoke microphone but also a speaker. This is an enclosed speaker that ensures a rich and clear HD sound. The portable karaoke mic is also high-quality and has noise-reduction layers and also an auto-off feature so it can never overheat.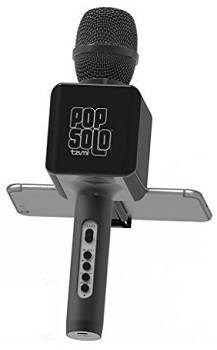 Bluetooth Connectivity
The main way to wirelessly connect to Tzumi portable karaoke microphone is via Bluetooth. This way you can use your favorite music streaming and karaoke apps and then rest your phone into the holder. If you prefer to leave your phone on the side without reading the lyrics, the Bluetooth range goes up to 30 feet.
Strong Battery Life
Another good thing about this best portable karaoke microphone is its battery life. It features a rechargeable Lithium battery that has an up to five-hour life span and with about two hours of charge, it is back to it. With the purchase, you are given the auxiliary and USB charging cable.
Main Characteristics:
2 in 1 speaker and microphone
5-hour battery life
Classic design
Smartphone holder
Best Portable Karaoke Machine With Screen
Karaoke USA GF840 Portable System
What Is In The Package?
When purchasing this Karaoke USA portable system you will get the all-in-one media player itself, two microphones, a remote control, 2 discs with songs on them, phone cradle, RCA audio video cable, AC adaptor, user manual, and a warranty card.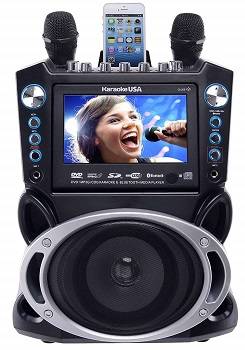 Wireless Portable Karaoke Speaker
Karaoke USA GF840 portable system is essentially a wireless Bluetooth speaker. It has a 35W peak digital power amplifier to ensure the best sound power and quality.
Multi-Format Machine
As previously stated the machine is Bluetooth compatible for an easy phone or tablet connection and music streaming. However, another option is the disc player. You can play any format from CD, CDG or DVD but the machine comes ready with 2 discs with around 300 songs on them to save you time.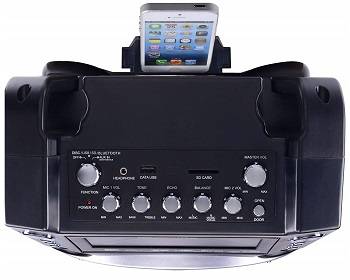 Digital Color Screen And Cradle
One of the main parts of the machine is the 7" digital color screen that displays all of your favorite lyrics. Just above it, there is also a device cradle where you can leave your phone if you decide to watch a music video or read lyrics from your phone.
Record Your Performance
It is always fun to be able to re-listen your karaoke performances. This karaoke machine also has that feature and the recording button is on the main control panel. There are also a USB and an SD card slots so you can save them as well.
Main Characteristics:
7-inch screen
Two microphones in the package
Flashing LED lights
Recording option
Conclusion: How To Choose The Best Portable Karaoke Machine?
If you are still struggling to choose the best model for your liking, I will give you my two favorites. When looking for the best portable karaoke microphone, you can't go wrong with Tzumi portable karaoke microphone since it has all necessary features and is portable. However, if you are looking for the complete karaoke machine, the best portable karaoke speaker with a microphone I would go for Pyle portable speaker karaoke pa system because of its design and karaoke effects.
If this article still hasn't helped you to find what you are looking for, you should consider reading more posts like this one of the best karaoke machine for more models. More of similar karaoke machines you can find in my article about the best bluetooth karaoke microphone and if you want to stay on the search for the perfect portable model I wrote more about a portable karaoke system.