Best 2 Car Karaoke Machine Systems To Pick In 2020 Reviews
Are you going on a road trip and looking for a way that will make hours of journey pass quicker?
If the answer is yes, I highly recommend that you continue reading this article.
Even though car karaoke systems are rare to find, in this post I will recommend two great karaoke machines that are perfect for long car journeys as well. You will learn also about their technical specifications, main features, and set-up options. By the end of the article, I will link you to some more similar articles I wrote in case you want to continue your research.
How To Choose A Car Karaoke Machine?
What Is A Car Karaoke Machine?
Even though for now, a specifically designed karaoke machine for cars does not exist currently on the market, there is plenty of portable karaoke system that can be used both in the comfort of your home and in the car.
What To Look For?
My biggest suggestion when choosing a car karaoke system is looking for something portable that does not take a lot of space and can be moved around to different passengers in the car. In that case, look into karaoke microphones rather than bulky karaoke machines.
Car Karaoke Machine Battery Life
Car karaoke system you decide to buy should have at least an up to 6 hours battery life so that it can last you a good part of the journey. If not, consider maybe a karaoke machine with AA batteries that do not need recharging.
Where To Look For Car Karaoke Machines?
A lot of online retailers like Amazon have a really wide offer of karaoke systems. The good thing about Amazon is that you can easily compare different models to each other and also have a look at other customers' reviews to find your answers.
Car Karaoke Setup
Car karaoke setup modes can vary depending on the type of the karaoke machine. If you choose to have a karaoke microphone, then all set up you need to do is connecting the microphone to your phone, mostly via Bluetooth or a cable.
Best 2 Car Karaoke Machine Models
Best Cheap All-in-one Car Karaoke Machine
Vocopro Caraoke Microphone
Portable Karaoke System
This Vocopro Microphone has the perfect portable design so you can bring it anywhere with you, from house parties to your car. It is also an all-in-one machine since the only part you need is the karaoke microphone.
Connect Any Phone Device
You can connect this microphone to any tablet or Smartphone (cables for both iPhones and Android phones are provided with the purchase. Once connected you can stream music through most music apps or even download karaoke apps.
Sound Effects
Control panel with volume controls is found directly on the microphone which is practical. Besides basic volume control, there are also bass, treble and echo controls for an even better sound. These can be even more amplified when using certain karaoke apps.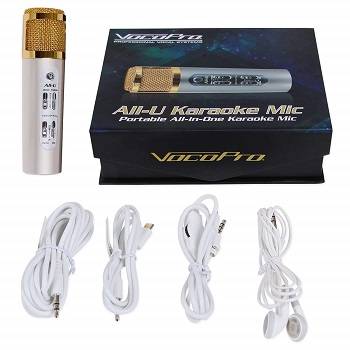 Additional Info
You can easily connect this microphone to your car speakers as well. With the purchase besides the microphone and cables previously mentioned, you also get a pair of headphones and a cable to recharge the internal battery.
Warranty Options
Almost every VocoPro product comes with a warranty and the length of the warranty depends on the model. This one comes with a 1-year warranty which is pretty OK. But, if that is not enough for you, you can get an extended warranty, but you have to order it from them.
Main Characteristics:
Portable and practical
Perfect for a long car ride
Connect to your phone or car speakers
Best Bluetooth Car Karaoke Machine
Singing Machine Official Carpool Karaoke Microphone
Famous Carpool Karaoke
Most of you will know about the Carpool Karaoke segment featured the Late Show with the famous TV host James Corden. Well, this way you are able to recreate and host your own carpool karaoke with this particular microphone.

First Car Karaoke Setup Option
The first karaoke setup possibility is by finding an FM station you want to rock through your car radio. Once you turned on the microphone, you will match the station from the radio and simple as that just begin to sing. You will hear yourself through car speakers.
Bluetooth Car Karaoke Setup
If the first option is too complicated for you, you can also pair the microphone with your phone or tablet via Bluetooth. This way you can simply stream music from your favorite music or karaoke Apps.

Superstar Microphone Design
The carpool karaoke microphone has an interesting design. It has a main control panel where you can see the radio frequency and also the battery percentage. It comes in the white and gold-colored design and weighs less than a pound.
Control Buttons
On the same control panel, there are also volume and echo control options as well as all other technical buttons like power, Bluetooth pairing, and others. You can also add lighting effects that are in sync with the music playing in the background for an extra karaoke feature.
Main Characteristics:
Portable design
FM and Bluetooth connectivity
Long battery life
Echo and lighting effects
Conclusion: Which One Out Of Two Car Karaoke Machine Models To Get
Even though VocoPro car karaoke system is at a better price point and has amazing sound effects and good sound quality, I would opt for Singing Machine car karaoke machine. It has more connectivity options and a better-looking design.
If you want to continue researching karaoke machines and see which one can also work as a car karaoke system, you can look into my post on best karaoke machine models. Going with the theme of the article I also wrote about best wireless karaoke microphone and best portable karaoke machine.