Top 4 CD Karaoke Machine Systems With CD Player Reviews 2020
Are you a fan of more of "old-school" karaoke machine models?
Or are you simply looking for a multi-format system?
In that case, keep on reading this article.
In this post, I will tell you more about some of the best karaoke CD player models that could be excellent gifts some for adults and some for kids. You will also learn more about their technical specifications and main characteristics including features.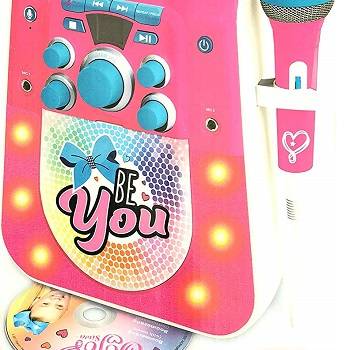 Choosing A Karaoke Machine With CD Player
Multi-format machines
Just because it has a disc player, that doesn't mean it shouldn't have other music playing possibilities. If possible look for a product that besides being a CDgraphics karaoke player also is either Bluetooth compatible or has a USB reader, cable cords to connect external devices or other.
Children's Karaoke Machine CD Player
Karaoke CD player is a great gift idea for the kids. Not only will they enjoy singing along to their favorite songs, alone or with friends, but also you can get children's CD karaoke machines that are inspired by their favorite cartoon or movie characters like you will see some in this review.
Features To Look For
Your karaoke CD player should have at least a minimum of a few karaoke features. Some of them can be voice and sound modifying effects, LED lights, LCD displays that show lyrics, at least one microphone included in the price and others.
How Much Should You Spend?
Since this type of karaoke machines isn't normally equipped with the newest technologies, you shouldn't break the bank to get one. Especially for the kid's karaoke CD players, you can get a good quality one at a low price point.
Where To Buy A Karaoke CD Player?
If you want to have more insight into karaoke machines, the best option would be to visit Amazon. There you can find multiple different models, compare their price points, read other customers' reviews and get the best deals.
Best 4 CD Karaoke Machine Systems Reviews
Best Kids Karaoke Machine with CD Player
Frozen CD Karaoke Machine
Children's CD Karaoke Machine
If you are looking for a gift for children, you can't go wrong with Frozen karaoke CD player. Every kid likes Frozen or Disney in general, so this machine is perfect for any kids at any age.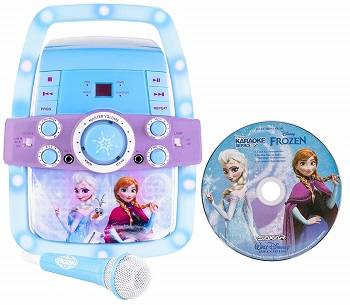 Compact and portable
Like most kids CD karaoke machine models, Frozen CD karaoke machine is very compact, portable and easy to store. It measures only 10 x 9.5 x 14 inches and weighs under 5 pounds so the kids can sing-along and dance while holding the machine.
Kids Karaoke CD Player
This machine is easy to handle and to play music; there is a top-loading CD graphics disc player. It can also read CD+G format so you can connect the machine to your TV to be able to enjoy the lyrics from the screen.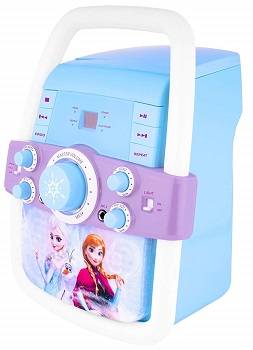 Other Ways Of Music Streaming
Besides the CD player, there are also other ways to stream music. You can also connect the Frozen machine to your phone or tablet to stream from your favorite apps. For that, you will get RCA audio/video cable and aux cable with the purchase.
Good To Know
Some of the other things worth mentioning are that you will get a demo CD with a few Frozen songs on it and also the corresponding lyrics book. Another benefit is that the machine also features flashing lights on the side as well as one microphone.
Main Characteristics:
Frozen design
CD+G player
Lightweight and portable
Free Frozen CD and lyrics book
Best Girls CD Karaoke Machine
Hello Kitty CD Karaoke System
Kids Karaoke CD Player And Screen
This children's karaoke player has a front-loading CD player. As the previous one, it supports standard CDs as well as CD+G. To see the lyrics from the CD+G format there is a 5-inch black and white display monitor or you can also connect this machine to your TV for big-screen viewing.
Hello Kitty CD Player With Microphone
With the purchase, this particular kids' karaoke CD player comes with one wired microphone included. There is also a side holder that you can put it in so that way you never lose it.
Connect Your Phone
Besides playing music using the disc player, you can also connect your audio devices like phone, mp3, tablets or other using an auxiliary cable included with the purchase. Once you are connected, there is a device cradle on the top of the machine and a phone holder on the side you can rest the devices while you sing along to the lyrics they display.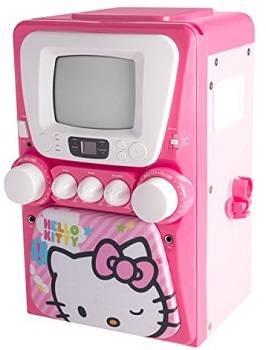 Voice Enhancing Effects
On the front control panel, there are general volume and microphone volume buttons, but also some vocal effects as well as auto-voice control. This way the kids will be more comfortable singing and it adds that extra fun effect to the karaoke.
Main Characteristics:
5-inch display
One microphone provided
Phone and tablet cradle and holder
Vocal effects
Best Mini CD Karaoke Machine
JojoSiwaCD Player
Machine Dimensions
JojoSiwaCD karaoke machine is the smallest one out of all of the ones mentioned in this review. It weighs only about a pound and has 14.4 x 11 x 7.9 inches dimension making it the perfect portable kids karaoke machine with CD player.
Karaoke Machine CDAnd Bluetooth
Not only does it have a front-loading disc player that plays any CD, DVD or CD+G format but it is also Bluetooth compatible. This way you can connect most audio devices and stream your favorite playlists using music streaming and karaoke apps.
Lyrics On Big Screen
For an even better karaoke party, once you connected your phone using Bluetooth, connect the machine to your TV. This way you can have lyrics up on a big screen and everyone can enjoy it. If this seems complicated, just consult the user's guide provided.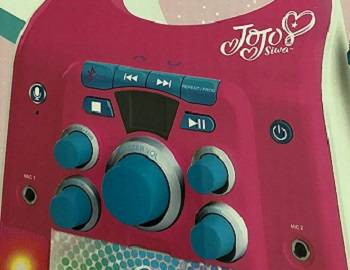 JojoSiwaCD G Karaoke Machine With One Wired Microphone
This kid's CD karaoke machine comes with one wired microphone included. The microphone also has the JojoSiwa pink and white fun design. Also, there is another microphone jack if you decide to introduce another one.
Design And Karaoke Features
The machine has a really girly pink design. The bottom part around the disc player has LED lights which is always an appreciated feature. Just above there is a standard control panel with AVC, echo and voice control and other features and controls.
Main Characteristics:
Small and portable
Bluetooth compatible
LED lights and voice control
Best Home CD Graphics Karaoke System
Memorex CD Graphics Karaoke Machine
Classic Design
This machine has a classic old-school design and form. It has a stereo-like form and these are its dimensions 18Hx11Wx10D" and weighs around 16 pounds hence I put it in the best home karaoke machine category.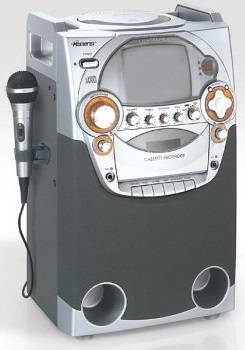 Karaoke Machine WithCD And Cassette Players
Continuing with the old-school, this is one of the rare karaoke machines that still has a cassette tape player and recorder which is perfect if you are buying it for someone of older generations. It does also have a karaoke CD player that reads CDs and CD+Gs as well.
Black And White Monitor
The good thing about Memorex CD graphics karaoke machine is that it also has a 5.5" black and white display monitor. This way you can have the lyrics right in front of you to enjoy your favorite songs.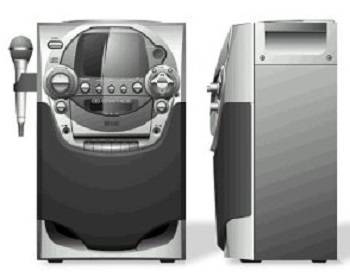 Optional Connection
There is also a possibility to connect the karaoke machine to your TV or any device that has an audio or/and video inputs and outputs. The mentioned monitor is small and black and white so maybe you will prefer to have the lyrics on the bigger TV screen.
Other Features
This CD karaoke machine comes with one wired microphone but does have 2 microphone inputs. Also, there are a few voice effects like echo and AVC. One demo CD+G disc is provided with the purchase.
Main Characteristics:
Old-school feel
CD and cassette player
LCD lyrics monitor
Conclusion: How To Choose The Best Karaoke CD Player Model?
Even though here we were more focused on children's karaoke CD players, I still did mention Memorex CD graphics karaoke machine which is a good model for any age. It is perfect for at-home use and for those that do karaoke occasionally. One kid's CD karaoke machine I would recommend the most is the Frozen karaoke CD player because of its design as well as karaoke features.
If you are interested in more models from different brands, you can check-out my article on karaoke machines for sale. However, if you want to stay in the theme of kids karaoke machines, I wrote more about best kid-friendly karaoke machine models. Or if you want something more like the Memorex machine, check this post out best karaoke system for the home.