Best 2 Magic Sing Karaoke Machine Systems In 2020 Reviews
Are you looking into getting Magic Sing karaoke machine?
You are a karaoke fan and you want to be able to do them in the comfort of your own home?
If the answer is yes then you should consider reading this article.
Here I will present all of the Magic Sing microphones that are currently available on the market. Additionally, in this Magic Sing karaoke systems review, you will be able to find all necessary information about their technical specifications and other features.

Information About Enter Tech As A Brand
Brand's History
Enter Tech is a Korean company that is notorious for being the first one to release a completely wireless karaoke microphone which was called Magic Sing. Today there exist multiple different models and versions of a Magic Sing microphone.
What Does Enter Tech Offer?
Today the company specializes in the further development of video karaoke systems and transmitters, song chips and Magic Sing karaoke microphone models. They also offer a big selection of song chips in multiple languages which is a big plus.
Price Range Of Enter Tech Products
Comparing to other similar products, Enter Tech products are not the cheapest ones on the market. Still, looking at the company's history in karaoke system development, a high-quality product is definitely to be expected.
Where To Buy Enter Tech Items?
To purchase Enter Tech items as well as Magic Sing karaoke microphone, you can consult their proper website where they have an open webshop. I would also recommend looking up their products on Amazon, since it is one of the best online retailers for discounts and comparing products to each other.
Warranty And Customer Support
Most Enter Tech products come with a warranty that you get with the purchase or can also be consulted online on some retailer's websites which is the case for Amazon. Warranty depends on the type of product but mostly is limited for one year.
Best 2 Magic Sing Karaoke Systems
Magic Sing ET30KH Karaoke Microphone
Professional Design
This ET30KH Magic Sing mobile karaoke microphone has a professional yet simple black colored design. The main product is a wired microphone with multiple control buttons and a microphone stand with plug-ins.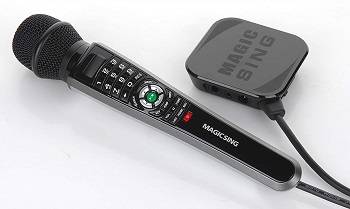 Product Dimensions
ET30KH is the size of a standard microphone. It is very lightweight, about two pounds, and has 10 (L) x 2 (W) inch dimensions. It also has a few meter long wire.
Music Streaming Options
The easiest way to play music with this device is to stream over 12 000 songs that are available on Enter Tech's own music streaming server recommended with the purchase of the product. But the microphone works also with Magic Sing App which can be easily downloaded from any Smartphone device.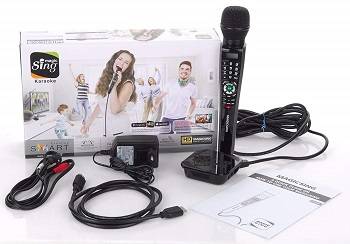 Introduce External Devices
The microphone stand comes with several plug-ins; one of them being HDMI so you are able to have a full HD karaoke show on your TV. It also has a micro SD and a USB port so you can load your own music or record your performances.
Karaoke Features
Not only you can stream thousands of songs through a microphone, but ET30KH offers you other karaoke necessary features and functions like a changeable melody instrument, tone, echo, tempo, voice enhancement and other.
Main Characteristics:
Practical for everyday home use
Streams over 12 000 songs weekly updated
Adjustable karaoke functions
Magic Sing ET23PRO – Latest Magic Sing Karaoke System
Sleek Design
This next Entre Tech Magic microphone karaoke system has a similar design as the previous model, ET30KH. The difference is that this one has two microphones included in the purchase and they are wireless.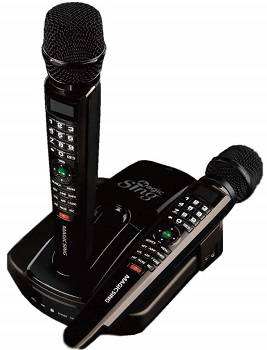 How To Stream Music?
This item requires a Wi-Fi connection. There are over 12,000 songs that are available on Enter Tech's own music streaming server recommended with the purchase of the product. But the microphone works also with MyStage App which can be easily downloaded from any Smartphone device.
External Features
Magic Sing ET23PRO supports HD or HDTV and can be connected with an HDMI cable. It also has USB and Micro SD card support. It also has 4 chip slots which means you can have even more songs on multiple different languages if you purchase Magic microphone song chips also available on Amazon.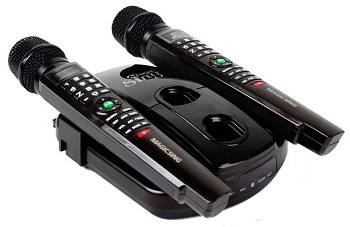 What Do You Get With The Purchase?
When purchasing ET23PRO you get two wireless microphones, microphone stand with control panel, remote control, console, and a carry bag.
Other Benefits e.g. Customization
Another good thing about this particular Magic Sing karaoke system is that you are able to adjust background display and also customize any song of your choice by adjusting volume, tone, melody, tempo, etc. There is also a system for you to keep up with the karaoke score which is perfect for karaoke duels or duets.
Main Characteristics:
Two microphones
Big song choice
Wireless
Multi-lingual options
Conclusion: Why You Should Consider Buying These Best Magic Sing Karaoke System?
Between the two Entertech Magic Sing models mentioned above, Magic Sing ET30KH Karaoke Microphone I would recommend to someone that isn't looking to spend extensive amounts of money and is looking for a product that will be used once in a while. On the other hand, if you are a karaoke enthusiast, I suggest you look more into Magic Sing ET23PRO model since it is the latest one and has more features.
If you want to learn more about other karaoke speakers from other brands, I would recommend reading my post about best karaoke machines. If you are interested in higher quality karaoke machines, you can check out this post on best professional karaoke system. In case you want to know more about amateur karaoke systems, read this article about best karaoke machine for home use.