Kikkerland Mini Karaoke Microphone With App Reviews In 2020
Are you looking for the most simple and on-the-go way to do karaoke?
If the answer is yes, continue reading this article.
In this Kikkerland mini karaoke microphone review, I will present to you a rather interesting karaoke machine. It is so small that you can carry it with you in your pocket. But, can it work properly if it is that small? One of the ways to find out is to read my review below!

About Kikkerland Brand
Wide Offer Of Manufactured Products
Besides Kikkerland karaoke microphone, this brand is producing many other lifestyle products such as organization items, stationery, house decorations, games, kitchen utensils, and many others. Most of these products can serve as great gifts as well.
Where To Bay Kikkerland Products?
Although they have the whole offer of products on their official website, I would also recommend looking up on Amazon. Online retailers like Amazon often have the best offers and discounts. Also, you are able to compare different products to each other and check out other customers' reviews.
The Price Range Of Kikkerland Products
Comparing to other brands that also sell lifestyle products, Kikkerland has an average price range for what they offer. This goes for all of their products as well as Kikkerland mini karaoke mic that I will present to you in this article.
Product Warranty
Kikkerland Design products are backed by a 90-day warranty policy. For more information on that, you can check out their official website. Another good thing is that when you purchase your product for example through Amazon is that you can also get free Amazon product support.
Customers Service And Return Policy
You can easily contact Kikkerland customer's service through a live chat where they are very reactive and responsive. There is also a phone number provided if that is the way you prefer. Kikkerland also has a good return policy you can check out on their website.
Mini Karaoke Microphone Kikkerland
The Smallest Design
This Kikkerland karaoke microphone is silver-colored to give it a very sleek design. As it names says, this microphone is a mini one with only 54 x 0.7 x 2 inches dimensions. It weighs less than two ounces and is perfect for on-the-go.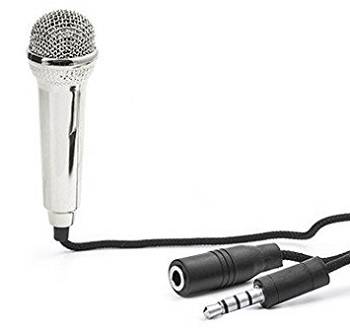 How Does It Work?
This microphone has a two-way adaptor so there are two ways of using it. You can easily plug it into any phone or device with a headphone jack, sing and record your performances. Or you can also connect your headphones to the additional jack that comes on the microphone cable to hear music.
Other Options Of Using Kikkerland Microphone
Kikkerland mini microphone can also be used simply as a recording medium on your Smartphone devices or computers. As well as that it can be used as a microphone for phone calls, or simply as an on-the-go mini karaoke microphone.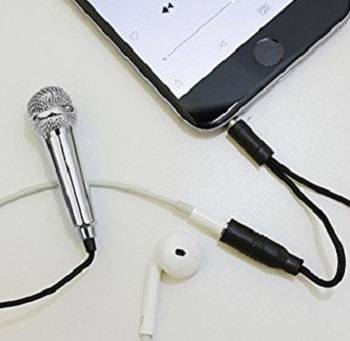 Kikkerland Mini Mic App That Is Compatible
As previously stated, since Kikkerland mini mic serves also as a recording device, it is compatible with most voice memo and voice recording apps. There are also Kikkerland mini mic karaoke apps you can download if you want to have a great experience. If you don't want to download that one, you can use something else, but no one can guarantee that it will work with other apps.  Kikkerland mini mic app for iPhone can be found on App Store. The same goes for Android devices where Kikkerland mini mic compatible apps can be downloaded using Play Store.
Main Characteristics:
Pocket size
Perfect on-the-go microphone
Two-way adaptor provided
Works with most apps
Conclusion: Why You Should Not Hesitate On Getting Kikkerland Mini Mic?
Based on all of the information I gave you in this Kikkerland mini mic review, I think you should not hesitate on buying this product. It is simple to use, multi-functional and one of the most portable karaoke microphones you can find. Kikkerland microphone would also work as a perfect gift or a stocking stuffer for the Christmas holidays.
If you want to look more into full-on karaoke machines, I recommend checking out my article on the best-rated karaoke machine. However, if you are interested in other models and brands that make portable karaoke microphones read the linked post. Lastly, if you need to use your hands at all time and you are looking for something wireless, look into this post I wrote about bluetooth karaoke machine with a wireless microphone.