Top iLive Karaoke Party Machines With Bluetooth Reviews 2020
Do you want to bring more fun to your Saturday night friend gatherings?
Maybe you should consider looking into getting a karaoke machine.
In this article, I will present to you some good Bluetooth karaoke party machine models that won't break the bank but are still high-performing and efficient. I will inform you also about some of its technical specifications and main features and by the end of the article, you will be able to compare it to some of the other karaoke machines I wrote about and hopefully find the best one for you.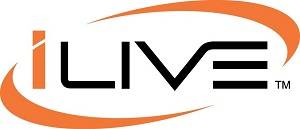 About iLive Brand And Their Offer
History And Offer
ILive is an American company established over 40 years ago. They are renowned for bringing the latest electronics and technology products that are at an affordable price point. Their products vary from speakers, headphones, chargers and all kinds of electronics accessories.
Where To Buy iLive Products?
Although the brand has the whole offer of products on its official website, I would also recommend looking up on Amazon. Online retailers like Amazon often have the best offers and discounts. Also, you are able to compare different products to each other and check out other customers' reviews.
The Price Range Of iLive Products
Comparing to other brands that have a similar offer of products, iLive is one of the cheaper ones on the market. This goes for all of their products as well as Bluetooth karaoke party machine models that I will present to you later in the article.
Product Warranty
iLive products are backed by a standard 90-day warranty policy. If you need more information on the warranty you can download it from the brand's official website. Another good thing is that when you purchase your product for example through Amazon is that you can also get free Amazon product support.
Customers Service
Through the brand's website, you can also get a phone number to contact if you desire to talk to customers' support. Or there is a standard possibility of contacting them through an email. If you have any simple doubts, there is plenty of FAQs answered on iLive's website where you can try also and search for the answer to your question.
Best 2 iLive Karaoke Party Machines Reviews
iLive Bluetooth Karaoke Machine With Led Lights
Basic Information On The Item
This model of iLive Bluetooth wireless karaoke machine has a typical karaoke stereo system design. It also comes with a microphone and a power cable.
Product Dimensions And Portability
iLive Bluetooth karaoke party machine is about 14 inches tall and 11 inches wide. It weighs around 7 pounds which makes it a perfect portable karaoke machine to bring around and easily store without taking too much space.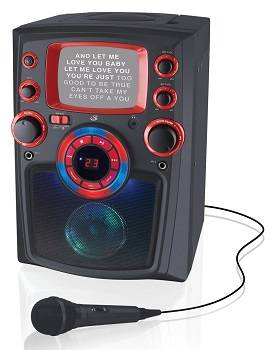 Top-Load Disc Player And A Monitor
The device has a top-load player that supports CD, DVD, and CD+G discs so you can easily play music in an old-school way. The advantage of this specific Bluetooth karaoke party machine is that it has a 5-inch screen that displays graphics and song lyrics.
Other Music Streaming Options
You are able to connect any of your smartphones, tablet or PC devices to this machine via Bluetooth technology for wireless streaming of your favorite music. It also has an about 60 feet wireless range which is perfect for bigger spaces when you do not feel like standing at one place the whole time.
Control Panel
Just above the speaker on the front side beside the display screen, there is a control panel with all of the necessary sound modifying features. Also, it has two microphones and two other instruments inputs for an ultimate karaoke show.

iLive Karaoke Party Machine App
iLive karaoke party machine works with almost any karaoke and music streaming app. Those for iPhone devices can be easily found on the App Store. The same goes for Android devices where iLive karaoke party machine App can be downloaded through Play Store.
Other Features
There is also a LED lighting option that starts working when the music is playing. Another good option is programmable tracks and the item features another microphone jack for even more fun.
Main Characteristics:
Wireless and portable
Multi-format disc player
LED effects and a monitor
One microphone provided
iLive IJP557B Bluetooth Karaoke Projector
What Is It?
iLive party projector is an innovative karaoke machine. It is an all-in-one product; a wireless Bluetooth speaker and a projector with a microphone.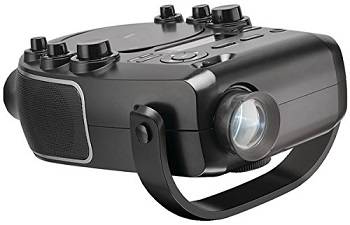 Components Of The Package
With the purchase of this product, besides the iLive Bluetooth karaoke party projector you will also get a microphone, a remote control, a power adapter, a 90-day limited warranty and a user's guide for easy set-up.
Movie Theater Experience
Since this karaoke system is also a projector, it allows you to have a movie theater experience in the comfort of your own home. Since it is wireless, you can even project your movies outdoors. You can simply put in your DVD in the disc player or even sync in your USB device and enjoy any movie.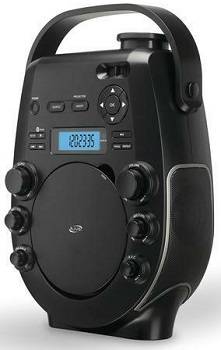 iLive Karaoke Projector
The projector of this machine is also really good for karaoke nights. If you have a larger gathering and want everybody to be able to sing along to your favorite lyrics, you can easily project them using this karaoke machine.
Control Panel
On the front control panel, besides the disc player, there are plenty of control buttons for volume, echo, balance, separate microphone volumes for both microphone plug-ins, and some other related to the projector.
Main Characteristics:
60-feet wireless range
All-in-one karaoke machine and projector
Disc player and USB reader
Conclusion: Is iLive Karaoke System The Right Choice For You?
In these two iLive karaoke party machine reviews you were able to compare two great karaoke systems. The first one, iLive Bluetooth Karaoke Machine With Led Lights is better for someone that does karaoke once in a while and in smaller gatherings. However, the second one, iLive party projector, would be more suitable for someone that is looking for an all-in-one machine for the ultimate karaoke evenings and bigger gatherings.
If you want to keep on reading about great versatile karaoke machines for sale, check out the linked article. However, my article on bluetooth karaoke party machine talks more about karaoke machines that are suitable for party environments. If you can't remember lyrics then you should definitely check out the offer of professional karaoke machines with screen.