Top All-In-One Karaoke Machine System For Party Reviews 2020
Are you on the lookout for the ultimate karaoke party machine but having trouble choosing only one?
In that case, keep on reading this article.
Here I will present to you a few all-in-one karaoke systems and house party karaoke machine models. I will also tell you what features you should be looking out for to reach the best party effect. Later on, you will learn about the technical specifications and design of each machine and their main strong points.
How To Choose Best House Party Karaoke Machine?
All In One Karaoke System
One of my biggest suggestions would be to look for an all-in-one karaoke system. That means that your karaoke machine should have all necessary parts and work as one; a music player, speaker, microphone and sometimes even a recording device.
Bright Karaoke Party Machine With Led Display
LED display is one of the best party machine karaoke features. This means that everyone at the party can read off and sing-along to the lyrics displayed on the screen. However, I don't think this feature is essential since there are plenty of karaoke apps with lyrics or you can plug the machine to your TV.
Party Karaoke Machine With Lights
Some of the best all in one karaoke machine models will have the multicolor lights feature. This element really brings more life and fun to any party since it makes everyone feel like they are in a disco or in a karaoke bar.
Bluetooth Karaoke Party Machine
Bluetooth connectivity is one of the essentials any modern karaoke party speaker should have. This enables everyone at the party to connect to the machine quickly no matter the phone or tablet they have.
Searching For A Good Selection Of Karaoke Machines?
Even though there are karaoke party machines in physical retail stores, I always try to recommend online shopping. Online retailers like Amazon offer a wide selection of all in one karaoke systems. On there you can compare models to each other and also catch really good offers and discounts.
Best 5 All-In-One Karaoke Machine Systems For Party Reviews
Best House Party Karaoke Machine
iLive Karaoke Party Machine
Design And Dimensions
This iLive karaoke party machine has a stereo speaker design. It is about 14 inches tall and 11 inches wide. It is very portable, perfect for house usage since it weighs only around 7 pounds.
Control Panel
The front panel is reserved for the speaker on the bottom and control buttons on the top part of the machine. There are two microphone volume controls, master volume control, echo control, and AVC. You can also choose the source since it is a multi-format machine and basic song changing options.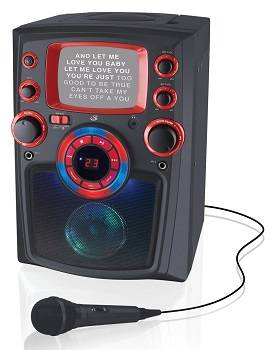 Karaoke Party CD Option And Screen
On the iLive Bluetooth karaoke party machine there is a top-loading disc player where you can put any CD. Also, since there is a 5-inch monitor, you can play your CD+G formats that will show the lyrics directly on it.
Bluetooth Karaoke Party Machine
Besides the already ''old-school'' CD player, you can also stream music using Bluetooth technology. This way you can connect to most Smartphones, tablets, laptops or MP3 devices easily and wirelessly. The machine has a wide 60 feet range perfect for both indoor and outdoor parties.

iLive Karaoke Party Machine App
Even though this karaoke machine works with most music streaming and karaoke apps, the brand created its own. You can easily download it using your Smartphone and enjoy multiple karaoke songs from different genres.
Other Features
There are two microphone jacks on the front panel but you do get one karaoke party microphone with the purchase. Another good feature of this machine is the LED light option that works with the music playing.
Brief Specifications:
Compact and portable design
Wide wireless Bluetooth range
CD player
5-inch monitor
Best Two-Mic Karaoke Party Machine
Ikaraoke Ultimate Bluetooth Party Machine
All In One Karaoke System
This karaoke machine has all the necessary features a good karaoke system should have. It has a classic square-like design with neutral colors and it has a top handle and wheels making it extremely portable and easy to store.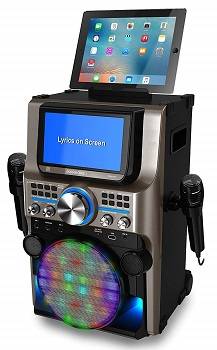 Connectivity Options
iKaraoke Ultimate Bluetooth Party Machine is also the ultimate multi-format karaoke machine. It has everything from a tray-loading CD player, USB port perfect for custom made playlists and is also Bluetooth compatible.
Party Karaoke Machine With Lights And Screen
Other main features about this party machine are the 7-inch screen for lyrics display and LED multi-color lights. Both are crucial for the perfect sing-along evening.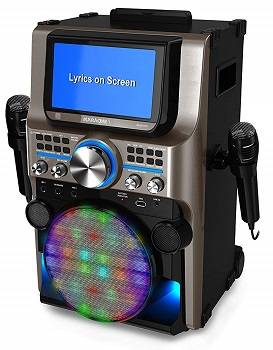 Battery Life
This karaoke party machine has an up to 8 hours of continuous play battery life for practical wireless use. It is also rechargeable with cables that are provided with the purchase.
Other Benefits When Purchasing This Machine
There are a lot more benefits of this machine that you can check out later on the link I will leave below. Here I will mention that the machine comes also with 2 microphones, HDMI and RCA outputs so you can connect it to your TV, guitar and keyboard inputs and much more.
Brief Specifications:
All-in-one system
Perfect house party karaoke machine
Multiple connectivity options
7-inch screen
LED multi-color lights
Best Bluetooth Karaoke Party Speaker
Ion Party Rocker Express Bluetooth Karaoke Machine
Product Dimensions And Design
Out of all of the machines I mentioned earlier, this one has the most compact design. With 11.42″ H x 8.54″ W x 8.46″ D dimensions and around 5 pounds of weight it makes it also the most portable one. It has a Bluetooth speaker square form and doesn't take up a lot of space.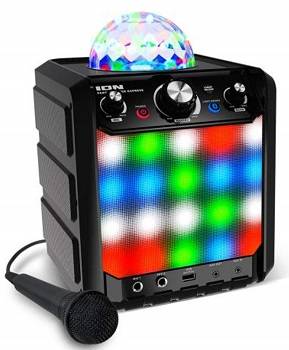 Party Karaoke Machine With Lights
This party rocker karaoke machine has a great light system. First of all, it has a light dome placed on the top that releases multi-color lights on your walls. Also, the grille is completely illuminated with lights giving you an overall karaoke light show.
Karaoke Party Speaker
Despite its small dimensions, the Ion karaoke party system has good quality speakers. A powerful 4-inch woofer and wide-dispersion tweeter enrich the whole room with evenly vibrant and high-quality sound.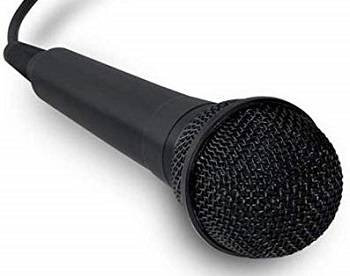 Karaoke Party Microphone
The machine comes with a high-quality microphone and cable but there is another input if you decide to get more. Also, there are fun echo effects and controls for a more professional-sounding feature.
Purchase Includes
If you decide to purchase Ion audio block party live karaoke system you will get the party rocker karaoke machine itself, stereo aux cord, wired microphone, power cable (can run also on cell batteries), warranty and a user's manual.
Brief Specifications:
Compact design
All-around light system
Good quality sound and microphone
Best Outdoor Karaoke Party Machine
Altec Lansing Party Star Karaoke Machine
Lightweight And Portable
Out of all of them so far mentioned karaoke machines, this one is the best model for indoor and outdoor karaoke looking at its features. Also, it is easy to carry with only just over 8 pounds and these measurements 11 x 10 x 15 inches and has side handles.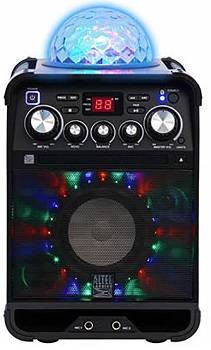 CD Player
One of the favorite ways to stream music is by using traditional CD players. This machine has a front-loading disc player that plays both CDs and CD+Gs.
Wireless Streaming And Range
Another music streaming option is using Bluetooth technology with any compatible portable devices. Bonus part and what makes it a good outdoor machine is the wide Bluetooth range up to 33 feet so you don't have to stay near the karaoke machine all the time.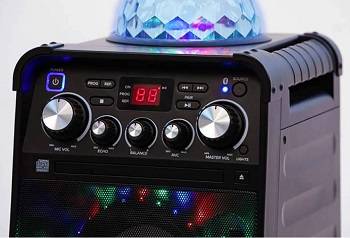 Professional Sound Effects
The karaoke machine has integrated sound effects that can be controlled from the front control panel. Effects like echo and AVC can help you sound more professional. There is also one microphone included with the purchase and its volume can also be controlled in the same place.
Disco Light feature
To light up any venue there is the disco light feature. The party ball karaoke machine has a disco ball on the top that lights up the ceiling and also integrated speaker LED lights that help illuminate the whole room.
Brief Specifications:
Two popular music streaming ways
Wide wireless range
LED lights and sound effects
Supports two microphones, one included
Best All In One Karaoke System
Singsation All In One Karaoke System
All In One Karaoke System
This machine is also called Performer deluxe and an all in one system. That is because it really does include all necessary karaoke elements; speaker, microphone, microphone stand, remote control and other. With purchasing one product you get it all.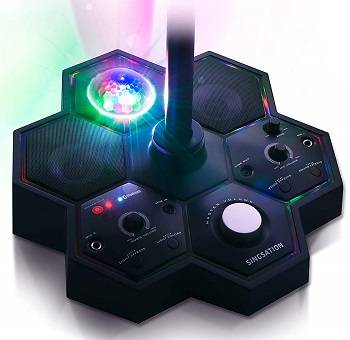 Adjustable Stand
The main part is probably the microphone stand which is adjustable from 2 up until 6 feet of height. This means this karaoke system is perfect for almost all ages. This makes it also great for storage since it can be shortened, and the item weighs only around 5 pounds.
Voice, Sound And Light Effects
One of the things this karaoke machine is famous for is the wide selection of voice and sound effects, all from the high and low pitch, chipmunk, air horn, cheers, DJ effects and many more. Also, there are 16 different multi-color light modes like pulse, breath, chase that you can adapt to the rhythm of the music.

Bluetooth Connection
The simplest way to connect to this karaoke machine is through Bluetooth. Besides the simplicity of it, there is also a phone or tablet cradle that once you open your karaoke App holds your phone while you sing along to your favorite lyrics.
Karaoke Machine Base
The bottom part of the stand or the base is pretty much the control panel. On there you will find the disco ball that produces the lighting effects, all of the control buttons, voice and sound modifiers, microphone inputs and others.
Brief Specifications:
Microphone stand and speaker
Adjustable height
Big selection of voice and sound effects
16 different lighting options
Conclusion: What All-In-One Karaoke Party Machine Do You Chose?
Even though all of the karaoke machines I mentioned have really good features and especially the price-quality ratio, I had to narrow my choice to the next two models. iKaraoke KS838-BT karaoke system is probably the most versatile model out of all of them, because of its portable design and high-quality loud sound system. However, my favorite house model and the best all-in-one karaoke machine with the best sound and karaoke features is definitely the Singsation All in One karaoke system.
If these five models weren't enough for you, I recommend you read more of my articles like the one on the best karaoke machine. For more of all in one karaoke machine, you will find some looking through this post on bluetooth karaoke machine with a wireless microphone. If you are not afraid to spend a bit more on quality karaoke machine models this next article may be for you: best professional karaoke system.