Best 7 Karaoke USA Karaoke Machine Systems Reviews In 2020
If you are a big music and karaoke fan and you are considering buying Karaoke USA machine, keep on reading this article.
I want to present to you the best Karaoke USA karaoke systems currently available on the market. You can learn more about their technical specifications and their features. Also, I will inform you more about different models of Karaoke USA's all-around karaoke machines and what they consist of.
Something About Karaoke USA Brand
Products They Offer
Karaoke USA is a brand that, as the name suggests, specializes in karaoke machines and systems. They offer all sorts of karaoke machines, from old-school to really modern ones. Besides that, from them, you can get speakers, digital players, chargers and other similar items.
Different Prices With Different Models
When it comes to the USA Karaoke prices, you can be sure that you will find something for your budget. Their offer is very diverse so there are high-quality models with a high price, but there are also a few pretty good-quality models at a decent price. Set your budget before you choose and you will find what you need.
Instructions And Customers Service
Each Karaoke USA product comes with a warranty card and instruction manual. For any additional questions or information, you can contact their customer's service through the official website. You can also try to find answers to your questions by looking through the FAQ on the brand's site as well.
Best 7 Karaoke USA System For Sale
Karaoke USA Karaoke System GF829
Sleek Design
Even though this Karaoke USA GF829 system is an older model, it has a very sleek design. The item weighs only about 8 pounds and is only about 13 inches tall and 10 inches wide which makes it very portable and discrete for any placement and any occasion.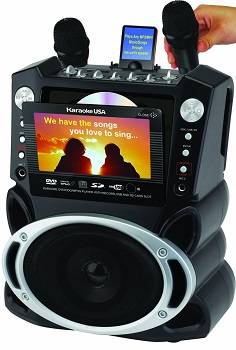 How To Connect To Karaoke USA GF829 System?
You are able to play music just by inserting a CD or a DVD into the player. It also has a USB and SD memory card slot so you can even record your performances and play them back. It gives you also a possibility to connect to other devices with an auxiliary cable.
External Features
GF829 also has a 7-inch TFT color screen where you can read and sing along to your favorite lyrics. The device has a cradle where you can put your MP3 player or smartphone so you can easily play any songs you want through the unit's speaker.

What Do You Get With The Purchase?
When purchasing the GF829 karaoke machine, you will get the speaker's unit with a color screen, two microphones, and remote control so you can move around and still be able to control the sound.
300+ Songs Included
What is also great about the Karaoke USA GF829 system is that it comes with 300 MP3G songs already integrated with the device. It also features digital echo and balance control options for an even better sound.
Characteristics:
Lightweight and portable
Old-school and modern at the same time
Color 7-inch screen
Other Versions of Karaoke USA Karaoke System GF829
Karaoke USA GF839 Portable System Version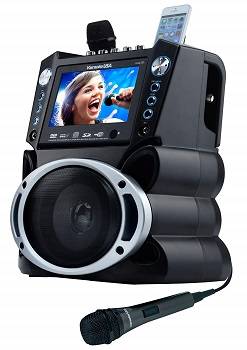 Karaoke USA GF839 portable system is another version of the previous model. The main difference between this and the first one is the speaker power; GF839 has a 35W power amplifier and slightly better sound quality in general. For all other features of the GF839 karaoke machine, read the review on the first model or consult the link below.
Karaoke USA GF840 Portable System Version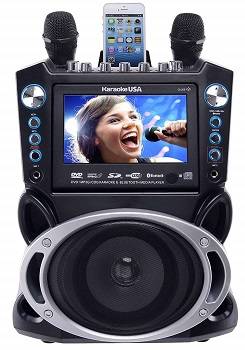 A GF840 karaoke machine is another updated version in the GF Karaoke USA baseline. It features all of the same characteristics as the previous two ones, like the color screen, two microphones, compact and portable design, etc. Now what makes GF840 better is the Bluetooth feature to connect your Smartphone devices and have even more karaoke options.
Karaoke USA GF842 Version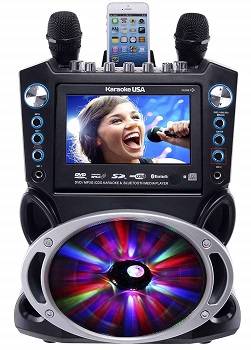 Next in this series is Karaoke USA GF842 singing karaoke machine. Besides more power than the previous versions, this one has an LED disco lights feature which allows you to have an ultimate karaoke evening. It also has upgraded microphone cartridges.
Karaoke USA GF844 Version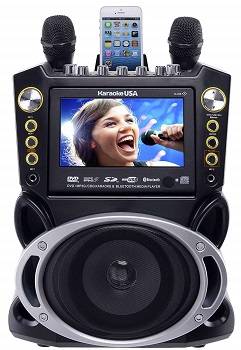 Karaoke USA GF844 is an updated version of the previous one. It still has the same sleek, compact design, color screen, 2 microphones. The best part is its multiple connectivity options, from Bluetooth to SD cards, or CD and DVD player that's built into the machine.
Karaoke USA GF845 Version
The GF845 karaoke machine is yet another all-in-one version; it connects to all devices. Another good thing about this particular version is that it comes with RCA wires if you desire to connect it to your TV and see the lyrics on a bigger screen than the one it comes with.
Karaoke USA GF846 Version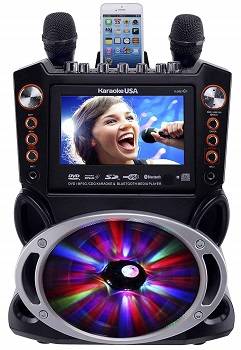 This last version I am going to review has all of the same features as the GF845. Karaoke USA GF846 is about 18 inches tall and 13 inches wide which makes it one of the biggest ones in the series but still is very small and compact compared to karaoke machines from other brands. It weighs only around 10 pounds which makes it very portable.
Conclusion: Why You Should Choose Karaoke USA Machine For Karaoke?
If you are considering buying Karaoke USA portable system, the one I would recommend the most would be the GF842 karaoke machine. It has all of the features as the later versions but is slightly smaller and more compact. But if you want the best sounding and the one with the highest performance, consider the latest one since the price difference between GF846 and GF842 is not that significant.
If you want to know more about what makes a good karaoke portable system and its features, you should read my article generally called karaoke machine. On the other hand, if you are interested only in external karaoke features and devices read my article on best wireless karaoke microphone or best bluetooth karaoke microphone.