Best 3 Disco Ball Karaoke Machines For Sale In 2020 Reviews
Are you looking to purchase a karaoke machine but with a disco light feature?
If you answered yes, then you should consider reading my article.
I will show you a few disco ball karaoke machine models that are currently between the best ones on the market. I will give you a few instructions to consider when purchasing a karaoke machine and then you can select your favorite model. I will inform you also about the machines' features and technical specifications.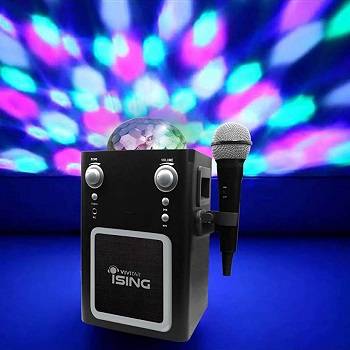 How To Chose A Disco Ball Karaoke Machine?
Karaoke Disco Ball
There is a difference between karaoke machines with LED light and disco ball features. LED lights are usually placed around the machine and are more discrete. However, the disco ball is oftentimes placed as one of the prominent parts of the karaoke machines.
Type Of Machine
Most of the karaoke machines with disco balls have similar designs and look to them since it is not possible to place a disco ball for example on a karaoke microphone. That's why most disco ball karaoke machine has a stereo speaker form.
Kids Karaoke Machine With Disco Ball
Even though disco ball karaoke machines work for any age, I feel like it is a perfect gift for kids. Plus there is a decent amount of kids karaoke machine with disco ball models currently available with some that I will mention just below.
Other Features To Look For
Some of the other features you should consider looking for is multiple connectivity options or at least make sure that the brand provides all necessary accessories and cables for connection. I would recommend Bluetooth compatible machines the most.
Purchasing A Disco Ball Karaoke Machine
To purchase a disco ball karaoke machine I would recommend online retailers like Amazon. You can also buy them in a physical retail store but Amazon gives you the benefit of being able to read other customers' reviews, compare different models to each other and online discounts.
Best 3 Disco Ball Karaoke Machines Reviews
Best Home Disco Ball Karaoke Machine
Vivitar Ising Disco Ball Karaoke Machine
Product Dimensions
Even though the machine is recommended for home usage, it is still fairly small and portable. It has 9.00 x 8.75 x 13.00 inches dimensions. It is also very lightweight with only around 4 pounds of weight.
Karaoke Disco Ball
The whole machine has a subtle classic black design. However, the disco ball is placed on top of it and it gives a whole new look to the machine. The ball is silver but releases all kinds of different colors that sync with the music once this feature is on.
Plug-In The Audio Device
This retro-inspired machine can be paired with your audio devices. That means you can hook up with adequate cables your tablets, mp3 players, Smartphones or others and jam out to your favorite playlists.
Other Good Features
Some of the other features this machine has are volume and echo controls placed conveniently on the front panel. You will also get one microphone with the purchase and there is a microphone side holder that makes it easy to store and makes sure you never lose the mic.
Main Characteristics:
Fun gift for anyone
Glamorous disco ball
Microphone and holder provided
Best Kids Disco Ball Karaoke Machine
Shopkins Karaoke Machine
Design
This whole karaoke machine is perfect for kids. Especially the design which has almost all of Shopkins characters printed out on the front. Other than that the machine is purple and pink and perfect for young girls and boys.
Front Control Panel
The front is also filled with big sized easy to use control buttons. All from master volume control, microphone volume, echo control, AVC, to basic song switching, pause and replay buttons. There are also 2 microphone jacks on the front of your kids prefer duets to solo performances.
Kids Karaoke Machine With Disco Ball
Since the disco ball is the main subject here I have to mention that this product has a similar disco ball to the previous one. It is placed on the top part and is silver faceted but does release the light in multiple different colors.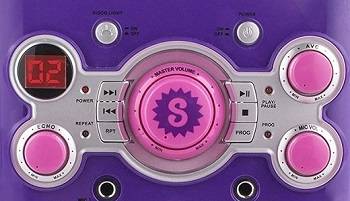 Connect It To Your Phone Device
Even though this karaoke machine might be slightly outdated since it does not offer Bluetooth connectivity option, it can still connect to your phone using the cables. So a simple aux cord will let you play music from most external devices.
Main Characteristics:
Fun design
User-friendly
Shimmering disco ball
AVC and echo control options
Best Mini Disco Ball Karaoke Machine
Sakar KO2-06027
Frozen Karaoke Machine With Disco Ball
This is another great kids karaoke machine with a disco ball that I chose. This one is inspired by Frozen movie and the whole design is in that theme. In the front, there are the main characters and a castle-like design in white and blue.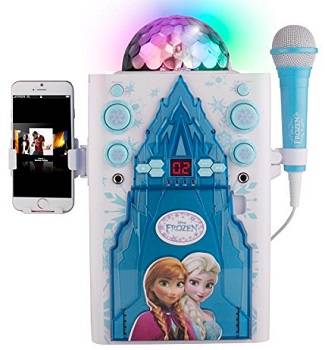 Portable Item
This Frozen karaoke machine has a portable design perfect for children to move around if they want to. These are the dimensions of the machine 10.8 x 10 x 14 inches and also it weighs just around 5 pounds.
Music Streaming
To play music on this particular device, you can introduce your Smartphone, tablet or mp3 device using an auxiliary cable and play music through your favorite music streaming or karaoke apps. Or there is also a disc player for CD and CD+G formats.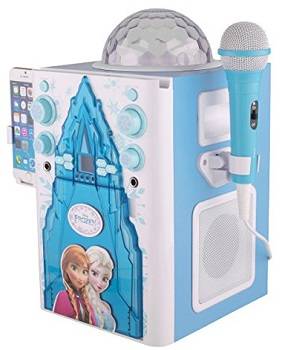 Karaoke Disco Ball
Disco ball is the icing on the cake on this amazing design. It is placed on the top of the karaoke machine and it lights up not only the main characters on the front but also the whole room.
Other Features
One microphone is provided with a purchase and there is a side holder for it as well. However, there are two microphone jacks if you decide to purchase another one. There is another good physical feature and that is the side phone cradle so it can hold kid's phone while they read off lyrics and sing along to their favorite songs.
Main Characteristics:
Fun Frozen design
User-friendly and portable
Different music streaming possibilities
Conclusion: What Is The Best Karaoke Disco Ball Machine?
Based on the types of karaoke machines I gave you, the choice will most likely depend on whether you are buying the machine for an adult or for younger ones. Vivitar Ising disco ball karaoke machine can also work as a kids karaoke machine but has more of a classic look. It does have a good sound quality and it is easy to use. Out of the two kids karaoke machines I mentioned I recommend the Frozen karaoke machine with disco ball better because of the design and overall more developed features.
If you still want to continue exploring, I wrote about best karaoke machine models where you can find a variety of different karaoke systems and equipment. For more kid gift ideas, check out the post about karaoke set for kids. And if kid gifts are not something you are looking for, I also have some professional karaoke equipment mentions.