Top 3 Sony Karaoke Machines With Speaker Systems Reviews
Sony is a great tech company, but, are Sony karaoke machine models the right choice?
If you are looking into buying one of the best Sony karaoke machines, keep reading this article.
Here I will present to you the top 3 Sony karaoke machines currently available on the market. The focus will be on their technical specifications and main characteristics. This way you will be able to compare the available models and decide which one is the best for you.

More About Sony Brand And Their Offer
Wide Offer Of High-Quality Products
Besides Sony karaoke sound systems, this brand is one of the pioneers when it comes to the development of new technologies, be it TVs, music listening, cameras, gaming devices, and many others. Their wide selection of products is what makes them one of the best selling brands in the world.
The Price Range Of Sony Karaoke Machines
Sony is, besides its wide offer of products, known as one of the best price-quality ratio brands. For an average priced product, you can get a high-quality sound system.
Where To Buy Sony Products?
Other than physical stores, you can purchase Sony products from authorized online retailers. You should definitely consider looking on Amazon since there you can find the best deals and compare different models to each other.
Warranty And User Manual
Sony offers a 1-year limited warranty for its products. You can use the warranty in situations described in the user manual that comes with the purchase or can be consulted online on the official website.
Great Customer Service
For any additional information on Sony products, you can contact their customer service via email or phone. Sony created also a supported App that notifies the users about any recent updates on purchased products and has an instant response system.
Best Of Sony Karaoke Speakers
Sony MHC-V21 High Power Audio System
Perfect Karaoke Bundle
This particular Sony karaoke sound system is ideal for home karaoke. The bundle consists of a Sony Bluetooth karaoke speaker and a microphone. You can consult these products using the link below the characteristics.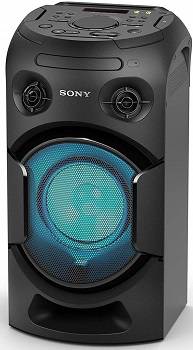 Connection Options
To stream music, you can connect the speaker to your phone directly through NFC or Bluetooth, without any cables and wires. Also, you are able to connect up to three different Smartphones at the same time. Or you can simply play your created playlist just by plugging in a USB device.
High Power And Quality Sound
With integrated Bluetooth technology you can connect and synchronize multiple different speakers for an even more powerful performance. This Sony karaoke speaker has an angled form so it ensures an even sound dispersion.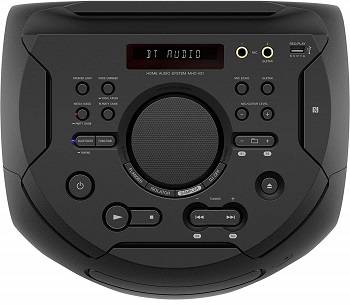 Perfect Karaoke Features
Sony sound system with karaoke features is one of the best on the market. It has not one, but two microphone inputs and even the blue lighting for an ultimate karaoke evening.
Compatible Apps
You can connect this speaker to Sony music Apps and control all of the sound settings from your phone. On the other hand, with the Fiestable app you can control the lighting and DJ and karaoke modes.
Main Characteristics:
fast wireless and Bluetooth connection
numerous sound and karaoke features
easy to use and carry
Other Versions of Sony MHC-V21 High Power Audio System
Sony MHC-V50 Version
This is another version of a Sony karaoke speaker that the brand has to offer. It is similar to the one previously mentioned just with a higher power. It also features dynamic lighting and multiple DJ effects perfect for karaoke lovers.
Sony MHC-V71 Version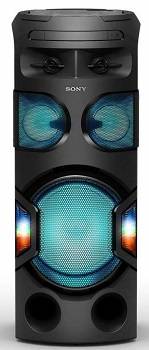 This Sony karaoke machine is a different version of the last two mentioned. It has a slightly better performance and a higher quality and power sound.  This version is a bit heavier than others but it has carry handles and wheels so you can easily move it around. It also features a 360 party light.
Conclusion: Which Model Is The Best Sony Karaoke Machine?
The first Sony karaoke speaker mentioned in the article is definitely the one if you are looking for an easy to use and easily portable version. On the other hand, if you want something with a higher power and quality sound and performance, Sony MHC-V71 is perfect for you. It also offers the biggest amount of karaoke sound and lighting features and effects.
The next step in your karaoke machine adventure should be my post about the best karaoke machines.  There you can check out some of the best karaoke machines that include  If you are the best professional karaoke system, and the opposite, the best karaoke machine for home use.