Top 5 Boys (Toddler & Kids) Karaoke Machines In 2020 Reviews
Are you on the lookout for the perfect and innovative kids' gift?
If so, you should consider reading this article.
I wrote this post about some of the best boys karaoke machine models but that can of course work for both genders. You can read more about their technical specifications and functions and all of their special features. Since I will mention a few of them, by the end I will recommend the top 2 and also link you to some other posts I wrote about kids karaoke machine models.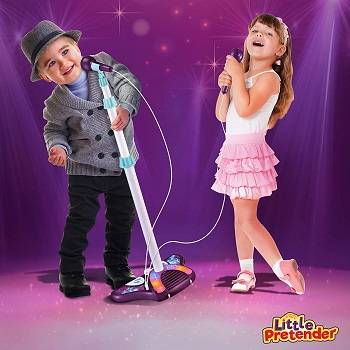 What To Consider When Buying A Toddler Or Kids Karaoke Machine
Why Choose Karaoke Machine As A Gift?
There are many benefits when buying girls and boys' karaoke machines. Besides the obvious entertainment, using a karaoke system are able to develop maybe some hidden talents, but also their hearing, memory and many other things.
Easy-To-Use And Set-Up Machines
When choosing a karaoke system, consider ones that are user-friendly, simple to set up and also to store. For example look for those with bigger buttons, portable designs, and ones that come with microphone(s) when purchasing.
Price Range Of Kids Karaoke Machine Boys And Girls Models
Prices for kids' karaoke machines depend on many things like design, brand, size, features and other criteria. Mostly all of the machines are plastic so the prices don't go exceptionally high but I will try to put a variety in my reviews to give you an insight.
Where To Look For A Good Selection Of Karaoke Machines?
Besides wholesale stores, a lot of online retailers like Amazon have a wide offer of karaoke systems. The good thing about Amazon is that you can easily compare different models to each other and also have a look at other customers' reviews to find your answers plus regularly they have good deals and discounts.
Fun Features To Consider
Most kids do enjoy as many karaoke features as possible. So you should maybe consider looking for machines with LED disco lights option or voice changing effects. A lot of brands sell karaoke machines with cartoons or movie characters that can also be a fun choices.
5 Best Boys Karaoke Machine Reviews
Best Bluetooth Boys Wireless Microphone
TOSING Wireless Karaoke Microphone for Kids
Innovative Microphone Design
Most karaoke microphones, even those for kids, are designed in a similar manner and they look alike. This one, however, has a new design. It is shaped like a bear and comes in three different colors; blue, pink and yellow. If you want a karaoke machine for boys, you can go with blue.
Microphone Dimensions And Material
Tosing a karaoke microphone is really portable and lightweight with 10.1 x 4.2 x 4.1 inches dimensions, which makes it perfect for all children over 3 years old. It also has a silicone colored case that allows a nice and comfortable grip.
Multiple Connectivity Options
This device allows you to connect to it in multiple different ways. The most popular one is the Bluetooth option which works with any compatible device. There are also two input jacks on the backside so you can plug any aux or USB cable.
Battery Life
Like most wireless karaoke microphones, it has 3-5 hours playtime which is just enough for kids. It has a built-in lithium battery that is rechargeable and takes about 2 hours to completely charge.
Main Specifications:
Fun and kid-friendly design
Three color choice
Bluetooth compatible
Good sound quality
Best Home Kids Karaoke Machine For Boys
L P Kids Karaoke Machine with 2 Microphones and Adjustable Stand
What Is It?
This karaoke machine is an all-in-one system. It works as a portable speaker, a karaoke performing stand or you can simply just use microphones alone by themselves.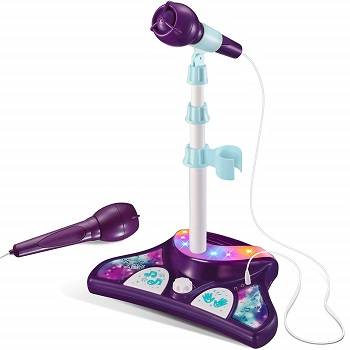 What Comes In The Package?
LP kids' karaoke machine comes with a portable speaker that also works as a base for the adjustable microphone stand. A microphone adapter and two wired microphones are also included as well as 4AA batteries for them and an AUX cable.
Portable Speaker And The Main Control Panel
As previously stated, the main part of the machine is the portable speaker or microphone stand base. It also contains all of the sound and karaoke features like volume button, fun songs foot pedal, applause pedal, carrying handle, microphone and aux ports and flashing lights.
Who Is It For?
The product is recommended for all kids above the age of 3. Karaoke microphone adjustable stand also can be extended up to 40". Also, since it does come with two mics it is perfectly designed for children to enjoy music and singing in duets.
Main Specifications:
all-in-one machine
portable speaker
adjustable microphone stand for all heights
Best CD For Both Girls And Boys Karaoke Machine
Singing Machine SML343 Karaoke System
Boys Karaoke Machine
Even though it is pink-colored this is a great karaoke machine for boys as well as girls. It has good karaoke features and a fun design so the color shouldn't be that important. Plus it is at a good price point for what it is.
Design And Shape
This product is a small carry-around karaoke machine. It is shaped like a box in a way and has a top handle which makes it perfectly portable and easy to carry around while singing. 7.1 x 13.2 x 14.4 inches are the dimensions of the product and it weighs only around 6 pounds.
Disc Player
The main music streaming way for this karaoke machine is the disc player found just above the speaker. This gives you the possibility to play any CDs.
TV Connection
The good thing about this kind of karaoke machine is that besides regular CDs it reads also CD with graphics (CD+G). Connect this machine to your TV and play your CD+Gs with premade karaoke lyrics.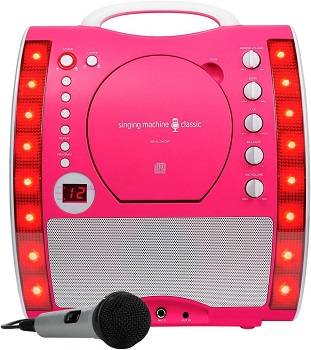 Karaoke Features
Karaoke features are always important for children. This one has AVC, balance, echo, microphone and general volume controls. Another bonus point is the LED disco lights placed on the side of the karaoke machine.
Accessories
With the purchase of this karaoke machine, you will also get a microphone, RCA cables, AC adapter, and a demo disc with 5 free famous karaoke songs for the beginning.
Main Specifications:
portable
CD and CD+G disc player
simple TV connection
Best Mini Girls And Boys Karaoke Machine
Disney Frozen Karaoke Machine
Frozen Design
Main characters of the Frozen movie, Elza, Anna and Olaf will welcome you as soon as you open the karaoke machine. The rest of the machine is blue and purple. Side parts are covered with LED lights which gives it more interest.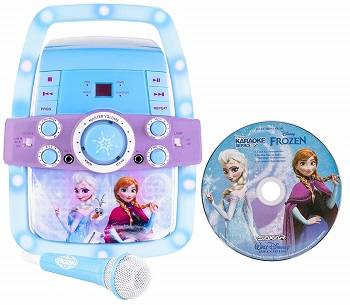 Product Dimensions
This karaoke machine is perfect for kids at any age since it is very portable and compact. It measures 10 x 9.5 x 14 inches and weighs less than 5 pounds.
Music Sources
On the front of the machine, you can select between two ways of streaming music. First being CDs you put into the designated player, or you can go with ''line in'' option of devices from your phone, tablet, laptops, additional speakers, TV connection and other.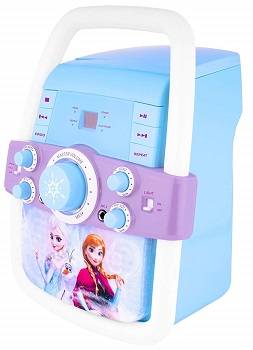 Frozen CD And Lyric Book
Your kids will be delighted also by the fact that not only they will get Frozen karaoke machine but also a premade CD with songs sung by their favorite movie characters they can now join. If they can't remember the lyrics, they are also provided with the purchase.
Main Specifications:
Playful design
Flashing lights feature
Lyric book and CD provided
Portable
Best Boys Karaoke Machine For Adults And Kids
Memorex MKS-SS2 SingStand 2 Home Karaoke System
Standalone Karaoke System
Besides it being able to stand alone, this karaoke machine is indeed a microphone stand. It comes also with a microphone and an integrated stereo speaker that is the base of the product. This way, with one purchase you have an all-in-one system and no need to purchase separate items.

Adjustable Microphone Stand
This karaoke machine is perfect for both adults and kids. Since it has an adjustable microphone stand, it can also work as a great kids karaoke machine for any kids above the age of 3 which is recommended.
Phone Cradle And Phone Connection
Once you connect the sing stand to your Smartphone or tablet device with provided cords, you can put it in the designed device cradle. That way your hands are completely free while you sing along to your favorite lyrics.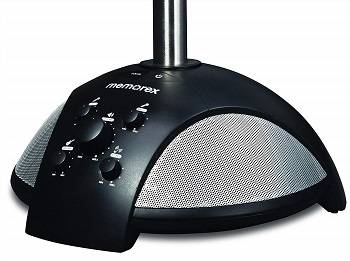 Other Devices
You can introduce other devices like keyboard, guitar or other instruments and plug them into according inputs. Also, there are two microphone jacks if you decide to invest in another one besides the one that comes with the purchase. Or you can always connect the machine to your TV as well.
High Sound Quality
High sound quality is expected when purchasing a machine like this and is definitely given with this one. It has two integrated stereo speakers with high-performance power. Adjust the volume and other options with control buttons.
Main Specifications:
For all generations
All-in-one karaoke system
Adjustable stand
Phone cradle
Conclusion: How To Choose Two Best Karaoke Machines?
Even though I gave you top 5 karaoke machines, I have to say my two favorites are Tosing karaoke microphone and Disney Frozen karaoke machine. Tosing microphone is the most portable one and has a fun design if you are looking for karaoke microphones. However Frozen karaoke machine will interest both toddlers and kids and has amazing karaoke features.
If you want to keep on reading about some of the best karaoke machines I wrote a review on best karaoke machine models. For more karaoke systems that work as amazing gifts for children you can check out in this post karaoke set for kids or my review on toddler karaoke machine models.