Best 5 Karaoke Machine Systems For Adults In 2020 Reviews
Are you having difficulties finding the best karaoke machine for adults, you or your friends?
Then you're in the right place.
In this article, you will be able to find out more about my selection of top 5 karaoke machine models for adults. I will explain to you just why these karaoke systems are the best ones by teaching you more about their technical specifications, design, necessary features, and other characteristics. This way by the end of the article you can simply compare the 5 machines and hopefully decide on one.
Things To Know When Buying A Karaoke Machine
What To Buy?
A lot of brands nowadays sell karaoke microphones that are extremely practical and easy to use, however for a full karaoke experience I would recommend rather looking into a whole karaoke machine or system. With all of these, you do get a microphone as well and there are more features and possibilities.
Looking For A Multi-Format Karaoke Machine
Best karaoke machines for adult models should have at least a few formats of streaming options. That means that for the least it should be able to read MP3 and MP4 song formats and have a USB reader for your personal playlists. A plus is karaoke systems with CD players for that old school feeling.
Prices For Any Budget
Karaoke machines for adults can be found under any price bracket. The cheapest ones that are still good quality go from around 50 dollars and some of the most expensive ones I will recommend going for up to 250 dollars. Keep in mind, with karaoke systems sometimes more you pay, more you get.
Where To Look For A Good Selection Of Karaoke Machines?
A lot of online retailers like Amazon have a really wide offer of karaoke systems. The good thing about Amazon is that you can easily compare different models to each other and also have a look at other customers' reviews to find your answers.
Additional Features To Look For
Some of the other features you should consider when deciding what karaoke system to buy are for example LED lights that give you that extra something on your karaoke evenings. Another fun option is sound and vocal effects that make any average singers more comfortable.
Best 5 Karaoke Machine For Adults Reviews
Best Bluetooth Karaoke Machine For Adults
Singing Machine SML385BTBK
Different Design
This is the first example of a good karaoke machine for adults. It has a sleek modern design. The speaker part is nicely hidden with a perforated glass cover that lets the flashing lights shine through. The top part has all of the necessary control buttons.
Wireless Streaming
The first option of music streaming is the most frequent one aka via Bluetooth. This way you can easily connect any phone device, tablets or even computers and open your favorite music streaming apps.
Singing Machine App
The Singing Machine brand developed a special karaoke app that lets you download thousands of different karaoke songs and sing along. The download is easy using the Apple Store or Google Play for Android devices.
CD Player And USB Reader
Besides streaming music wirelessly, this karaoke machine has also a top-loading CD player that plays music from CDs and karaoke CD+Gs. Also, there is a USB reader if you enjoy premade playlists.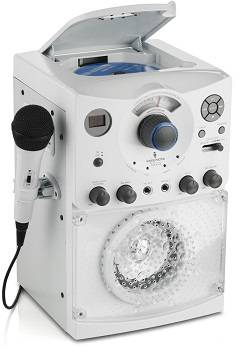 Disco LED Lights For Party Experience
You will have a great party with this karaoke machine because it has an integrated disco light show. It might not sound impressive, but once you light up the machine you will see it because it comes with 50 LED lights.
1 Microphone 2 Jacks
Although you can't sing a duet on this machine once you buy it, you can do that simply by getting an extra microphone. How? Well, this machine comes with two jacks for microphone so the only thing you need is another mic.
Why Buy This Machine:
3 different music streaming options
Innovative design
Microphone provided with the purchase
50 LED lights
Best Disco Ball Karaoke Machine For Adults
Pyle Wireless Pa System Karaoke Speaker
Parts Of Karaoke System
This next karaoke machine works as a stereo speaker. It is under the best disco ball category because it lights up any party with its top disco ball that is built into the speaker. Other than that, with the purchase, you get a wireless microphone and all necessary connection cables.
Portable Design
Pyle karaoke speaker is about 20 inches tall and 13 inches wide and weighs about 27 pounds. Since it works as an indoor and outdoor speaker, they designed it with a retractable carry handle and wheels so you can bring it anywhere with you.
Amazing Quality Sound
This particular Pyle karaoke machine has 400 WATT output power through an 8-inch full-range speaker for a powerful sound. It also has an external 12V Power DC Input Connector. All of this makes this karaoke sound system perfect for bigger venues and gigs.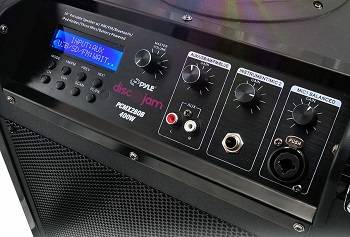 Wireless Connection
The machine connects to any Bluetooth equipped device, from Smartphones, tablets to computers. It leaves you to freely move around any party since it has a 100 feet wireless Bluetooth range.
Rechargeable Battery
Not only is it portable because of its design but also because of the rechargeable battery that can sometimes last up to 10 hours and does not take long to recharge. However, the wireless microphone that comes with the purchase requires two AA batteries.
Why Buy This Machine:
Microphone and cables provided
Portable suitcase-like design
High quality and power sound
Long battery life
Best Professional Karaoke Machine For Adults
Singsation Deluxe Karaoke System
All-in-one System
This karaoke machine is all-in-one; in other words, it the whole package includes a speaker, microphone with a stand, remote control and power adapter. With one purchase you are able to get all of the necessary karaoke equipment.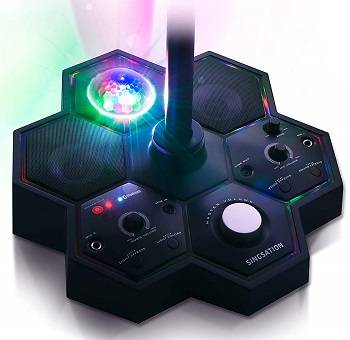 Product Dimensions
Singsation deluxe karaoke system weighs only about 5 pounds which makes it easy to carry around and set up. Also, the main microphone stand is adjustable from 2 to 6 feet so it can adapt to anyone's height and hence is also easy to store.
Music Streaming
This karaoke machine is easy to connect to any Bluetooth compatible device. Like most other karaoke machines, this way you are able to stream music under only a few clicks from any music or karaoke apps.

Fun Options
This well thought out karaoke system also comes with multiple different voice and sound effects. As well as that, it gives a complete karaoke atmosphere with many lighting options that are in sync with the music.
Why Buy This Machine:
Professional-like high-quality machine
Bluetooth connectivity
Adjustable microphone stand
Best Home Karaoke Machine For Adults
VocoPro SmartTVoke Karaoke System
Product Dimensions
This product is under the best home karaoke systems since its base is a machine that has a DVD player shape. Still, it is very compact and easy to store on top of your TV. It has 14 x 3 x 11 inches and does not weigh much.
TV Compatible
SmarTVoke like the name says works with any device with a digital optical output like TVs and others. Besides that, it works also with any other sound system. Once you connect it to your device you can play music through YouTube or other apps and read lyrics directly from your TV.
Music and Karaoke Apps
There are multiple different karaoke apps that work with this device. The brand recommends apps like Karaoke Channel or Red Karaoke any other free ones can be easily found on iStore or Google Play for download. You can also simply stream thousands of songs simply from YouTube.

Machine And Accessories
With the purchase, you will get a digital optical cable with what you are able to connect to smart TVs. You also get a power adapter and two other cables; 1/8″ to 1/8″ and a 1/8″ to L/R RCA cable. There are also two wireless microphones provided with the purchase.
User Manual
Since there are multiple connectivity options with this device, the user manual is indispensable. You can look for it and also for the specification sheet and FAQs directly on the brand's website or on Amazon if you want to discover it before the purchase.
Why Buy This Machine:
Use it with most TV models
Connect it to a stereo source
Two wireless microphones included
Best Karaoke Microphone For Adults
Bonaok Wireless Bluetooth Karaoke Microphone Q78
All-in-one Karaoke Machine
This is the number one selling karaoke microphone on Amazon. It has such a good rating because it is a 3-in-one system; it works as a Bluetooth speaker, microphone and a recording device.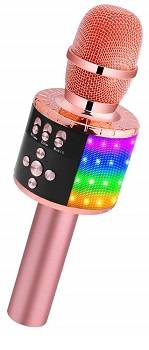 Good Quality Design
Even though it is at a low price point, this microphone has an expensive look. It has a developed multi-layer denoising head, powerful speaker main part with professional buttons. The main part is also enriched with multiple dynamic LED lights. The microphone is available in multiple different colors.
Connectivity Options
You are able to connect Bonaok microphone to your tablet or Smartphone wirelessly via Bluetooth. If not, you can connect them with a micro USB or an audio cable that is provided with the purchase.
Main Features
On its front side, the microphone has multiple different options for sound and voice enhancement; echo balance, volume adjustment, and others. Music can also be introduced to this device via USB and SD cards since it has corresponding readers.
Rechargeable Battery
A good karaoke microphone is the one that has long battery life. This one is definitely the one since it ensures an over 5-hour long battery life. The battery is rechargeable and does not take a long time to do so.
Why Buy This Machine:
Number one best-seller on Amazon
3 in 1 machine
Record performances
Long battery life
Conclusion: Which Two Best Karaoke System For Adults You Should Look More Into?
Two best karaoke system models are really different but both have amazing qualities. Bonaok Q78 karaoke microphone is best for those looking for an all-in-one small-sized product that is wireless. However, if you want to spend a bit more on a high-quality sound and performance but still have a portable product; look more into Pyle karaoke speaker.
In case you want to find out more about other good models out there on the market, read my review on karaoke machines for sale. Since here we talked more about adult karaoke machines if you are looking for kid suitable ones I also wrote about best kid-friendly karaoke machine or about different best karaoke system for home models.