Best 5 Wireless Bluetooth Karaoke Microphone Speaker Reviews
Are you looking to get a new karaoke mic for you, your friends and your family?
Let me suggest some of the best karaoke microphone speaker models.
In this review, I will show you all that a good wireless karaoke microphone should have. Once you read the brief buyers guide you can check-out my selection of best karaoke microphones and see if they match your needs. Read the article until the end because I will link you to some other posts where you can check-out even more models and brands.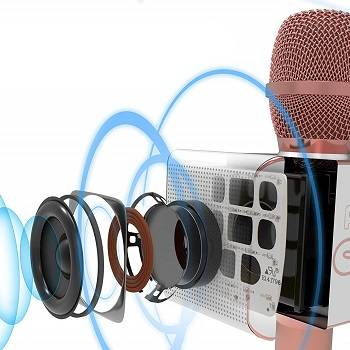 Wireless Karaoke Microphone Guide
What Is An All-In-One Karaoke Microphone Speaker?
Even though you can guess from its name, a karaoke microphone speaker is an item made out of both a microphone head and a speaker. These items can be purchased in physical stores or online through retailers like Amazon where you have a wide offer and often discounts.
Bluetooth Karaoke Microphone
Most karaoke microphones are wireless and also Bluetooth compatible to ensure the most mobility and easy karaoke. This way you can easily connect to any Smartphone and download good karaoke apps.
Vocal Or Sound Effects
When buying a karaoke microphone, you should at least look for some basic sound effects like echo or AVC. There are microphones with more developed sound effects but they are mostly for kids. However, if you download a good karaoke app on your phone you will most likely be able to add effects from there.
Kids Karaoke Microphone
Karaoke microphones work as a great gift for the kids and occupy them for hours at a time. This is also a good way for them to develop confidence, vocal skills, memory skills, and other benefits.
Benefits Of A Karaoke Microphone Speaker
Unlike classic karaoke machines that can be heavy and not so practical, Bluetooth handheld microphones are extremely portable. If you want to bring it to your friend's house or pool party you can easily put your 2-in-1 device in your bag and be good to go.
Best 5 Karaoke Microphone Reviews
Best Wireless Karaoke Microphone
Bonaok Wireless Bluetooth Karaoke Microphone
Gold Karaoke Microphone
The first portable karaoke microphone comes in a few different colors one of which is this gold one I will link. However, you can choose also between rose-gold, black, silver and red to match any taste.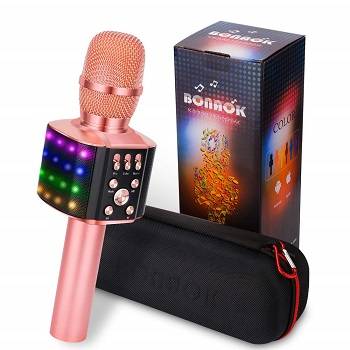 All Of The Lights
Bonaok karaoke microphone features small LED lights that go all around the speaker part of the microphone. Also, there is a disco ball USB plug-in you can add on the bottom of the microphone to make the whole room and floor shine. You can also use this disco USB with other devices.
Two-Way Connection
This device is very user-friendly and uses the two most common connection ways. One is via Bluetooth technology and the other one is wired connection using an audio cable.
DSP Technology
Bonaok microphone uses the newest updated DSP technology to ensure the best mic and sound quality. The microphone head has a three-layer net that helps with background noise reduction.
Quick-Charging And Long Battery Life
As most wireless karaoke mics, Bonaok microphone runs on a 2600mAh lithium battery that lasts about 4 hours. A USB charging cable is provided with purchase.
Technical Specifications And Features:
Noise reduction net
SD card reader
Works as a recorder
Colorful design
Best Mini Karaoke Microphone
Kikkerland Mini Karaoke Microphone
How To Use It?
Kikkerland mini mic works with the help of apps you can download using your Smartphone or tablet through Google Play or iStore. You can also use it with audio sound systems and speakers by using an aux cord.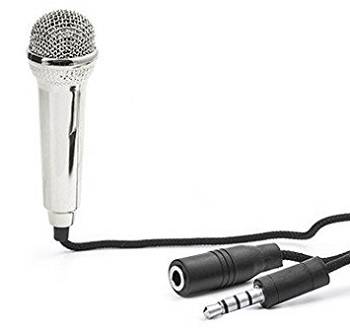 Voice Or Performance Recording
Even though you shouldn't expect a full-size microphone quality, Kikkerland mini karaoke microphone does offer this function. It works with most sound recording apps and you should also introduce headphones.
Two-Way Adaptor
There is a two-way adaptor that comes with the package and pretty much runs the whole microphone. One side you use to connect a phone or tablet to sing and record. The other jack is for a headphone set so you can listen to music.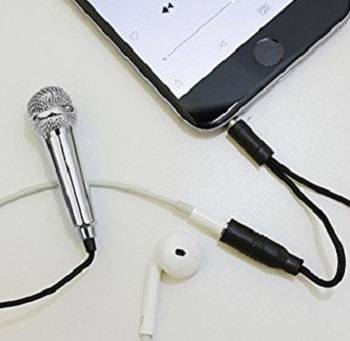 Smallest Design
Since it is a mini karaoke microphone, the 54 x 0.7 x 2-inch dimensions don't come as a shock. It weighs around two ounces. This is a good on-the-go mini microphone for those that don't want to spend a lot and don't need professional karaoke equipment.
Technical Specifications And Features:
Works with karaoke and recording apps
Pocket-sized
Works as a recording device
Good for hands-free phone calls
Best Rose Gold Microphone
Tzumi Popsolo Wireless Bluetooth Karaoke Microphone
Rose Gold Microphone
Tzumi Pop Solo Karaoke microphone has an eye-appealing design. This specific version is white and rose gold with sleek lettering. Speaker has glowing lights on the sides. It exists also in black.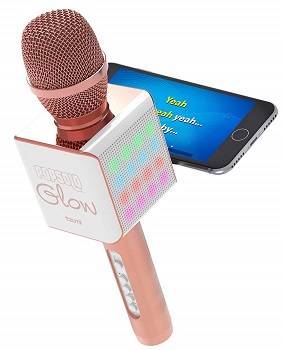 Universal Fit Phone Holder
One of the main physical features of the Pop Solo microphone is the retractable phone holder that is safe for any Smartphone with an up to the 6-inch screen. This way you will have lyrics directly in front of you and have easy access to switch songs at any time.
HD Sound
Tzumi karaoke microphones are characterized by rich and strong sound. There are also options to amplify your voice, enhance the sound clarity, reduce background noise and also add echo effects to any voice.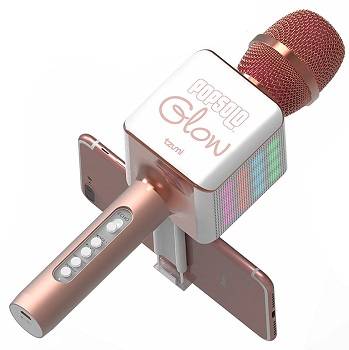 Different Uses
If you followed this review thoroughly you realized that the Tzumi microphone is, in fact, a speaker as well. You can use it also for Bluetooth calls or even use the speaker separately for loudspeaker projections.
Affordable Gift
One of the best things about this model is the price-quality ratio. Pop solo karaoke microphone is at a great affordable price point and still ensures great sound quality and interesting physical as well as karaoke features.
Technical Specifications And Features:
Smartphone holder
Bluetooth compatible
HD sound projection
Best Bluetooth Karaoke Microphone
Magic Sing Microphone With Speaker
Portable Karaoke Microphone
This two-pound karaoke microphone speaker measures only 9.5 x 3.5 x 2.5 inches. It is essential to have a karaoke microphone that you can dance without it weighing you down while singing and dancing.

Customizable Sound
Magic Sing microphone has very developed karaoke functions not often seen on karaoke microphones, rather karaoke machines. You can customize songs by adjusting bass, melody, tone, echo, tempo and other.
How To Connect
You need to turn the Bluetooth on your audio device and the microphone. Once the devices connected, open your favorite music streaming app or site like YouTube to find karaoke songs. Lastly, adjust sound effects if you want.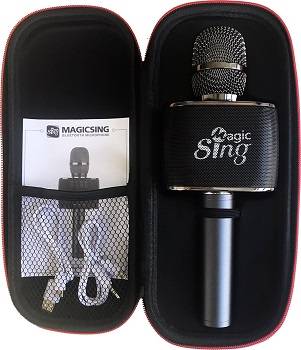 USB Port
On the base of the Magic mic karaoke, you will find a USB port. Besides charging, you can also use it to introduce a USB flash drive and listen to your pre-selected songs.
Magic Sing App
The microphone manufacturer made their karaoke app you can download for free on Google Play or iStore. They have multiple karaoke songs to choose songs so you can find tracks already with lyrics, which is sometimes hard to find on YouTube or similar sites.
Technical Specifications And Features:
8 hours of playtime
Two 3W speakers
Portable microphone bag included
Sound effects
Best Kids Karaoke Microphone
Vtech Kidi Star Music Magic Microphone
Kids Wireless Microphone For Girls And Boys
This karaoke mic is perfectly designed for kids at any age. It has a fun design and also a small LCD screen where they can play four built-in games. It comes in pink and light blue perfect for girls and boys.

Built-In Songs And Recorder
There are a few pre-loaded songs that come with the Vtech Kidi Star Music Magic microphone. One of the main features of this microphone is also the voice recorder so kids can re-listen their performances and keep progressing.
Fun Voice And Sound Effects
Besides the fun built-in games feature, Vtech kids' wireless microphone also has a voice changer with four different voice effects that kids will surely appreciate. For extra encouragement, the audience sound effect is also available.
Base That Changes Color
Even though it doesn't have an LED flashing lights feature, it does have a color-changing microphone base that can bring extra light to the room.
Reduces Main Vocals
There is a possibility to reduce or remove main vocals from karaoke tracks. You can reduce main vocals and have them lightly playing in the background to encourage shy ones or make them become lead singers.
Technical Specifications And Features:
Built-in games
Voice changing option
Magic Mode to reduce vocals
Songs preloaded
Conclusion: What Is The Best Karaoke Microphone Speaker Considering Karaoke Features?
All of the mentioned microphones have great features. However, I must recommend Amazon's bestseller BONAOK wireless Bluetooth karaoke microphone for having a very good sounding speaker and a great noise reduction microphone head. Even though I mentioned only one children's microphone and speaker, I will recommend it again here because it is one of the best ones on the market. Vtech Kidi Star Music Magic Microphone has all of the karaoke features a child could ask for.
For more karaoke microphones and karaoke machines in general, I invite you to continue reading some of my articles like the one called karaoke machines for sale. Some of the best models of last year can be seen here: the best bluetooth karaoke microphone. If you want to look rather for microphones that work with karaoke machines, I also wrote about microphones for karaoke machines.