Best Memorex Karaoke Singing Machine System Review In 2020
You've heard about Memorex singing machine, but you have no idea what it is?
Let us help you with that!
Memorex is an interesting brand that is pretty long on the market. You can read all about their brand, offer, price range or even where you can buy them if you continue reading my post! Besides that, prepare yourself for a detailed Memorex karaoke machine review and check out if their model is the one you are looking for to keep the crazy party going!

Information About Memorex Brand And Their Offer
Brand's History And Offer
Memorex is an American company that was selling only computer equipment and IBM products in the beginning. Today they sell all different kinds of electronic items and accessories for iPods, disc and audio players, flash drives, etc.
Price Range Of Memorex Products
Comparing to other similar products, Memorex holds a place as one of the cheapest on the market. For a fairly good price, you can get a high-quality machine with good performance power. This goes for Memorex karaoke systems as well as other products like flash drives, CDs and DVDs, etc.
Where To Buy Memorex Items?
You can find Memorex products in some physical stores as well as by multiple online retailers. Still, would recommend going to Amazon for the lowest prices and discounts. There you can also read the customer's reviews on the product and easily compare it with other models and brands.
Warranty And Customer Support
Most Memorex products come with a warranty that you get with the purchase or can also be consulted online on some retailer's websites which is the case for Amazon. Warranty depends on the type of product but mostly is a limited 90-day one.
Best Memorex Karaoke Singing Machine System Review
Best Memorex Sing Stand 2020
All-in-one Karaoke System
Memorex Singstand karaoke system is exactly what its name says. It is indeed a stand where you can sing using the microphone that is a part of this product and it also has integrated stereo speakers so the stand plays music as well.

Multiple Connectivity Options
This device is able to connect to multiple audio devices and most Smartphones and tablets. Even though Memorex sing stand 2 does not have a Bluetooth option, it comes with cords for easy and fast access to your personal playlists.
Memorex Singstand 2 Look And Design
The product is about 60 inches tall and has a very thin and sleek design. It weighs not over 10 pounds and is really easy to store and pull out. The main part of the Memorex microphone stand is a built-in cradle to hold your music playing device and where you place it to be able to sing along to the lyrics.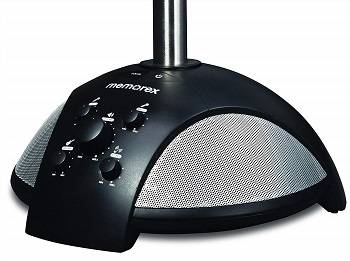 External Inputs
Besides one microphone that comes with the purchase, the Memorex sing stand also comes with another microphone input if you desire to sing in a duet. It also has extra inputs for additional plug-ins, be it an instrument or another device.
Sound Quality
Memorex karaoke Singstand features two good quality speakers with high audio performance power. You are also able to modify the sound or control and enhance your voice by using different effects on the machine's control panel built into the stand's base as well as the speakers.
Main Characteristics:
Multiple streaming options
Whole karaoke system in one product
Clear audio performance
Safe built-in Smartphone or tablet cradle
Conclusion: Why You Should Buy This Specific Memorex Singing Machine?
Memorex MKS-SS2 SingStand 2 is one of the best all-in-one karaoke systems currently available on the market. It has almost all connectivity options for any user and is one of the best karaoke machines you can get in that price range.
If you still want to continue exploring different home karaoke machines, you can consult my article on best karaoke system for home where you may find something from another brand that may interest you. If you are looking for something for the whole family and the kids as well, you can check out my post on best kid-friendly karaoke machine where you can find the best of both worlds.