Best 5 Pyle Karaoke Machine Systems For Sale In 2020 Reviews
If you are a big music and karaoke fan and you are considering buying a Pyle karaoke machine, keep on reading this article.
I want to present to you some of the best Pyle karaoke systems currently available on the market. You can learn more about their technical specifications and their features. Also in this Pyle karaoke review, I will inform you more about different models that you will be able to compare to each other by the end of the article and choose the best one for you.
Information About Pyle As A Brand
Brand's History And Products They Offer
Pyle is an American company founded a few decades ago and since then it stands as a renowned brand of woofers and audio systems. Over the years they expanded into car audio, home audio, marine audio, and professional audio and music equipment.
Models For Every Budget
The prices of Pyle products vary depending on the size of the item and its features. However, the brand's slogan is "high-end performance at an affordable price", so a good price-quality ratio is expected.
Where Can You Purchase Pyle Products?
Even though the brand has an official website with noted specifications on each product, it does not have a designated webshop. In this case, I would recommend looking on Amazon where you are most likely to find the best deals and are able to compare different models and brands.
Warranty And Instructions
Most of the Pyle audio products come with a one-year limited warranty that you get with the purchase and can also be consulted online on the official website. On there you can also look up start guides and instructions for each product for an easy product set-up. For any additional information, you can contact the brand's customers' service through the website.
Top 5 Pyle Bluetooth Karaoke Machine Reviews
Pyle Portable Bluetooth Karaoke Speaker System
Basic Information On The Item
This first product is basically an outdoor/indoor stereo speaker. It also comes with a wireless microphone, aux audio cable and an adapter, RCA cable and a power cable.
Product Dimensions And Portability
Pyle karaoke speaker is about 20 inches tall and 13 inches wide. It weighs about 27 pounds. Thanks to the convenient carry handle and rolling wheels it is easy to carry around and to store without taking up too much space.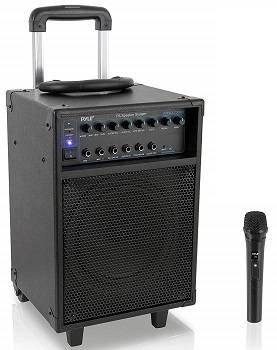 Amazing Quality Sound
This particular Pyle karaoke machine has 400 WATT output power through an 8-inch full-range speaker for a powerful sound. It also has an external 12V Power DC Input Connector. All of this makes this karaoke sound system perfect for bigger venues and gigs.
Bluetooth Connectivity
You are able to connect any of your smartphones, tablet or PC devices to this machine via Bluetooth technology for wireless streaming of your favorite music. It also has an about 100 feet wireless range which is perfect for outdoor use when you do not feel like standing at one place the whole time.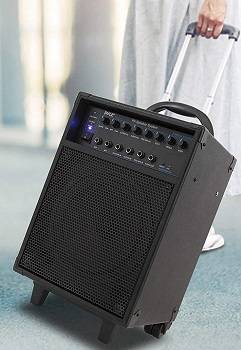 Control Panel
Just above the Pyle portable speaker karaoke PA system is a control panel with all of the necessary sound modifying features. Also, it has two microphone and two other instruments inputs for an ultimate karaoke show.
Charging the Device
This Pyle Bluetooth karaoke pa speaker has a rechargeable battery that can last up to 10 hours. However, the wireless microphone that comes with the purchase requires two AA batteries.
Main Characteristics:
Wireless and portable
400 Watt power for any gathering
10-hour battery life
Four different inputs for additional microphones or instruments
Other Versions Of Pyle Wireless Pa System Karaoke Speaker – 400W
Pyle 500 Watt Outdoor Portable Bluetooth Karaoke Speaker System Version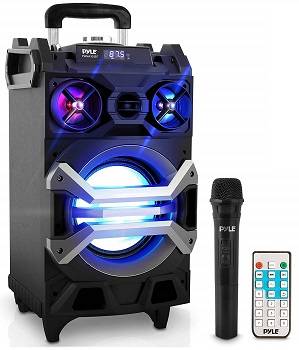 This is another version of the previous model described. There is a difference in power; this is a Pyle PWMA325BT with 500W while the last one was at 400 watts. This version features also DJ lighting system and a recording option and hence has a USB and Memory card readers. Other specifications are similar or the same as those of the previous one.
Pyle Portable Home Theater Karaoke Microphone Mixer System PMXAKB1000
Design And Shape
Pyle PMXAKB1000 has a relatively old-school classic audio player kind of look. It has a box-like shape and black-color design and is about 16 inches wide so it does not take up a lot of space. It also comes with rack-mount brackets and screws so it gives you another set-up option.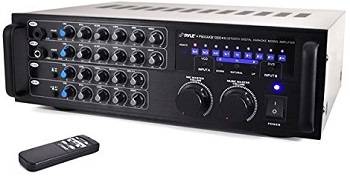 Music Streaming Options
This Pyle Pro mixer amplifier gives the possibility to stream your music wirelessly via Bluetooth technology. It is compatible with all music and karaoke apps and Smartphone devices and tablets. It produces up to 1000 watts of sound power.
For External Features
As for external features, Pyle pro PMXAKB1000 is more than equipped. It comes with microphone inputs, inputs for source players like CD or similar, audio outputs and RCA inputs so you can connect basically any external device to this karaoke machine.
Control Panel
On the front side of the device, there is a control panel with multiple different features. It has control options for volume, balance, echo, and tone of the music as well as your voice i.e. for both microphone plug-ins for the perfect music-voice ratio.
Good To Know
It is worth mentioning that microphones are not included with this purchase so you might consider getting them separately. Another important thing is that this product has a 30-day money-back guarantee if something goes wrong as well as Amazon's product support if you decide to buy it from there.
Main Characteristics:
High 1000 power output
Mount brackets
Wireless music streaming
Multiple options for adding external elements
Other Versions Of Pyle Pro Mixer Amplifier PMXAKB1000
Pyle 1000w Bluetooth Karaoke Mixer Amplifier PMXAKB2000
This is another version of the product mentioned just above. It has all of the same features as the Bluetooth wireless streaming option, different input/output connectors and others. However, Pyle Pro PMXAKB2000 has a 2000 watt output power which can make a significant difference for loud sound lovers.
Pyle Karaoke Vibe Bluetooth Pa Speaker System PSBT65A
Product Dimensions
PSBT65A speaker has perfect portable speaker dimensions 10.6'' x 9.0'' x 13.0'' (LxWxH) and weighs only around 8 pounds. It also comes with a stand mount so your speaker does not have to be on the ground which makes it perfect for an even sound dispersion in bigger gatherings, conferences, and similar events.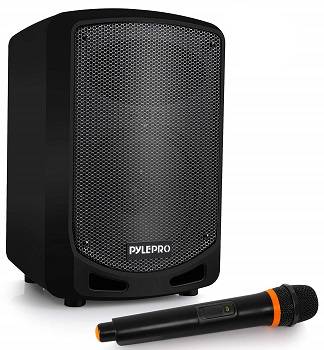 Wireless Connection
This speaker has a built-in Bluetooth option that has a wide range and can be reached to about 30 feet distance so you can play your music even from a further distance. Pyle pro PSBT65A is able to connect to all modern devices from Smartphones, tablets to PCs and laptops.
Other Features
This model of Pyle karaoke speaker has a control panel in the back where you can adjust volume, balance, and echo. Besides that, it has a USB and a memory card reader so you are able to record your performances. There is also a microphone Input even though with the purchase you do get a wireless microphone.
Main Characteristics:
Two set-up options
Includes a handheld microphone
Recording option
Conclusion: Why You Should Choose Pyle Karaoke System?
If you are considering getting a Pyle karaoke machine, the one I would recommend the most out of all mentioned would be the karaoke PWMA325BT model since it has all of the necessary karaoke features and good sound quality. However, if you are looking into buying something with the highest power and performance, do not hesitate into reading more about PMXAKB2000 karaoke system.
If you are interested in learning more about last year's karaoke systems I wrote about, check out my article on best karaoke machine. If karaoke machines are not something that interests you on a deeper lever than leisure or you are maybe looking for a cool gift, read this post on commercial karaoke machine. If the gift is for the youngest ones, this post on toddler karaoke machine may be the one for you.