Best 5 Mini & Small Karaoke Mic & Machine Systems Reviews
Are you looking for a new karaoke machine or microphone but you need it to be super portable and small?
If the answer is yes, keep on reading this mini karaoke machine review.
Here I will present to you five best small karaoke systems, with some being small karaoke machines and other small karaoke microphones. I will present to you their technical specifications as well as the main characteristics. If by the end you decide you want to read more reviews, I will link you some of my other similar posts.
Things To Know When Buying A Small Karaoke System
Type Of Karaoke System
When buying a small portable karaoke machine, you will have a choice of a few different types. The most common one is a mini karaoke machine that works like a mini karaoke speaker or a mini karaoke microphone like the one model that will be presented later on.
Easy-To-Use And Portable
The most common reason as to why people purchase small karaoke machines is the portability. These kinds of machines are so small that you can carry them anywhere in your bag, in your car and others.
Price Point Of Small Karaoke Systems
Since mini karaoke players are small that most of the time they don't have as many features as ''normal-sized'' karaoke systems. All of that means that essentially they are not as expensive as karaoke machines sometimes can get.
Mini Karaoke App
Most karaoke machines are Bluetooth compatible or can be connected to your phone using corresponding cords. Hence they will work with most music streaming and karaoke apps that can be downloaded from iStore or Google Play and some that come recommended by the brand once you purchased the item.
Where To Buy One?
For a really good selection of small portable karaoke machines, I would recommend checking out online retailers like Amazon. Besides the wide selection, you can get a lot of items on good deals and compare different customers' reviews.
Best 5 Mini & Small Karaoke Systems Reviews
Best Karaoke Microphone Mini
Kikkerland Mini Karaoke Microphone
Kikkerland Design Mini Karaoke Microphone
Kikkerland mini mic has one of the smallest microphone designs currently available on the market. It has 54 x 0.7 x 2 inches dimensions and weighs not over two ounces. It comes in silver color and is a perfect on-the-road product.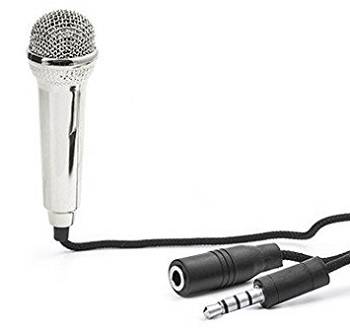 Kikkerland Mini Mic Instructions
Before saying something about Kikkerland mini mic not working make sure you understand that this machine works only when you download compatible apps. Also, you can use an aux cord to plug it into speakers or into your car speaker.
Mini Karaoke Microphone App
Kikkerland mini mic compatible apps will come recommended when purchasing this product. Kikkerland mini mic apps are music streaming and karaoke ones where you will be able to enjoy most karaoke features like voice enhancement, lyric display and other.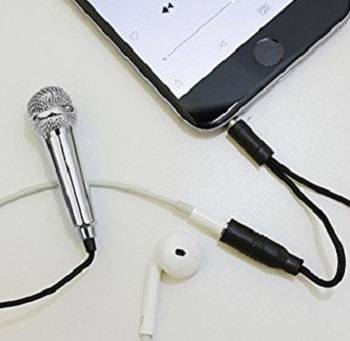 Kikkerland Mini Mic Setup
Once you downloaded the app, there is a two-way adaptor that comes with the microphone. That means you can plug it into any device with a headphone jack, sing and record your singing. Or another way is to connect the earbuds to the jack to enable you to hear music this way.
Recording Device
This mini karaoke mic can work also as a recording device when using your phone or laptop. If you prefer, you can use it simply as a microphone for phone calls or as a Kikkerland mini microphone on the go.
Main Characteristics:
Mini pocket-size design
Compatible with most karaoke apps
Recording device
Two-way set-up
Best Mini Karaoke Player
Singing Machine Groove Mini Karaoke System
Small Portable Karaoke Machine
This next item is a small karaoke system that measures only 12.5 x 10 x 7.4 inches. The groove mini singing machine weighs only about 4 pounds which makes it a perfect portable system and as well as for adults, it is also great for kids.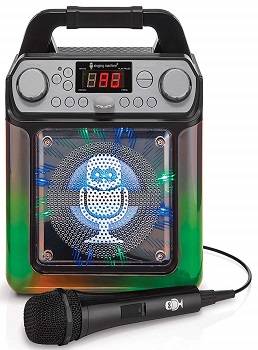 Bluetooth Music Streaming
Singing machine groove mini is Bluetooth compatible which makes it easy to connect to most Smartphone devices, laptops or tablets. It also works with most karaoke and music streaming apps for the best way to enjoy your favorite karaoke tunes.
Other Ways To Enjoy Music
One of the other ways to enjoy music using a groove mini karaoke machine is by using a USB external device where you premade your karaoke playlists. Or you can even connect the mini karaoke player to your TV using RCA cables provided with the purchase so you can read the lyrics from there.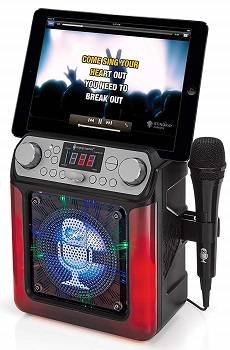 Vocal And Lighting Effects
Not only can you use vocal effects using karaoke apps, but groove mini singing machine also comes with 6 voice-modifying features to add more fun to your karaoke nights. Another bonus features are the LED multicolor lights that synchronize to your tunes and light up the machine and the room.
What Does The Package Contain?
When purchasing the singing machine mini karaoke system, besides the machine you will also get one wired microphone, AC adapter (the device can run on batteries as well), RCA cable and a welcome kit with instructions for free songs (5 free karaoke songs download).
Main Characteristics:
Bluetooth compatible
Connect it to your TV for lyrics
Phone cradle
Multi-color LED lights
Best Small Karaoke Microphone
BONAOK Wireless Bluetooth Karaoke Microphone
Microphone Design
BONAOK wireless microphone has a perfect handheld design with 10.9 x 4.3 x 3.8 inches dimensions. The microphone is made of aluminum alloy and comes in rose-gold, pink, black, gold, red and silver color.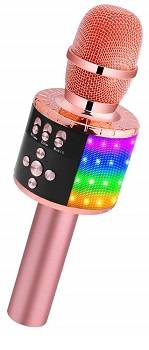 All-In-One Small Karaoke Machine
This karaoke machine isn't just a karaoke microphone. BONAOK system can be used also as a performance recorder, a Bluetooth speaker and a music player. This allows you to have all the necessary karaoke elements in the only machine.
Device Compatibility
BONAOK microphone is compatible with most audio devices. You can connect them via Bluetooth technology for the wireless pairing or also by using the corresponding audio or aux cables. It also works with most music streaming and karaoke apps.
Battery Life
Since the BONAOK karaoke microphone is wireless, it runs on a rechargeable battery. That is a multi-protect lithium battery that has around a 4-hour life. Also, it recharges quickly so you can get back to your performances the soonest as possible.
Flashing Lights
The main part of the microphone, just under the microphone head is covered in small LED lights. This part will light up more and more as you up the music volume. However, you can always turn it off and control it yourself if that is what you prefer.
Main Characteristics:
Bluetooth compatible
Connect it to your TV for lyrics
Phone cradle
Multi-color LED lights
Best Mini Karaoke Set
Singsation Karaoke Machine
The Package Includes
If you decide to purchase Singsation karaoke system you will get the main part which is essentially a Bluetooth speaker, one microphone, AC power cord and a cradle to hold your external devices.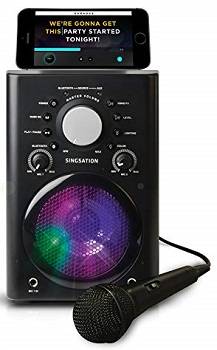 Product Dimensions
Since we are talking about small karaoke machine models I have to say that this one fits well under that category with these dimensions 8.5 x 11.5 x 12.6 inches. Also, it weighs just around 5 pounds making it easily portable.
Two Main Connection Options
There are two main ways to connect to Singsation karaoke machine. The first one is wireless music streaming using Bluetooth technology from any Smartphone, tablet or laptop. You can also connect the same devices using an auxiliary cable.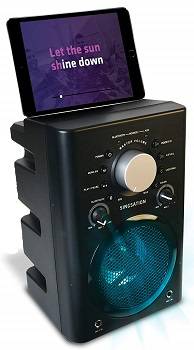 Karaoke Voice And Light Effects
Fun features about this machine include voice and light effects. Light effects come from the speaker part and include 9 multi-color modes like party, chill, dance and other. Voice effects include high and low pitch and chipmunk.
Main Characteristics:
Speaker and microphone included
Small and compact
Multiple light and voice effects
Best Kids Karaoke Mini Microphone
TOSING Wireless Karaoke Microphone
Perfect Gift
This Tosing mini karaoke microphone will work as a perfect gift for most kids. They can be aged anywhere from around 3 to 12 to put this microphone into perfect use and have fun while practicing their favorite songs.
Fun Kid-Friendly Design
This microphone features a well-developed design. First of all, it is shaped like a small bear and also comes in a few different colors like blue, pink or yellow all perfect for boys and girls.
Karaoke Microphone Mini
Tosing microphone has perfect small mini handheld dimensions with only 10 x 4.2 x 4.1 inches and weighs only around a pound. Another good thing is that it comes in a silicone case so it can't easily slip out of anyone's hand.
Rechargeable Battery
Since it is practical and wireless, this microphone runs on a rechargeable battery. You can play music and sing along for about 3-5 hours thanks to the built-in lithium battery. The charging time is only around 2 hours which is also good.
Bluetooth Compatible
Most importantly, TOSING kids microphone is Bluetooth compatible so you can connect it to most audio devices including your Smartphone. If not, you can also use the auxiliary cable for a wired connection.
Main Characteristics:
Fun design
Silicone case
Bluetooth compatible
Long battery life
Conclusion: How To Pick The Perfect Small Karaoke System?
Out of all of the models mentioned, the best price-quality ratio is fulfilled with the Groove mini karaoke machine. It can be used at any karaoke party and works as well as bigger karaoke machines. Also, it is a full karaoke system with both a speaker and a microphone. However, if you are interested in a mini karaoke microphone, BONAOK wireless karaoke microphone, works great for both kids and adults and has great karaoke features.
If you decide to keep on discovering more about different types of karaoke machines, I wrote an article about the best karaoke machine models of last year. If you want to stay looking for specifically karaoke machine models for kids, then you can read the best children karaoke machines. However, models like Kikkerland mini mic or BONAOK microphone can be found in this post about portable karaoke microphones.