Best 5 Little & Teenage Girls Karaoke Mic & Machine Reviews
Are you looking for the perfect birthday or Christmas gift for your daughter, niece or friend? Does she like music?
If you answered yes on both of my questions, keep on reading this article.
In this review, I will show you a few models of best girls karaoke machines currently available on the market. There will be some for little girls and some for teenage girls so you can choose between them. Also, I will highlight some of the main characteristics and technical features and guide you on what to look for in these types of karaoke machines.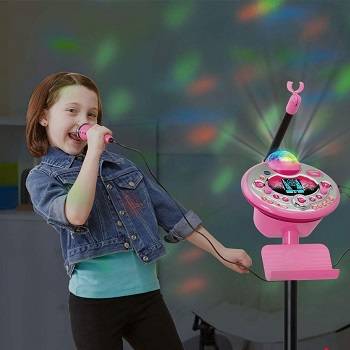 Girls Karaoke Machine Design
Girls karaoke machines come in multiple different shapes, forms and designs. Also, they can differentiate in the karaoke system type. Besides the classical "box-shaped" karaoke machines, there are also girls karaoke microphone models or mini portable designs and many others for you to choose from.
Little Girl Karaoke Machine
Karaoke machines are a perfect gift for the youngest ones. A lot of them are suitable for kids any age from 3 and up. That way kids can enjoy karaoke and develop their singing and hearing skills at a young age.
Karaoke Machine For Teenage Girl
As well as for the youngest ones, a karaoke machine is a great gift even for teenage girls who like to spend some evenings in their room with their girlfriends enjoying some of their favorite tunes. However, in this case, you may look for more advanced features and designs than for the previous case.
Price Point Of Girls Singing Machines
The price point of karaoke machines will vary on multiple different factors. Most of the time the more features the machine has and the better sound quality, the more expensive it is. However, that doesn't mean that there aren't any that have a good price-qualities ratio (I will show you some later on in the article).
Where To Buy One
Amazon is a great place to shop if you are just starting to interest in karaoke machines. Not only can you get the best deals but also read what other customers had to say about each karaoke machine or microphone. Plus you can easily compare different models to each other without having to hold and carry them like you would in a physical store.
Best 5 Girls Karaokes Reviews
Best Girls Karaoke Microphone
BONAOK 4-In-1 Karaoke Microphone
Best Seller
BONAOK 4-in-1 microphone is Amazon's best-seller which says a lot. It is known to have one of the best price-quality ratios from all of the karaoke microphones currently available on the market. That's why this model is my first choice for one of the best karaoke machines for teenage girls.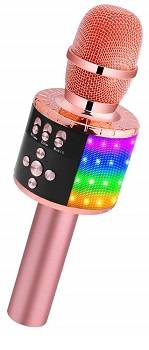 Colored Design
This karaoke microphone has a sleek and eye-appealing design. Below the microphone head, there is the main control speaker part. The whole microphone is one-colored and comes in rose-gold, black, gold, silver and space gray.
All-In-One Karaoke Microphone
Maybe it is even better to call his item a karaoke machine since it does work as a full system. So not only is it a wireless karaoke microphone, but it can also be used as a Bluetooth speaker and player. And lastly, it can also work as a recorder to memorize all of your favorite performances.
Bluetooth Connection
For the easiest usage, this product can be started for music streaming just by using the Bluetooth technology from any Smartphone, tablet device or even laptop. Another possibility is to connect to those same devices using a provided auxiliary or audio cable.
Other Benefits
BONAOK microphone has many features and benefits but here is just a few more. The main part of the microphone is covered in over 40 LED lights that will turn on and sync to the music that is playing. Also, it runs on a long-lasting and quick charging 2600mAh rechargeable multi-protect lithium battery.
Why Get This Machine:
Sleek design
Portable and lightweight
All-in-one karaoke machine
LED lights
Best Karaoke Machine For Teenage Girl
Singing Machine SML-283P CDG Karaoke Player
Portable And Compact
Girls singing machine SML-283P is the perfect portable karaoke machine. It measures only: 9.1″ W x 4.1″ L x 9.9″ H and weighs just under 4 pounds. Also, it has a great compact shape and a top handle for easy carrying around or dancing with it.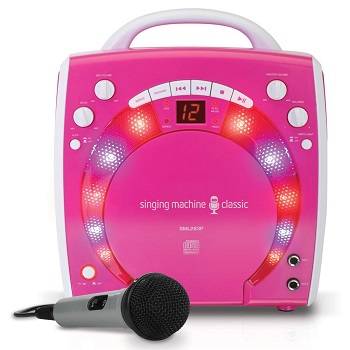 CD Player
One of the main parts of this karaoke machine is the disc player built-in the front panel. It plays most CD formats as well as CD+Graphics which is the lyric format. To be able to display the lyrics, you can connect the machine to your TV with RCA cables that are included in the purchase.
Line-In Option
Besides the music playing using the CD player, you can also opt for line in to connect to external devices. In the back of the machine, there are aux inputs and outputs, as well as the video ones. Also, you are given the possibility to plug in two microphones so you can sing duets.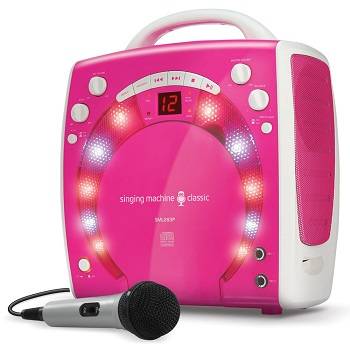 LED Lights
We already talked about the small and compact size of this machine, so don't expect crazy disco lights with this one. However, it does have a few LED lights around the disc player which certainly will help add that extra joy to any karaoke party.
Sound Controls
Besides the song changing and power buttons on the control panel, there are also a few basic sound effects that you can use. Some of them are echo, balance, and AVC to help you out when hitting those high notes. Also, you can adjust both the general and the microphone volume.
Why Get This Machine:
Fun pink design
Disc player
Two microphone jacks
LED lights
Best Little Girl Karaoke Machine
VTechKidi Star Karaoke System
Kids Karaoke System
This karaoke item is not a basic children's small portable karaoke machine. VTech made a full karaoke system that contains a microphone stand with a built-in speaker, a recorder and a gaming device.
Microphones And Microphone Stand
VTech karaoke system comes also with two microphones perfect for occasions when kids decide to call over some friends to join them in karaoke. Also, there is one microphone stand which is adjustable and up to 4'5".
Fun Sound And Vocal Effects
One of the best features a little girl karaoke machine can have is voice modifying effects. This way it will boost their confidence or just make them laugh. Another bonus is the sound effects that this machine also offers some of them being applause, cheering, laughter and others.
LED Disco Lights
Not only does it have sound and voice effects, but also one of the main external features is the disco ball. It produces multi-color light effects that will surely add more fun to your kid's karaoke evenings.
LCD Screen
Even though it doesn't have a screen where you can read the lyrics from, VTech decided to build-in an LCD screen for something else. Unlike most machines, this one uses the LCD screen for kids to play 6 fun games.
Why Get This Machine:
Adjustable microphone stand
Two microphones included
Sound effects
Disco ball feature
Best CD Little Girl Karaoke Machine
JojoSiwa CD Karaoke Machine
Girly Design
JojoSiwa is a famous Nickelodeon character that has a big girl fan base and she is very known for her singing. This karaoke machine represents her well with its pink, white and blue girly design full of little heart symbols and bows.
Portable Karaoke Machine
This karaoke machine is definitely easily portable with it weighing only around a pound. It has 14.4 x 11 x 7.9 dimensions and also a top handle making it simple to carry from one place to another.
Music Playing Options
One of the main parts of the machine is the front-loading disc player that allows you to play most disc formats. Another way is the more modern way, via Bluetooth technology that you can use to connect to any Smartphone, tablet and other and easily stream your favorite music.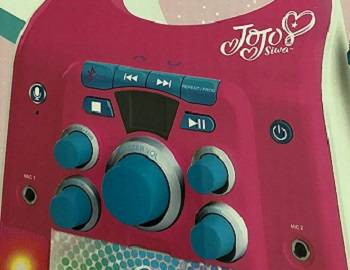 Girls Karaoke Microphone
JojoSiwa karaoke machine comes with one wired microphone, but you can introduce another one if you decide since there are two microphone jacks. To up the fun, connect the machine to any TV and let the kids sing along in duets while reading the lyrics from the big screen.
Other Karaoke Features
Another feature this karaoke machine has is the small LED lights that really fulfill the design. Also, the machine features some sound and voice enhancement effects like AVC, echo and other controls.
Why Get This Machine:
JojoSiwa design
Connect to TV for lyrics
Bluetooth compatible
LED lights
Best Wireless Little Girl Karaoke Machine
Disney Princess Bluetooth Portable MP3 Karaoke Machine
Disney Princess Girl Karaoke Machine
This is another karaoke machine that has a very girly design and shape. It is white with blue accents but the most intriguing part is the middle one where there is a picture of three Disney princesses in a purple flower frame.
On-The-Go Machine
Like most kids karaoke machines, this one is also very compact and portable. It weighs just around 3 pounds and has these dimensions 8 x 3.5 x 10 inches so it is also easy to store. Thanks to the top handle, kids can also carry it easily and more carefully.
Bluetooth Compatible
Disney karaoke machine is Bluetooth compatible so you can wirelessly stream all of the kid's favorite songs from any music streaming and karaoke apps. You can use your Smartphone, tablets or laptop to do so.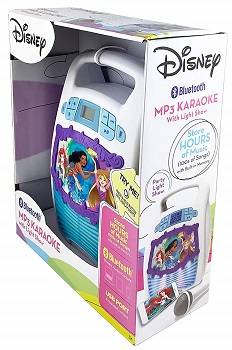 Rechargeable Battery
Not only can you stream music wirelessly but you can use the whole machine without almost any wires. Since it runs on a rechargeable battery, the kids can have hours of continuous music playing before the next charge. The USB charging cable is provided.
Internal Memory
This machine gives you, even more, music playing options. To facilitate the process there is also a built-in internal memory where you can store hundreds and hours of music and access it at any time. And if you need to add even more, there is a USB reader.
Why Get This Machine:
Rechargeable battery
One microphone provided
Built-in memory
Disney girly design
Conclusion: How To Make A Choice On A Girls Karaoke Machine?
Even though I mentioned five really good girls singing machine models, I have to give advantage to BONAOK wireless microphone because of its multifaceted nature. It is an all-in-one karaoke machine and can be good for most kids above the age of 5 as well as teenage girls. Another one of my favorite models is the Disney princess karaoke machine for its versatility and some features that are not that often found in kids' karaoke machines.
As I stated in the beginning, if you are still struggling to choose the right model, maybe you should consider reading some more articles like this one titled the best karaoke machine. Or if you decide to stay on the hunt for machines for kids, I also wrote about great karaoke systems for kids. However, if you are looking for a gift specifically for a teenage girl, maybe consider reading about bluetooth karaoke party machine for more age-appropriate machines rather than looking through kids' ones.