Best 4 Tzumi Portable Karaoke Microphones In 2020 Reviews
Do you want to be the next karaoke star within your friend group?
Are you looking for an adequate karaoke microphone to do so?
If the answer is yes, keep on reading this Tzumi karaoke microphone review.
I will tell you more about some of the best karaoke microphones currently available on the market. You will learn more about their technical specifications and other main features and characteristics. This way by the end of the article you can compare different models that will be mentioned to each other or continue reading some of my other posts on similar topics.

Something About Tzumi Electronics Brand
General Information
Tzumi Electronics is an electronics manufacturer based in New York City. They have been working as that for over 40 years. What the brand promises are inventive ingenuity, affordability, accessible products, and an easier life for any customer.
Products The Brand Offers
Tzumi has a wide offer of electronics products. Some of them include chargers, car accessories, headphones, speakers, Smartphone accessories, different sorts of cables, gaming and entertainment devices where come in the Tzumi portable karaoke microphone.
Where To Find Tzumi Products?
Tzumi's wide offer can be consulted on the brand's official website though they do not have a designated webshop. In that case, I would recommend checking out any of the major retailers. For the easiest and fastest online shopping, I would recommend Amazon for the best discounts and other customer's reviews.
Technical Support
For any additional information about the Tzumi brand or about any difficulties with their products, you can contact directly their customers' support via email. They are very responsive and normally take a maximum of 24 hours to answer.
Manuals
Another good thing about Tzumi's official website, besides the specifications on different products, is the online manuals. For a lot of their items, they offer online consultation of manuals and instruction guide's classed by the product's name.
Best 4 Tzumi Karaoke Microphones Reviews
Tzumi Popsolo Wireless Bluetooth Karaoke Microphone
Design
This Tzumi pop solo microphone has a standard karaoke microphone design; just above the handle, there is an integrated speaker with the brand's logo. This specific model is black-colored.
Practical And Easy To Use
Pop solo Tzumi microphone has an integrated retractable Smartphone device holder. This feature is very practical and it can hold any phone with up to a 6-inch screen. This way you have your favorite lyrics literally in front of you.
Bluetooth Compatible
The Tzumi wireless microphone works with any device with Bluetooth technology so it is really easy to stream your favorite tunes. Also, it has an up to 30 feet distance range if you decide to rather dance with your microphone and leave your phone on the side.
Fast Charging
Tzumi Bluetooth karaoke microphone features a rechargeable Lithium battery. Like most good quality karaoke microphones, it has up to five-hour life span and it is fast rechargeable. When purchasing you are provided with an auxiliary and a USB cable for charging.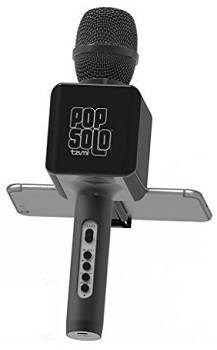 Control Options
Tzumi pop solo microphone has all of the necessary control and sound options at the reach of your fingertips. Some of them include volume, playlist, echo enhancing feature. It also has a recording option.
Tzumi Pop Solo Karaoke Microphone App
Even though it works with all music streaming apps, it is important to say that this microphone also works with most of the karaoke apps that can be downloaded either on Playstore or iStore. There are a lot of them that are free of charge as well so you can easily find the best one for you.
Main Characteristics:
2 in 1 – microphone and speaker
Easy to use with the retractable phone holder
Built-in battery
Compatible with karaoke apps
Other Versions Of Pop Solo Tzumi Microphone
Tzumi Popsolo Glow Wireless Led Bluetooth Karaoke Microphone
The Popsolo glow microphone is the version for those who are looking for that extra spark in their karaoke microphone. The only difference between Tzumi portable karaoke microphone with LED light and the previous one is the disco lights feature on the sides of the speaker part.
Pop Solo Microphone Rose Gold
Karaoke microphone mentioned just before also comes in rose gold color. The speaker and retractable phone holder are white. Other than that, all of the features and characteristics are the same as previously described.
Rock Solo Tzumi Microphone
Rock solo karaoke microphone has all of the same features as the previous two models. The only difference with Rock solo Tzumi microphone is the slightly updated design and the shape of the speaker part. There is still Rock solo karaoke microphone app that works with this model as well as the previous ones. It also comes in black and rose gold, links for both colors are below.
Conclusion: Why You Need Tzumi Karaoke Microphone?
In this Tzumi karaoke microphone review or rather Pop solo Tzumi reviews since all the microphones were the same model but different versions, you were able to read about one of the best-rated karaoke microphones currently on the market. The choice between all of the mentioned versions will depend basically on your taste in microphone design but all of them have amazing karaoke features and for the simplest looking one I would recommend Pop solo microphone in black.
If you still haven't decided and want to keep on discovering, maybe you should check out my other post about best-rated karaoke machine models. However, if you want to look into specifically karaoke microphones, I also wrote about best karaoke mic versions and models. Another post very similar to the one you just read is called simply karaoke microphone speaker.