Sharper Image Karaoke Machine & Stream Microphone Reviews
If you are looking for good quality and high-performance karaoke microphone that is also at a good price point, this article might interest you.
Here I will describe one of the best Sharper Image karaoke microphone models currently available on the market. You can also read about their technical specifications and other features. Compare these Sharper Image karaoke machine models to those of other brands and decide which one is the best for you and your taste.

About Sharper Image As A Brand
Basic Information About The Company
Sharper Image is an American company that specializes in the latest home electronics, high-tech and lifestyle products. The company rebranded in 2010 and since then started evolving into multiple different directions.
Price Range
Prices of Sharper Image products are known to match their quality; or in other words, you get what you pay for. With that in mind, prices are similar to those of other brands. The same goes for the Sharper Image karaoke microphone I will be mentioning later.
Where To Buy Their Products
Sharper Image is a brand known for its catalog appearances. Nowadays, their products can be also purchased through their official website which is very developed with all the necessary information on any product. Some online retailers like Amazon sell their products and have also really good discounts.
Sharper Image Product Warranty
In general, most Sharper Image products come with a limited warranty. Since their offer is fairly large I suggest looking up more on their website or on Amazon for better information on a specific product and its warranty.
Other Good Points About The Brand
Besides having a very informative website, Sharper Image also has great responsive customer support. Ordering with them is convenient because of the developed system of order tracking and good return policy.
Best Sharper Image Music Stream Microphone For Sale
Sharper Image Bluetooth Music Stream Karaoke Microphone
Wireless Bluetooth Microphone
You are able to pair this Sharper Image Bluetooth microphone with any Smartphone device, iPhone or Android or even a tablet. This way you can instantly stream music and enjoy your karaoke evening, just make sure you stay with 3 feet from your phone for the best connection.

Design
Sharper Image Bluetooth microphone has a very sleek minimalistic handheld design. It comes in these dimensions 11.8 x 5.1 x 4 inches and weighs below 2 pounds so it is perfect to carry around. It also comes in a few different colors you can check out on Amazon.
Amazing Sound Quality
Sharper Image wireless karaoke microphone has a built-in speaker that provides a high-quality sound that is clear and crisp. If you desire even louder sound, you can connect another speaker to the device with an aux cable that comes with the purchase.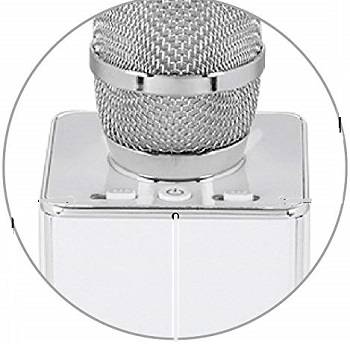 Karaoke Features
The microphone itself has built-in padding for noise reduction and for a clearer sound. It also has independent voice volume control. An extra option for your karaoke nights is the echo slider for additional voice enhancing effects.
Battery And Charging
Sharper Image karaoke microphone and Bluetooth speaker works on a rechargeable battery. Besides the microphone and auxiliary cable that I mentioned you get with the purchase, you are also provided with a USB charging cable.
Main Characteristics:
Fast Bluetooth wireless connectivity
Built-in high-quality speaker
Auxiliary and USB cable included
Simplistic design
Sharper Image Karaoke Microphone Manual
Even though the manual for Sharper Image karaoke machine currently cannot be found online, on Amazon's website you have clear instructions on how to connect the microphone to your device using Bluetooth technology. On there it is also shown what each control button represents and how to charge the device.
Conclusion: Why You Should Choose Sharper Image Karaoke Microphone
Sharper Image karaoke microphone and Bluetooth speaker is definitely a good choice for anyone who is looking for a reasonably priced karaoke machine but with high-quality performance. It is simple to use and to set-up and would work as a perfect gift for both younger and older ones.
The Sharper Image karaoke offer is impressive but short. If you want to browse more and different karaoke, read my post about best rated karaoke machines. In that post about best karaoke models, you can pick different machines for you, including karaoke machines that hook up to TV and best portable karaoke machines.