15 Top Karaoke Machine Systems For Sale 2020 [Reviews+GUIDE]
Have you been thinking about buying a new karaoke machine but you are not sure what to look for?
Don't worry, read this article about the best karaoke machines for sale where I explain it all.
In this post, I'll make my list of 15 top karaoke machines from different brands and also different models. All of them are currently available on the market and I will also join a link where you can purchase them from. I will also talk about their design, features and main qualities in general so hopefully, you will be able to find the best one for you and your liking.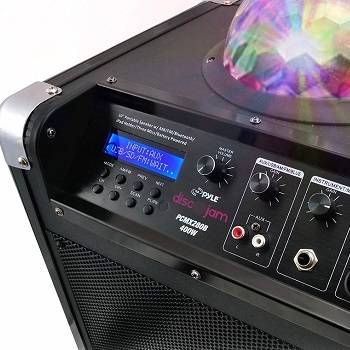 Top 15 Karaoke Machine Systems For Sale
Best Bluetooth Karaoke Microphone
Bonaok Wireless Bluetooth Microphone
Bonaok wireless Bluetooth karaoke microphone is one of the best ones in this category plus it's one of Amazon's best sellers. It has a portable handheld design and it weighs less than 2 pounds. It also comes in a few different colors you can choose from. Each color is even more enhanced with multi-color LED lights that go around the middle part of the microphone.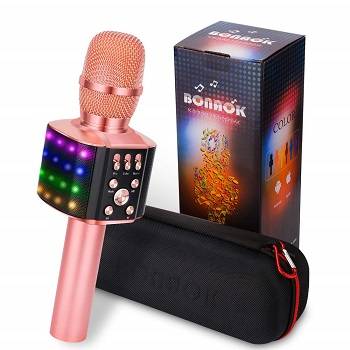 You won't miss if you choose to buy this item since it is pretty much an all-in-one item; it works also as a Bluetooth speaker and records performances. All of this you can do for hours at a time since the Bonaok karaoke microphone operates on a 2200mAh/2600mAh rechargeable battery. Besides the recharging cable in the package, you will also get an auxiliary cable and a black hard case for when you are carrying it with you.
If you want to know more about this kind of karaoke microphone but also with different models, read my post about the best Bluetooth karaoke microphones. If you are interested in more models but from this same brand, I also wrote about some other Bonaok karaoke microphones.
Characteristics:
Built-in Bluetooth speaker
Three-layer filter for noise reduction
Quick-charge, long-lasting battery life
Best Karaoke Machine For Kids
Jojo Siwa Karaoke Machine
Just so we don't mention "grown-up" karaoke machines only, here is one for the kids. Ever since Jojo Siwa became a Nickelodeon superstar she has been featured on a bunch of different things and merchandise as well as karaoke machines. This particular kids' karaoke machine features Jojo's recognizable colors and design. It is portable in terms of size and weight and also has a top carrying handle. It comes with one wired microphone and one CD where you will find one of the most popular Jojo Siwa songs.
There is a line-in option so you can connect multiple different external devices at the same time. Jojo Siwa karaoke machine is also Bluetooth compatible so you can wirelessly stream music. Effects like echo control and AVC ensure the balance between the background music, your voice, and the main tracks. Add another microphone if your kids want to sing in duets with their friends or family.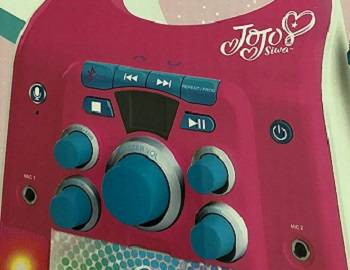 If you are interested in finding more Bluetooth karaoke machines for kids and adults, check out my post on Bluetooth karaoke machines. To research what other items Jojo Siwa was featured in, take a look at my article called Jojo Siwa karaoke machine.
Characteristics:
Has a disc player
Easily connect to TV for lyrics
Bluetooth compatible
Echo control
Best Home Karaoke System
Bose Karaoke Machine S1 Pro
If you are looking for good home karaoke systems, you can't miss Bose S1 Pro. You can purchase it in a bundle with a microphone and other accessories or just by itself. This kind of karaoke machine is made for many different occasions, whether it is smaller concerts, weddings, karaoke nights, outdoor venues or others. It also has handy carry handles so even though it weighs quite a few pounds you shouldn't be struggling as much.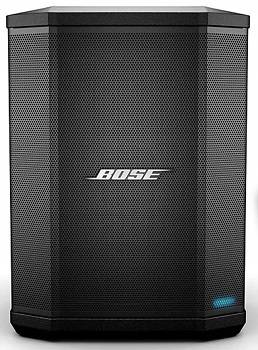 If you didn't know already Bose is known for great sound quality that is featured in this karaoke system as well. Bose S1 Pro has built-in sensors and is built in a sense where you can turn and place it anywhere and how you want and it will always send great quality even sound. The battery life is up to 11 hours long which gives you much more freedom.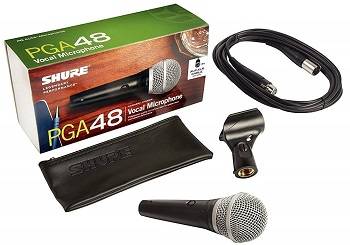 Don't hesitate to read about other karaoke sound systems from different brands, you can check them out in my post based around best karaoke systems for the home. If you want to keep it safe, stick to Bose karaoke systems and read more about that brand.
Characteristics:
For any occasion
Made from rugged lightweight materials
Multi-position design
Automatic tone match and balance
Best Karaoke Machine For TV
Vocopro Karaoke System SmarTvoke
This specific Vocopro karaoke machine is perfectly designed to work with any new generation TV. First of all its design is perfectly made to fit underneath or on top of your TV, DVD player or a shelf near your TV. Secondly, when purchasing this karaoke system you will get a 1/8" RCA cable and audio cable that is used mostly to be connected with TVs or other analog music sources.
Besides the karaoke mixer, you will also get two interactive microphones with music and mic volume controls as well as some voice effects like reverbs and echo control. It comes also with a power adapter that has 110V. It is a little bit pricey in comparison to karaoke microphones or smaller karaoke machines but you should consider all of the accessories that are coming included in the package.

For more of similar machines that hook up to your TVs, you can check-out my article on karaoke machines for TV. Vocopro is a known brand in karaoke manufacturing so you can see other products they have to offer in my post on Vocopro karaoke machines.
Characteristics:
Connects to TV and stereo system
Two interactive wireless microphones
All cables provided
Best Karaoke Machine With CD Player
Memorex Karaoke Machine With CD Player
Even though today, fewer karaoke machines come with disc player built-in, the Memorex karaoke machine is one of those that still have it. This karaoke system would be perfect for those looking for a classic kind of old-school karaoke machine. Not only does it have a disc player but also a cassette tape player. It weighs about 16 pounds so it is not that portable and is more designed for at-home use.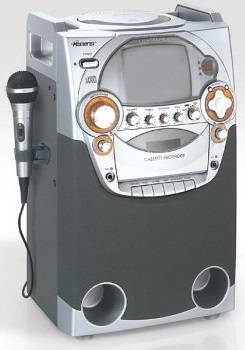 It comes with one wired microphone that has its designated holder on the side. It also has a 5.5" black and white display monitor. However, considering that generations changed, you don't have to view lyrics on that tiny screen but can connect it to a big TV screen with audio or video inputs.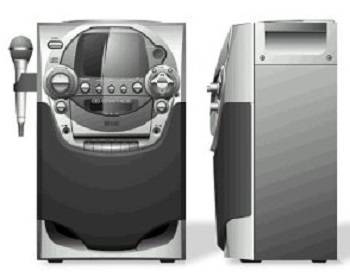 For more machines with CD player, read my post I wrote about CD karaoke machine systems or for more Memorex products, read my review on Memorex karaoke machines.
Characteristics:
Karaoke CD player
Old-school karaoke machine
Cassette tape reader
Lyrics screen
Best Professional Karaoke System
Akai Karaoke Machine KS800-BT
When it comes to music streaming and playing options, this Akai karaoke machine probably wins in variety. It is Bluetooth compatible, has a USB reader where you can listen to your premade playlists, allow you to line-in external devices and on top of that, it has a front-loading disc player which is rare with latest karaoke machines.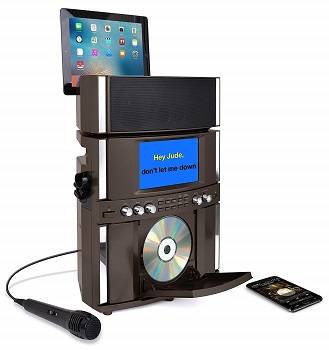 You can also use the USB reader to plug in your flash drive and record performances to save them forever and play them back. Another great external feature is a 7-inch color display that shows lyrics from CD+Gs or karaoke apps you connected to via Bluetooth and your Smartphone. If you prefer, you can connect it to your big TV screen. The speaker has 10 watts of output power, which is enough to fill the whole room with a loud sound.
If you want to know about other professional karaoke machines that are currently available on the market, read my post on professional karaoke machines. Or if you are interested in more Akai products, check out my review of Akai karaoke systems.
Characteristics:
Multiple streaming options
USB reader
RCA and audio outputs
7-inch color screen
Best Portable Karaoke Machine
Karaoke USA Machine GF840
This particular Karaoke USA machine has one of the most classic karaoke machine designs I can think of. The bottom part is occupied by a speaker and the top half features a 7 inch TFT color screen and has control buttons on each side. Just above it has a Smartphone cradle and microphone holders. It has a great 35W peak digital power amplifier and flashing lights that simonize to your music.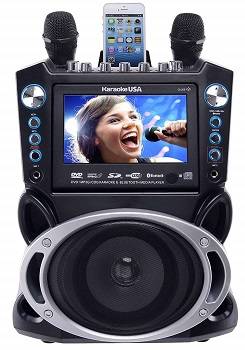 To stream music, again, multiple possibilities are much appreciated. Be its Bluetooth technology, USB external flash drive, CDG or DVD, or even an SD card, Karaoke USA machine plays it all. You can also record performances and store them onto the SD card. Two karaoke microphones are provided with the purchase as well as a remote control.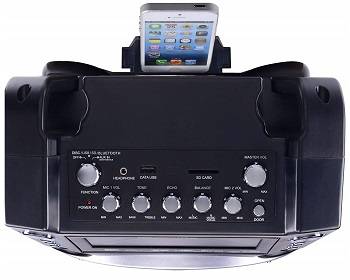 If you want to consider some other brands and models, go ahead and read my post on the best portable karaoke machines. For those that are convinced Karaoke USA is a good brand, check out some of their other products in my review of Karaoke USA machines for karaoke.
Characteristics:
Classic sleek karaoke machine design
CD, Bluetooth, USB, SD compatible
Two microphones provided
Smartphone cradle
Best Karaoke Machine for Adults
Pyle Karaoke Machine
The next item can also be under the portable karaoke machine category because of its design. Even though it is a bigger speaker and PA system, this karaoke sound system is made to be carried around. It measures 14.8 x 16.2 x 26.5 inches but has a top trolley handle and wheels on the bottom. It also has an amazing sound quality with up to 400 Watt of maximum output power which makes it a PA system as well.
With this kind of karaoke speaker system, the most common way of connection is via Bluetooth technology since they are mostly used for outdoor parties or bigger inside venues. This is why you want to avoid having a wired connection. It can work on a power adapter or a rechargeable battery as well. This unit also comes with one wireless karaoke microphone and remote control. Lastly, this is light up karaoke machine with multi-colored lights coming from the top placed disco ball.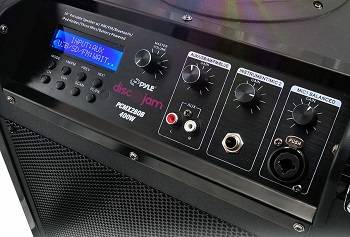 For more similar models, I invite you to read my post on karaoke machine systems for adults. If you think Pyle is a brand for you, go and check-out some other karaoke machines they created in my post on Pyle karaoke machines.
Characteristics:
Full-range stereo sound 400 Watts
Bluetooth compatible
PA sound system
Perfect for bigger venues and karaoke parties
Best Rose Gold Karaoke Microphone
Tzumi Popsolo Wireless Bluetooth Karaoke Microphone
Tzumi microphone and speaker for singing is an all in one karaoke microphone. Under the microphone head, there is a lightweight HD integrated speaker with a 1300 mAh rechargeable Lithium battery. You will have about 5 hours of music play and singing time before you have to recharge it for only two hours. The Bluetooth wireless range goes up to 30 feet away.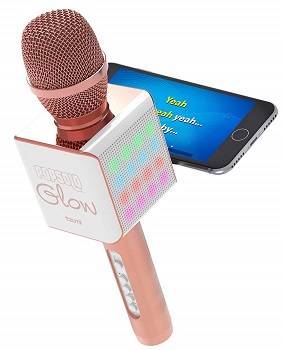 The main reason this microphone is one of the best wireless karaoke microphones is the retractable Smartphone holder. This is a feature that helps you have your karaoke lyrics in front of your eyes and microphone at any moment. The microphone also works with most karaoke apps and can be used for recording.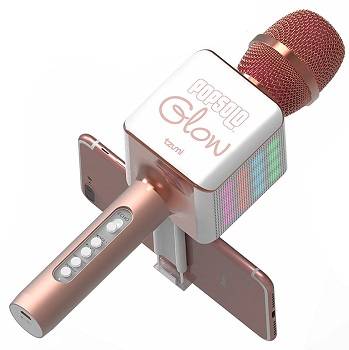 If you are interested in more models and brands, you can read my post on gold karaoke microphones. More models from the Tzumi brand you can check out in my post called Tzumi karaoke microphones.
Characteristics:
Great sound quality
Rose-gold and white
Retractable phone holder for lyrics
Wireless or wired connection
Best Mini Karaoke Machine
Kikkerland Mini Mic
Kikkerland mini mic is probably the smallest karaoke machine you will ever come across, at least in this article. This karaoke microphone measures only 54 x 0.7 x 2 inches and weighs less than two ounces. It is perfect to bring with you in the car or anywhere else on-the-go where you will need to record. You can also use it as a microphone for phone calls on the road or elsewhere.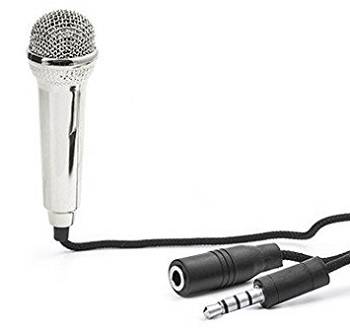 Make sure to read well the instructions or customers' reviews on Amazon that clearly state how to use this item. It uses a double-sided adaptor. One side is to be plugged into your phone or MP3 via the headphone jack. Another side is if you want to connect your earbuds or headset to hear music at the same time. The good thing about this microphone is that is very affordable and works as a great gift for kids as well as adults.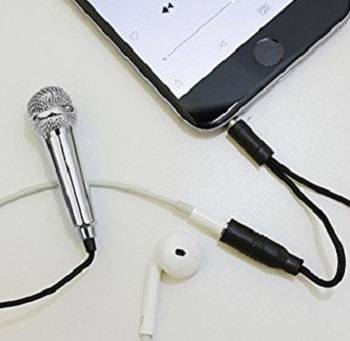 Even though you probably won't find microphones as small as this one, you can read about other small karaoke machines in my article on mini karaoke machines. You can read more about this microphone and this brand in my post called Kikkerland mini mic.
Characteristics:
Smallest design available
Two ways of using it
Affordable
Records vocals
Best Girls Karaoke Machine
Disney Princess Karaoke Machine
This next karaoke machine is a little bit different from those before. Princess Disney karaoke machine is one of the best karaoke machines for kids, especially girls who love it. It is white colored with blue accents and has three Disney princesses on the front. There are also flashing LED lights that make this karaoke machine even more colorful.
This device is charged via USB charging cable that is included in the purchase. Since it is wireless, it is also Bluetooth compatible and has an integrated speaker. Good thing is that it has built-in memory space where you can store music, audiobooks, good night stories and so on. You will get one karaoke microphone to sing along to favorite Disney karaoke tunes.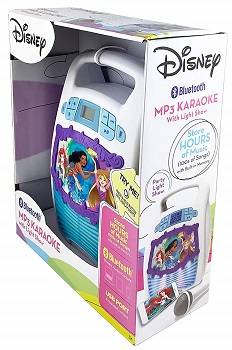 If you are looking for more gifts for kids or little girls, check out my post about girls' karaoke machines. If you know they love Disney movies and characters, don't waste your time and check out my article on Disney karaoke machines only.
Characteristics:
Light show
Portable design with Disney princesses
Stores hours of music
Includes karaoke microphone
Best Karaoke Machine With Lights
Singing Machine Karaoke Machine SML385
Singing Machine is a known brand in the karaoke world. They created also this very good karaoke machine that falls under my best light up karaoke machine category. This is because it has 54 disco LED lights that shine through the perforated speaker cabinet and have a dimmer setting so you can adjust the intensity depending on the song or the mood.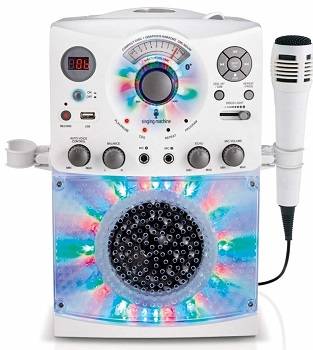 It is one of Amazon's top choices and best sellers also because you can play music in many different ways. It is Bluetooth compatible, has a disc player that reads also CD+Gs plus has a USB port. With the RCA cable, you can even connect it to your TV. It also has two karaoke microphone inputs even though only one comes with the purchase. Recording function is also available to create some of the best memories with your friends and family.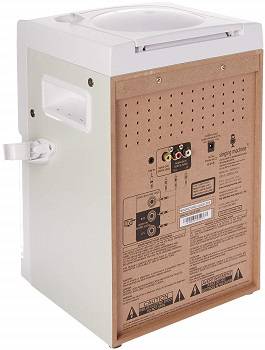 If light up karaoke machines are something that interests you, my article karaoke machine with lights may be the right one for you. For more Singing Machine karaoke system models, read my post on Singing Machine karaoke machines.
Characteristics:
54 multi-colored LED lights
Strong and clear sound
USB port for external memory and recording
Two microphone inputs
Best Cheap Karaoke Machine
Sharper Image Karaoke Machine Microphone
If you want an affordable and cheap karaoke machine, you might as well opt for a karaoke microphone. Sharper Image karaoke microphone is a wireless karaoke microphone with a Bluetooth built-in speaker. All of this is put inside a sleek looking handheld design. It has great reviews and for around 20 dollars, I don't think you can go wrong.

The Bluetooth technology allows you to stream music directly from your phone, tablet, laptop or other compatible devices. It also works with all music streaming and karaoke apps you can download, or you can try simply using YouTube for the first few times. The speaker has independent audio controls as well as echo controls made to enhance vocals.

For other affordable karaoke machines, see if you can find the one for you in my article called cheap karaoke machines. Sharper Image has other products that you can check-out in my post called Sharper Image karaoke machines and microphones.
Characteristics:
Compatible with most apps
Auxiliary and USB cables provided
Echo and audio volume controls
Lightweight and durable
Best Karaoke Machine With Screen
Ilive Karaoke Machine
iLive karaoke machine weighs about 7 pounds and measures 11.2 x 11 x 14.4 inches so you don't have to worry about storage space and it being too heavy if you decide to bring it to a friend's house. This karaoke machine has a five-inch screen that shows your favorite karaoke lyrics. Another great thing is that it comes with two microphones and two instrument inputs if you want to introduce more devices.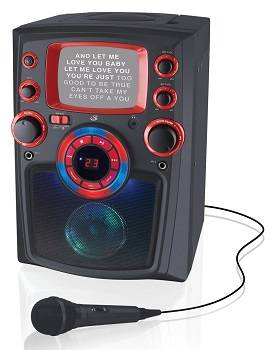 There is a disc player that can play any CD format including CD+G since there is a screen that can show graphics. If you prefer wireless connection through your phone, iLive karaoke machine got you covered as well since it is Bluetooth compatible and has a 60 feet wireless range.

For more karaoke machines with lyrics and screen models, read my other post on the best karaoke machines with screen. Or maybe you can see more models from this brand in my article on iLive karaoke machines.
Characteristics:
Screen for karaoke lyrics
Top-loading disc player
LED effects
Compact and portable design
Best All In One Karaoke System
Singsation Karaoke Machine Deluxe Karaoke System
The last item I will mention in this best-rated karaoke machine review is an all-around karaoke party machine. Singsation Deluxe karaoke system is a performer, a speaker, and a Bluetooth microphone all that while being a microphone sing stand. The stand adjusts anywhere from 2 to 6 inches so it is perfect for any height and almost any age.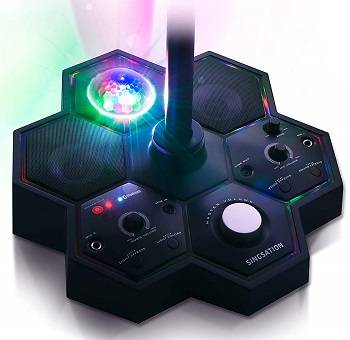 You might have already guessed that it is Bluetooth compatible. But even more fun is that it has 10 different voice effects like high and low pitch, chipmunk, harmonize and others; 8 sound effects you can add to any track like DJ scratch, air horn, cheering, applause, etc. To make a full concert vibe, choose from 16 different lighting options like party, pulse, chase, breathe… All of these karaoke features make this machine the best all in one karaoke system available on the market at the moment.

However, if you want to keep discovering, read my post on others all in one karaoke system. Or check-out more Singsation karaoke machines.
Characteristics:
Adjustable sing stand
Voice and sound effects
16 lighting options
All-in-one karaoke system
Useful Guide For Buying A Good Karaoke Machine
Look For Easy To Store, Compact Items
One of the keys when looking for a good karaoke machine that is versatile and that you want to be able to use on different kinds of occasions is that it is compact. This way you can easily store it when you're not using it, and also place it discretely on any house party, outside the venue or other.
Karaoke Machine With Speakers
To get most of your money's worth, look for an all-in-one karaoke system. This means that your karaoke machine should come with speakers, whether they are external or integrated built-in ones. The same goes for karaoke microphones with speakers. This way you will save time and money.
Kid-Friendly Karaoke Systems
Another hack to save money is to buy a kid-friendly karaoke machine. This way if you don't want to or simply can't, you can purchase only one karaoke machine that can be of great use for the whole family no matter the age. Just make sure it is made out of safe materials and that the accessories aren't too heavy for the kids.
Karaoke Equipment
Most of the karaoke systems, machines and microphones do come with at least one microphone. That is the minimum to look for, stay away from those that make you buy separately all of the accessories. Also, before purchase make sure you will get the power adapter or charger. Auxiliary and RCA cables are a plus.
Karaoke Machine For Sale Near Me
All models I reviewed earlier can be purchased on Amazon as you saw the links. I prefer online purchasing because it is easier, often faster and you can read what other customers had to say about the product you are interested in. Amazon is a great place to start since it has good deals, fast shipping, and a wide offer.
Benefits Of Having A Karaoke Machine
Endless Fun
The most obvious reason people purchase karaoke systems or machines is for fun. Karaoke systems give you hours and hours of laughter and entertainment be it with your friends, family or if you are by yourself. Especially those that have a recording function, where you can playback your best and worst performances at any time.
Saves You Money
There are karaoke rooms and karaoke bars at almost every corner. However, normally they charge you by an hour and oftentimes that hour equals the price of one karaoke machine! So in one way, if you purchase a karaoke machine you have endless times to do karaoke for the price of one evening in a karaoke bar where you have to purchase drinks too.
Develops Skills And Helps With Memory
In my reviews, especially of karaoke machines for kids, I often talk about karaoke machines helping in Child's development. It helps strengthen memory skills, phonemic awareness, develops auditory system and hearing. If you turn on the lyrics it can even benefit the reading skills. Some kids' but also adults' confidence is higher once regularly performing karaoke.
Conclusion: Which Karaoke Machine Should You Buy?
Now even though all karaoke machines and karaoke microphones I talked about today are very high quality and versatile products, I will give you a quick reminder of two karaoke machines. Singsation karaoke machine is an amazing all-in-one complete karaoke system and Bose S1 Pro is a great home professional sounding karaoke machine for those ready to invest.
If you want to learn about more products and karaoke brands, read my article on home karaoke machines or professional karaoke machines for sale. Depending on your taste and budget you may prefer karaoke microphone speaker or wireless karaoke speaker so you can learn more about those products by clicking on the links.