Best 10 Kids Friendly Karaoke Machine Systems & Mic Reviews
Are you looking for a new way to keep your children occupied for hours at a time?
Or are you simply looking for an amazing gift for kids that you can't go wrong with?
If you answered yes to at least one of these questions, you may need a kids karaoke machine.
I did my research and found some of the top-rated children's karaoke machines currently available on the market. This was based on their karaoke features, technical specifications but also customers' reviews to give you only the best karaoke machines for kids. Keep on reading this post if you want to find out what makes a good karaoke machine for kids at any age and where you can purchase them.
Karaoke Systems For Kids – Characteristics And Purchasing
Wide Range Of Karaoke Sets For Kids
Kids' karaoke machine models are versatile. If you consider all 10 of my reviews you will see that models vary in price, size, and features. Also, there are different types of karaoke systems some of them being toy karaoke machines, kids karaoke microphone stand, wireless karaoke microphone for kids and many others.
For Any Gender And Age
Karaoke systems can be appropriate for children of any age. You just want to make sure you are looking for the best kid-friendly karaoke machines so you can find anything from toddler karaoke machines to karaoke machines for 10-year-olds. Also, depending on the design and preference some of them can be classified as boys karaoke machines or girls karaoke machines.
Kids Karaoke Machine With CD Player And Bluetooth
A good karaoke machine must have either a CD player or that it is Bluetooth compatible since these are two most popular ways of playing music. Some of them will have both options so you can choose which way you prefer and find easier. However, models like children's karaoke microphone will essentially be only Bluetooth compatible.
Kids Karaoke Machine With Lights And Other Karaoke Features
It is always a plus if a karaoke machine has lights feature. Most of the time this is either an LED flashing lights feature or a turning disco ball placed somewhere on the karaoke machine or microphone. Some other karaoke features can be voice changing effects or sound adjustments.
Price Points And Online Purchase
As I stated earlier, the price point is also something that makes karaoke machines vary from one model to another. However, the price point doesn't have to be a factor in determining the quality of one. This is where customers' reviews come in handy and you can read them on sites like Amazon where you can also purchase them under great deals.
Best 10 Kids Karaoke Machines & Mic
Best Kids Karaoke Machine With 2 Microphones
Singing Machine Kids Pedestal
Detachable Unit For Two-Way Set-Up
Even though this karaoke machine has a kids' karaoke pedestal, the main part can be detached from it. This allows you to have another way of using it and can be used also as a toddler karaoke machine.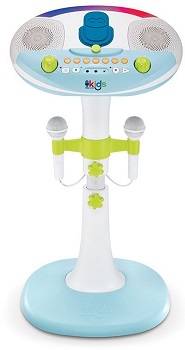 Kids Singing Machine Karaoke Pedestal
If you prefer to put this whole machine into use, the karaoke pedestal will come in handy. The base is adjustable from 25 to 36-inch height which makes more kids being able to use it.
Kids Karaoke Machine With 2 Microphones
Singing machine kids pedestal is a good example of a 2 mic karaoke machine. The microphones are kid-friendly, white-colored and have designated holders on each side of the karaoke pedestal. Having two microphones is perfect if you have two kids that want to sing at the same time.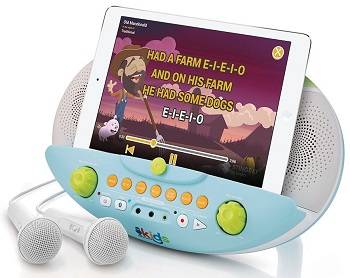 Built-In Memory For Recording
By simply pushing one button you can activate the recording function. It can record up to 3-minute performances which is an average song length. Also, you can play them back for everyone to hear.
Vocal Effects
For have the ultimate kids Singing Machine mood let the kids activate one or multiple vocal effects. There are six of them and all are marked on the main control panel. Choose from: echo, robot, male or female voice, radio or chipmunk and kids will love it.
Main Characteristics:
Singing Machine 2 in 1 product
Two microphones included
Adjustable pedestal
Six vocal effects
Record and playback
Best Little Girl Karaoke Machine
Minnie Mouse Karaoke Machine
Perfect Karaoke Machine For 2 Year Old And Up
This Minnie Mouse Disney MP3 karaoke machine I feel like it would work as a great gift for any little girl aged anywhere from 2 to 8 years old. But can, of course, be used by anyone at any age.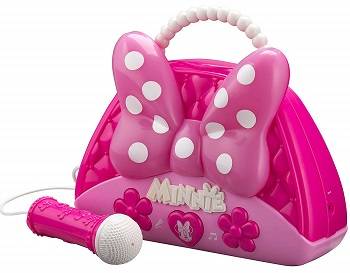 Minnie Mouse Design
It is called the Minnie Mouse karaoke machine as its whole design resembles that particular Disney character. The karaoke machine is in the shape of a girl's bag. It is pink and white and has Minnie's' bows, pearls, and flowers all over it.
Microphone And Voice Changer
The Disney machine is equipped with one pink wired microphone. There is a Minnie Mouse voice changer effect that makes any kid sound like their favorite cartoon character.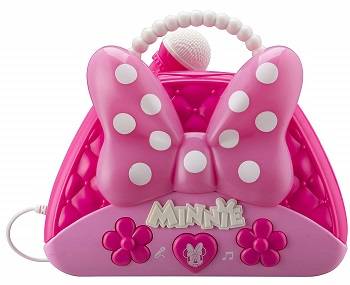 Connects To Any Mp3 Device
This specific karaoke machine is very simple and before all user and kid-friendly. This is why it doesn't have numerous connectivity options but one of the simplest ones. You can simply connect any MP3 device using corresponding cables to play music or to play karaoke songs.
Use Microphone Or Speaker Separately
The good thing about these types of karaoke machines is that you don't have to use all of the functions at the same time. For example, you can use the microphone just to talk through the loudspeaker, or you can use the speaker without necessarily singing, or combine the two for karaoke.
Main Characteristics:
Pink girly design
Sound like Minnie Mouse
Lights up
Best Karaoke Machine For 3-Year-Olds And Up
Little Pretender Kids Karaoke Machine
Number One Best Seller
There have to be plenty of reasons why LP kids karaoke machine number one bestseller on Amazon is. Some of them I will mention below, but be sure you will get a great quality product for an affordable price, get all of the necessary accessories including batteries, etc.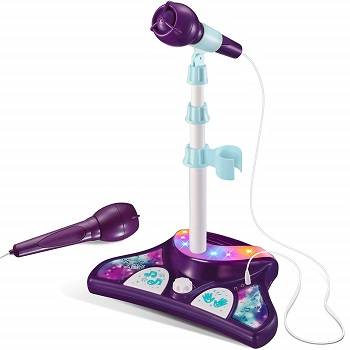 Little Pretender Karaoke Stage Microphone
Karaoke stage and microphone with stands are some of the most famous kids' karaoke machine forms. This machine has an adjustable microphone stand and on average is designed for kids from 3 to 8 years old, but it can vary from kid to kid.
Portable Speaker
In case you want to be able to put this machine to use in another way, you don't have to necessarily use the microphone stand. If you want that the kids have more freedom while performing and dancing, just make them hold the speaker base by the flip-over handle. It is lightweight and has a device holder so no worries.
Kids Karaoke Machine With Lights
Whether you decide to use the machine as a microphone karaoke stand or as a carry-on speaker, you can also add more karaoke fun with lighting effects. Multi-colored LED lights are placed on the base part and match kids favorite songs.
Preloaded Songs Or Stream Music
To play the music you can choose between preloaded songs that start simply by pressing the left foot pedal. The right one is for applause effects. Another way to stream is by using the auxiliary cable provided with the purchase to connect with your phone, tablet, CD player and other devices.
Main Characteristics:
Two ways of using – speaker or stand
Multicolored flashing lights
Two microphones
Applaud feature
Best Karaoke Microphone For Kids
Kidzlane Karaoke Stage Microphone Set
Dimensions And Weight
Kidzlane karaoke microphone is perfect for kids almost any age according to its dimensions and weight. It measures 10.1 x 4 x 2.8 inches and weighs around 8 ounces; these dimensions include the microphone and speaker.
Neutral Design
A lot of the kids' karaoke machines and microphones are made either for boys or girls and targeting one certain age group. Kidzlane microphone has a neutral white design without any distinctive drawings or patterns on it. This way it can be comfortably used by anyone.
User-Friendly
This kids' karaoke microphone gets my good critiques on being kid-friendly. Besides its neutral white-design, it has orange fairly big buttons that distinctively show what they are for. This way kids can have their party and an adult doesn't have to help them just to switch a song. With Kidzlane karaoke microphone they will be able to do it by themselves.
Preschool Karaoke Machine
There are ten famous pre-school karaoke songs pre-loaded in this microphone. Some of them being If you're happy, Old McDonald, ABCD, Wheels on the bus, Mary had a little lamb, Row row row your boat and others.
Wireless Karaoke Microphone For Kids
Some of the best karaoke microphones for kids are Bluetooth compatible. This is one of the most common connectivity ways and works with most devices. Kidzlane karaoke microphone has a 50 feet wireless range which allows kids to dance around without worrying about being too close to the source device.
Main Characteristics:
Built-in speaker
Ten preprogrammed songs
Voice effects
Neutral design and big buttons
Best Karaoke Machines For Teens
Altec Lansing Party Star Karaoke Machine
Karaoke Machine For Teenage Girls And Boys
This next Altec Lansing Party Star karaoke machine I wouldn't recommend for toddlers or kids at a young age. The machine is more professional looking and sounding and could use as a great gift for teenagers or older kids in general.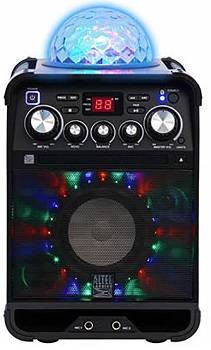 Compact And Portable
This karaoke machine is compact, easy to store and to carry with you or if the kids want to take it with them to a friend's house. It weighs less than 10 pounds and is cube-shaped with 11 x 10 x 15-inch dimensions.
Disco Ball And Flashing Lights
One of the main parts and probably the one you are going to notice is the big disco ball placed on the top of the machine. This way the whole ceiling and backdrop will be lit-up. Also, there are small LED lights in different colors going around the speaker.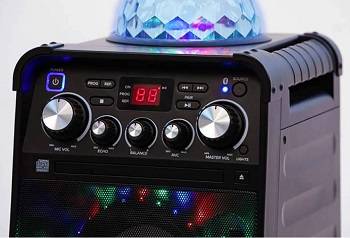 Professional Sound For Everyone
All users of this karaoke machine can sound more professional thanks to sound features like echo, balance or AVC – auto voice control. Also, since there are two microphone inputs, you can do professional sounding duets.
Karaoke Machine With Cd Player
Another feature on the front panel is the front-loading disc player. Besides CDs, it supports also CD+Gs. Since the karaoke machine doesn't have a screen, you can connect it to any TV that has matching video and audio inputs.
Main Characteristics:
Professional sound
Disco ball
The front-loading disc player
Line-in option
USB charging
Best Toddler Karaoke Machine
Hatchimals Flashing Lights Karaoke Machine
Karaoke Toy For Toddlers Size
One of the main reasons this karaoke machine is under the toddler category is its size. It measures 5.12 x 10.79 x 8.19 inches and weighs around 5 pounds but still is sturdy and won't break easily. Even older kids can use it.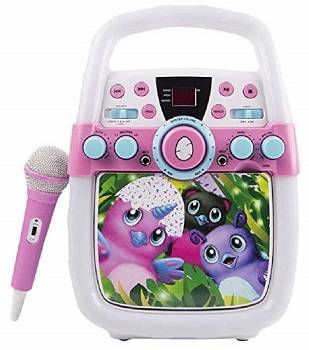 Package Contents
If you decide to purchase Hatchimals flashing lights karaoke machine, besides the machine, you will be provided with one wired microphone, an AC power adapter, one AV cable and also a CD+G with famous Hatchimals songs you may not be able to find online.
Playing Music And Tv Connection
To play the provided CD there is a top-loading disc player. Another way to play music is by using the good old auxiliary cable to access your premade playlists from your phone or tablet. You can also connect the machine to your TV for viewing lyrics on the big screen if the kids are big enough to read.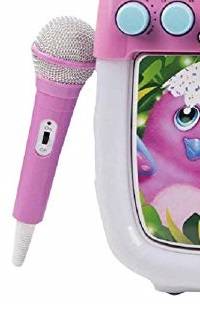 Toddler Karaoke Microphone
One microphone is included with purchase but there is another microphone jack so you can buy another microphone if you decide to. Good thing is that these types of microphones can be also used with other devices or also using karaoke machines but for example not only for singing but just talking, singing acapella, holding speeches or other similar situations.
Main Characteristics:
Easy TV connection via AV cable
Hatchimals characters design
CD+G player
Balance, echo, AVC effects
Best Karaoke Machine With Microphone Stand
Vtech Kidi Super Star Karaoke System With Mic Stand
Different Parts
Vtech kidi superstar karaoke machine can also be called a microphone set. It is made out of a few different parts so the kids may need adults assisting in assembling it. The main parts are the removable control panel, microphone stand with poles and microphone.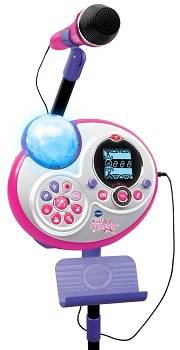 Almost 5 Foot Microphone Stand
What makes this machine great for kids at different ages is the fact that the microphone stand is adjustable and goes up to 4.5" height. To do this three main poles need to be assembled if you want to achieve the highest height.
Vtech Karaoke Machine The Entertainer
Why did I give it this name of "the entertainer"? the Vtech karaoke machine has a feature not a lot of karaoke machines have. There are six music, rhythm and memory games to help build kids' musical creativity and also memory skills.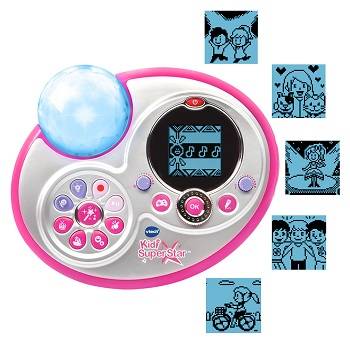 Voice Changing Effects And Cheering Sounds
While singing, kids can choose from four different funny vocal effects that will certainly make them laugh and enjoy their performance even more. By the end of the song, they can add applause or cheering sound effects as well.
Many Other Karaoke Features
Without this review getting too long, I would like to name just a few more karaoke features this machine offers. There is a disco ball that makes the whole room light up especially when the lights are dimmed; there is a built-in voice recorder that will be useful especially with the Music Magic mode that removes the main vocals from karaoke songs.
Main Characteristics:
Built-in songs and recorder
Funny voice effects
Disco ball lighting
Built-in games
Best Kids Bluetooth Karaoke Machine
Komvox Karaoke Microphone With Stand
Bubble Karaoke Machine
Instead of being a generic karaoke machine, Komvox karaoke microphone system has another cool function – it is also a bubble machine. The liquid comes with the purchase and once you use it up you can repurchase the same one or from a different brand.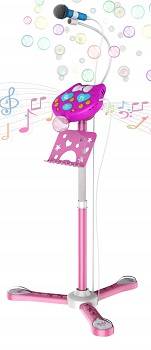 Detachable Microphone Stand
Komvox machine is a standing karaoke machine. It has a stiff extendable pedestal that holds the control panel and device holder. Above the control panel is a flexible pipe that holds the microphone and can be turned in any direction. Also, the main part is detachable from the stand and can be used separately.
Little Girl Karaoke Machine
Even though boys can use it as well, its design is more catered to girls. The whole machine has pink and white accents. The control panel has the shape of a cat's head with bow, stars, and hearts. The same goes for the Smartphone or tablet holder.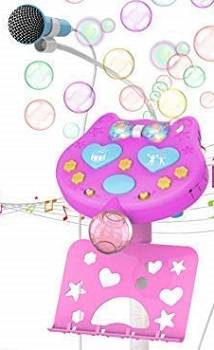 Kids Bluetooth Karaoke Machine
Komvox microphone system is Bluetooth compatible. Once the kids selected their karaoke tracks, they can rest the device onto designated cradle for easier lyrics showing. Also, you can use an SD card to play music if you decide to make playlists in advance so the karaoke evening goes smoother.
Charging
The machine runs on a rechargeable battery. However, it is not particularly strong; it runs for about two hours of continuous playing in between charges.
Main Characteristics:
Innovative bubble function
Drum effects
Two microphone jacks
SD card reader
Best Boys Karaoke Machine
Paw Patrol Karaoke Machine
Design
This next kid's Bluetooth karaoke machine has a portable and cute design. Its dimensions 10 x 3 x 9 inch confirm its portability. It is colored in white and blue and has a big front design of Paw Patrol characters.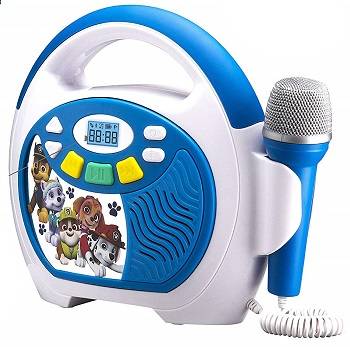 Built-In Internal Memory
One of the main features of this karaoke system is the internal memory of 1 GB which equals around 16 GB of music. But you aren't obliged to store only songs; you can also do that with audiobooks or stories and use this karaoke machine more as a Bluetooth speaker than a karaoke machine.
USB Reader
To add even more music to the machine, you can use an external flash drive. This is practical for those that want to make playlists for their kids in advance and leave them to it for hours at a time without having to do constant surveillance.
Storage Door
On the back of the machine, there is a storage compartment. It is there you will find the USB reader and you can also use it to keep safe your USB and charging cable so you can always know where they are.
Limited One-Year Warranty
It is good to know that the karaoke machine comes with a limited one-year warranty in case it comes faulty or in case it breaks. If you need more information you can contact the manufacturer directly.
Main Characteristics:
1GB of internal memory
Bluetooth compatible
Built-in rechargeable battery
Best Children's Karaoke Machine CD Player
Disney Frozen Sing-Along Karaoke Machine
New Disney Mp3 Karaoke Machine
Since Frozen 1 was a huge success as a film but also in karaoke machine models, now there is also Frozen 2. This karaoke machine is part of Frozen 2 new kids karaoke machine models and that can be seen from the design of the box and machine also.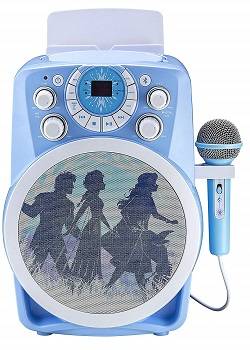 Fun Flashing Lights
The frozen karaoke machine is rather neutral especially the speaker part. It is covered in perforated design with washed-out Frozen characters. However, once you play the lights feature the whole thing lights up and can create silhouettes if you turn it towards a wall.
Children's Karaoke CD Player
Disney Frozen sing-along karaoke machine does have a built-in top disc player. As previously stated with some other models, this feature is great to use paired with TV connection since then you can show lyrics on a big screen when using CD+G formats.
Front Control Panel
Buttons like master volume or Frozen karaoke machine microphone volume can be found on the front panel. Sound enhancements like echo and AVC can also be adjusted. There is a small LCD screen that tells you which CD track is playing which can be useful.
Main Characteristics:
Frozen 2 light show
Bluetooth compatible
Smartphone holder
Microphone with a side holder
Conclusion: How To Decide Between 10 Different Kids Karaoke Machines?
I will try to make this choice a little bit easier for you by highlighting two of the machines I find are the best kid-friendly karaoke machines. Komvox karaoke microphone system is one of my favorites because of its innovative features like bubble function and adjustable height. Something a bit different would be Kidzlane karaoke microphone that is a lot more portable model and easier to use and to set-up but still has great karaoke features.
To find out more about karaoke machines in general, for kids and adults, I invite you to check out my post I named simply the best karaoke machine. For more karaoke machines for 2-year-olds and up, try rather my article about toddler karaoke machine models. Models similar to my favorite Kidzlane karaoke microphone can be found in the article on kids' karaoke microphones.