Best 5 Bluetooth Wireless Karaoke Microphone In 2020 Reviews
Are you looking for a new way to entertain your house party guests?
Or are you looking for a gift idea for your friends or family?
Maybe you should look more into wireless karaoke microphones since they really can be the stars of a party.
Out of the sea of wireless karaoke mics that are available on the market, I tried to select only the best Bluetooth karaoke microphones based on their technical specifications so you won't make a mistake if you decide to purchase any of these mentioned below. In my reviews, I also considered customers' reviews using websites like Amazon.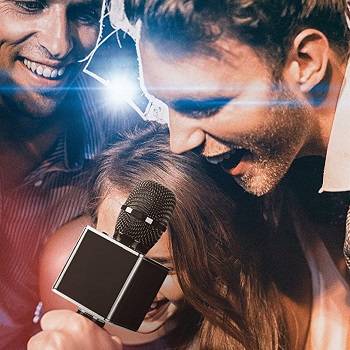 Best Bluetooth Karaoke Microphone 101
Handheld Wireless Karaoke Microphone With Portable Bluetooth Speaker
Even though 'Bluetooth karaoke microphone' is self-explanatory I will still try to elaborate a bit more. Most wireless karaoke microphones are not just that but they are both portable Bluetooth speakers. Even though they work the best when used both as a microphone and speaker at the same time, feel free to use one without the other if needed.
Professional Karaoke Wireless Microphone
A lot of models I'm going to be reviewing today will be more directed towards entertainment purposes. However, there are professional karaoke wireless microphones that connect to TVs or sometimes even have a receiver like Archeer UHF wireless microphone system I will review later.
Wireless Karaoke Microphone For Kids
Karaoke wireless microphone systems are directed for the public of any age, gender, singing capabilities, and others. It will also work as a great gift for kids since there are plenty of kids Bluetooth microphones currently on the market. Most of the time they come with voice effects, preloaded songs, and other cool benefits.
Battery Life
Wireless Bluetooth karaoke microphones operate on lithium rechargeable batteries. The battery life in between charges will vary from model to model, but an optimal duration is around 5 hours for a good quality Bluetooth microphone. Try to look for fast charging options as well.
How Much Should You Spend?
If it is your first time looking for Bluetooth microphones for singing this question might be something you want an answer to. Wireless karaoke mics aren't expensive and this is one thing that makes them a perfect gift. On average they range between 20 and 50 dollars and most of the time you do get your money's worth. Check my Amazon links under each review where you will have the best deals.
Best 5 Bluetooth Microphone Reviews
Best Quality Bluetooth Microphone Reviews
Bonaok Wireless Bluetooth Karaoke Microphone
Rose Gold Wireless Microphone
Bonaok wireless karaoke microphone comes in one of the most popular shades and that is rose-gold. It is made out of aluminum alloy so it gives it that perfectly shiny look without being too over the top.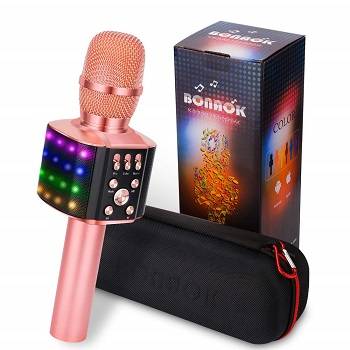 Karaoke Microphone With Lights
This Amazon's bestseller also has a built-in speaker. To give the full karaoke effects, the speaker part is filled with small multi-color LED lights that shine from the microphone throughout the room. More you up the volume, the more the lights become intense.
All-In-One Karaoke Machine
Another reason why this karaoke microphone system is Amazon's bestseller is the fact that it isn't only a Bluetooth handheld microphone. It can also be used as a song recording system or a Bluetooth speaker by itself or together with a microphone.
High-Quality Bluetooth Microphone
In these reviews, I will bring to you only the best quality Bluetooth microphones. That is also the case with Bonaok Bluetooth microphone that uses the newest DSP technology with a three-layer net on the microphone head for the best background noise reduction and making sure it catches the voice even from a small distance.
Rechargeable Battery
Bonaok wireless microphone runs on a rechargeable 2600mAh lithium battery. This means that on average the karaoke microphone can be used for about 4 hours before needing to be recharged. However, if you alternate between using and not using it, having the lights on and off, it can last up to 10 hours.
Brief Summary:
Latest sound technology
Three-layer net for noise reduction
Integrated speaker
Colored LED lights
Best Portable Wireless Karaoke Microphone
Sharper Image Wireless Karaoke Microphone Speaker
Multi-Occasional Item
Sharper Image Bluetooth microphone is a product that can be used on many different occasions by people of all ages and interests. Works great in both big and small settings, indoor or outdoor house parties, for presentations and others.

Sharper Image Wireless Microphone Handheld Design
This karaoke microphone has a compact and practical handheld design. It is neither too small nor too big. It measures 10.4 x 4.2 x 4.1 inches and weighs less than two pounds making it also good for the kids.
Built-In Speaker For One Product Karaoke
Just below the microphone head, there is a built-in speaker. When your item can perform as multiple different items in one that means it is a great product. Karaoke microphone or Bluetooth speaker or both at the same time, the unity makes Sharper Image wireless microphone one of the best models.

Wireless Microphone For TV Usage
If you are having a bigger gathering or you just prefer to find another way to use your karaoke microphone, take notes. Load karaoke songs on your TV, connect it to a sound system and sing the lyrics using Sharper Image Bluetooth microphone.
Brief Summary:
Classic black design
USB and auxiliary cables provided
Bluetooth compatible
Integrated speaker with independent volume control
Best Rose Gold Bluetooth Microphone
Tosing 008 Wireless Bluetooth Karaoke Microphone
Different Colors And Shapes
Even though I put Tosing Bluetooth microphone under the best rose gold microphone category, there are other colors to choose from but rose-gold is the best looking one in my opinion. Other colors available are black, dark grey, light grey, and silver. You can also choose from microphones with a square-like speaker or a round one.
Double Speaker For Better Quality
Most of the karaoke microphones have one single speaker built-in, but not Tosing Bluetooth microphone. It has two 5W stereo drivers to ensure the best immersive and wide dispersing sound.
Eliminating Or Reducing Main Vocals
Some music and karaoke apps come with a feature to remove the original voice from tracks, but not all of them have that for every track. In those cases Tosing Bluetooth karaoke mic allows you to easily eliminate main vocals just by using one simple microphone function. This way you can replace them with your own.
Latest Bluetooth Technology
By using the latest Bluetooth 4.2 technology, Tosing wireless karaoke microphone ensures the fastest and easiest connection. Also, there is an up to 33 feet of music streaming and operational range.
Product Warranty
Not only does this product come with Amazon's own 90-day limited support but also Tosing's. The brand believes in good customer feedback so you have 180-days to test out your microphone and if you don't like it or finds a problem, return it and get your refund.
Brief Summary:
Upgraded double speakers
Latest Bluetooth technology
Integrated treble, bass and echo options
Eliminates the original vocals
Best Karaoke Wireless Microphone System
Archer VHF Bluetooth Wireless Microphone System
Package Includes
Archer VHF wireless microphone system includes UHF receiver, two handheld wireless microphones, one 3.5 mm cable, one audio cable, one 3.5mm to RCA cable as well as a charger. You will also be provided a user manual so don't worry if you need help setting it up since it is explained in it.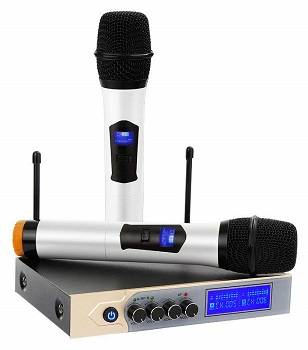 Connecting Archer UHF Wireless Microphone System
Here is a simple explication of how will you connect the system. The first step is to plug the receiver into a power outlet. Then you need to pair your phone and receiver using Bluetooth. Lastly, connect the receiver to an amplifier or other sound system using the audio cable, grab the microphones and you can start.
Smart TV Notices
If you are using a TV as a music source, make sure that it is Bluetooth compatible. If not, it is enough that your TV has an audio output port because then you can use the provided 3.5mm to RCA cable to connect the Archeer receiver and TV.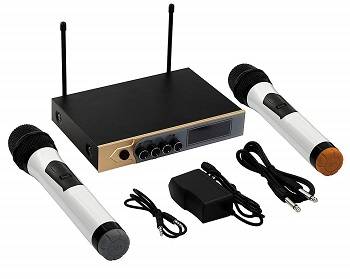 Dual Antennas For Best Signal
Archeer VHF wireless microphone system works at a high 200-599 MHz frequency. It has two antennas that ensure maximum wireless signal strength and provide a wide wireless range up to 98 feet.
Device Compatibility
To be able to connect the receiver to external devices, they need to be either equipped with Bluetooth technology or have necessary inputs for provided cables. Generally speaking, the devices can be anywhere from a TV, laptop, computer audio system, DVD, stereo speaker to a basic power amplifier.
Brief Summary:
Two wireless microphones provided
Perfect for conferences
100 feet wireless range
Multi-compatible
Best Bluetooth Karaoke Microphone With Phone Holder
Tzumi Pop Solo Glow Wireless Led Bluetooth Karaoke Microphone
Pink Bluetooth Microphone With Lights
Tzumi pop solo Bluetooth karaoke microphone comes in black and rose gold color. As far as design goes, it is a classic karaoke microphone with built-in speakers. It has small control buttons that don't disturb your hand grip and brand's logo on the speaker. Both side speakers have LED lights, hence the name GLOW.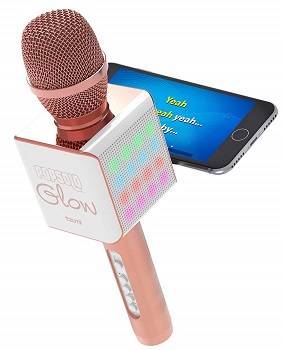 Lyrics In Front Of You
Probably the most special feature about this Tzumi wireless microphone is its retractable phone holder that holds most Smartphone devices (the screen has to be less than 6 inches). This way you have the lyrics right in front of your face and you don't have to connect to TV or laptop to be able to read them.
Record Performances
Besides being able to enhance your voice on karaoke parties, you can also use the Tzumi Bluetooth microphone to record your good or bad performance moments. Using a karaoke app you can edit them and then listen to them back through the speaker.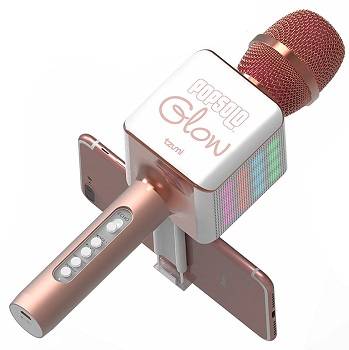 Bluetooth Connection And App Compatibility
Of course, this is another model that connects primarily via Bluetooth technology. It also works with most karaoke apps and apps like Spotify, Deezer, iTunes, and others. You can even play songs through YouTube where you will find plenty of karaoke songs with lyrics.
Portable Wireless Karaoke Microphone
Tzumi Bluetooth handheld microphone is designed with lightweight and durable materials. Its dimensions work well with all hand sizes, younger or older. It is a real grab-and-go item and fits (almost) any women's purse.
Brief Summary:
LED lights around speakers
Built with lightweight materials
Up to 5 hours of singing time with lights
Smartphone holder for closer lyrics
Conclusion: Best Wireless Karaoke Microphone Is?
My choice for the best high-quality Bluetooth microphone is Tosing 008 wireless Bluetooth karaoke microphone. If you look more into it you will find it uses updated latest technology be it with sound or Bluetooth connection. Another good wireless microphone for karaoke I will recommend is Bonaok Bluetooth microphone. It is a classic karaoke microphone with all necessary features and is at an affordable price point.
More advice about karaoke microphones and machines can be found in my article called the best karaoke machines. For those who want to continue more direct research on karaoke microphones, there is a similar post I wrote simply named karaoke microphone speaker. The best models that can be found in this article on best bluetooth karaoke microphone.