Best 5 Karaoke Microphones For Cell Phone In 2020 Reviews
Do you enjoy karaoke and want to be able to use your mobile phone to do them at any time?
If so, keep on reading my post on the best karaoke microphone for phone models.
In this review, I will show you some of the mentioned models currently available on the market. You will be able to compare each of their technical specifications as well as some main characteristics and features. I will also link you to websites where you can purchase them from or read more about these models.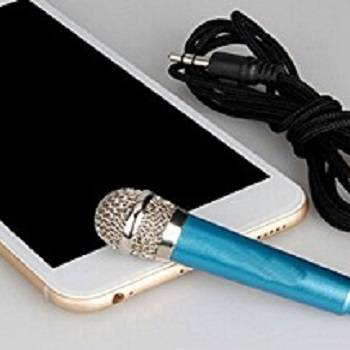 Cell Phone Karaoke Microphone 101
What Is A Karaoke Microphone?
Karaoke microphone is simply a microphone that enables any amateur to feel like a pro singer. Unlike a normal microphone, the karaoke one should be able to dismiss outside noises and when connected to the right karaoke app, completely cancel the original vocals.
Karaoke Features
Most karaoke microphones for the phone have some of the main karaoke features. With some, you will be able to modify the tone of your voice, the echo or balance. Some updated versions will even have LED lights feature which is certainly a plus.
Android And iPhone Karaoke Microphone
This article will handle only karaoke microphones that are compatible with cell phones. This is the case for karaoke microphones that are Bluetooth compatible and can be connected to Smartphones via that technology. Sometimes they don't have to be Bluetooth technology equipped but have to have at least adequate audio and aux cables for a wired connection.
Prices For Any Budget
Mobile phone karaoke microphones can be found under multiple price brackets. However, you don't need to spend a fortune on them since there are a lot of models that have great features and don't cost a lot. Still, with some, you get what you pay for so make sure to thoroughly read the technical specifications and customers' reviews.
Where Can You Find Smartphone Karaoke Microphones?
Besides physical retail stores, a wide choice of karaoke microphones can be found also online. Amazon is the prime example of a good online retailer with a wide offer as well as good deals and discounts. You can also check out what other people thought of their purchases to help you decide.
Best 5 Karaoke Microphones For Cell Phone
Best Mini Karaoke Condenser Microphone For Phone
Uniwit Mini Karaoke Microphone For iPhone And Android
What's A Mini Karaoke Condenser Microphone?
This first product is one of the smallest mobile phone microphones currently on the market. It is a mini handheld condenser microphone for voice recording as well as Internet chatting. With the purchase, you will also get a small microphone stand you can prop on your computer or elsewhere.
Price Point
Uniwit mini karaoke condenser microphone for the phone is by far one of the cheapest similar products you can currently purchase. It costs fewer than ten dollars and is great for anyone that doesn't want to spend much on a mini karaoke microphone.
Size And Design
Mini karaoke condenser microphone weighs under 2 ounces and measures only 5.9 x 3.7 x 1.1 inches. The wire is around 60 inches long. When buying the mini microphone you can choose between blue, pink, silver and rose color.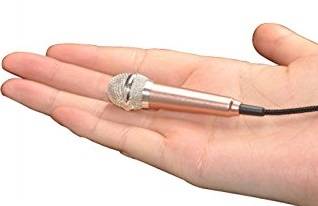 How Does It Work?
The mini karaoke microphone for the phone comes with a two-way adaptor that you plug into your audio source, in this case, your phone. In one input you plug in the mini microphone and in the other one you can hook up either your headphones or speakers to play music.
Main Characteristics:
Smallest size microphone
Mini microphone stand included
Affordable
Best Karaoke Microphone For iPhone
M8 Microphone Karaoke Device
Design And Color
M8 has a classic karaoke microphone design. It consists of a microphone head and a handle with control buttons. The middle part has dual speakers as well as the M8 logo. You can also choose between gold, black, pink or white color.

Technical Details
For those who are concerned with more technical details about the M8 karaoke microphone here is some. It has a 30Hz frequency range. The sound will be enough loud thanks to the two speakers with 5W output power each. Also, the microphone head has a noise reduction chip making sure to cancel out any unnecessary background noise.
Rechargeable Battery
This Smartphone karaoke microphone runs on a 2600mAh rechargeable battery. In other words, this microphone is wireless and enables you to freely dance and move around while singing for multiple hours without having to worry about the wires.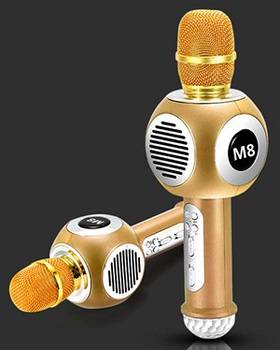 Cell Phone Karaoke
Once you get the microphone all you have to do is turn it on and connect it to your cell phone using Bluetooth technology from both devices. The last step is to find your favorite music streaming or karaoke App from iStore or Google Play and get it started.
Disco Lights
The bonus feature that this karaoke mic for mobile phone has is the disco ball just under the handle. It has multicolor lights that sync to your favorite tunes and illuminate the whole room.
Main Characteristics:
Good sound quality
Wireless microphone
Bluetooth connectivity
Disco flashing lights
Best Bluetooth Karaoke Microphone For Phone
BONAOK Wireless Bluetooth Karaoke Microphone 4 In 1
Package Includes
Once you ordered BONAOK karaoke microphone it will come in a colorful hard box. Inside you will find also a black portable case that you can use anytime you want to take your microphone with you. You will get an audio cable as well as a micro USB cable for connection and charging.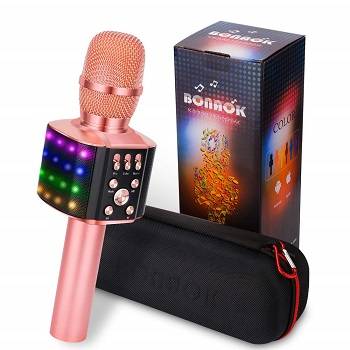 All In One Product
This product is more than you expect it to be. Besides being a mobile phone karaoke microphone, it is also a Bluetooth speaker and a song recorder. You can use all of these options at once or separately enjoy each function.
Mobile Phone Karaoke
BONAOK wireless microphone is Bluetooth compatible so you can easily connect to your mobile phone and enjoy karaoke. You can either download special karaoke apps or simply open YouTube and find your favorite songs. In case you struggle to connect via Bluetooth, I already mentioned you will be provided with an auxiliary cable.
High Performance
If you decide to purchase this microphone you will get high-quality performance. It has a 360 stereo effect speakers as well as a 3 layer net on the microphone head to provide the ultimate noise reduction and cancellation.
Multiple Lights
A microphone that has a light-up feature is always a good thing. This one not only does it have multi-color flashing LED lights placed around the speaker but also there is another bonus. With the purchase, you will get a USB disco ball light that you can plugin on the bottom of the microphone for the real disco karaoke experience.
Main Characteristics:
Portable carry box
Two-way phone connection
Disco ball and LED lights
Microphone, speaker and recorder
Best Professional Karaoke Microphone For Phone
IK Multimedia iRig Voice Karaoke Microphone For Smartphones
Wired Classic Design
iRig mobile phone karaoke microphone has a classic wired microphone design. It is clean and sleek and isn't filled with many control buttons except the power one. It has these dimensions: 4 x 9.5 x 2.5 inches and comes in a few different colors if you don't want to choose the classic silver one.

Smartphone Connection
This Smartphone karaoke microphone connects to your device via the headphone jack. If you want to hear yourself sing or talk, you will need to connect additional external speakers or headphones to the other jack that comes on the microphone connector.
Smartphone Compatible Apps
The manufacturer recommends using a free EZ Voice app that is iPhone and Android compatible. This way you open any karaoke song from your phone and record using this app or any other karaoke app available for download. You can also use this app to remove vocals from your favorite songs or add vocal effects.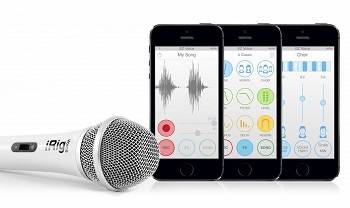 Multi-Occasional Microphone
This particular karaoke microphone is good for both professionals and amateurs. It can work well for any indoor parties or even outdoor venues, speeches, interviews, song recordings, and many other occasions.
Main Characteristics:
Wide color selection
Clean design
Compatible with most karaoke apps
Best Kids Mobile Phone Karaoke Microphone
Tencoz Wireless Karaoke Microphone
For Any Age
This particular karaoke phone microphone is probably the one that can be perfect for any age. This is thanks to its design and karaoke features as well. So make sure you consider this one when the next birthday comes up as it would work as a great gift.

Portable Design
As I stated previously, it has a design perfect for both younger and older people. Consider it weighs under a pound and measures only 14 x 4 x 4 inches kids will love it.
Multifunctional
Tencoz wireless karaoke mic for mobile phones is very versatile. In this case it means that it can work as a karaoke microphone, a Bluetooth speaker or a recorder. This way you have all of the necessary features in one product.
Wireless Bluetooth Connection
This item is another model of a wireless Bluetooth speaker compatible with most Smartphones, tablets and other audio devices. Also once the Bluetooth is connected, you can freely record any performance you desire.
Karaoke Atmosphere
One of the features that most kids look forward to is the LED lights. This microphone has them going around the bottom speaker part. This way the whole room will shine while performing.
Main Characteristics:
Kid-friendly
Lightweight and small
Multi-functional microphone
Wireless or wired connection
Conclusion: How To Choose The Best Karaoke Microphone For Phone?
To conclude this article, I will have to narrow my choice to two best karaoke microphone for phone models. First place goes to BONAOK wireless 4 in 1 karaoke microphone for having one of the best quality sounds and the number of karaoke features. My second favorite will have to be Tencoz Wireless Karaoke Microphone since it is the one that is most suitable for any age and occasion and also has multiple different karaoke features and functions.
Now that you finished reading this post, I can guide you to some of my other articles I wrote about similar products. To start off you can go with the best-rated karaoke machine where you will find different types of karaoke machines. If you want to learn more specifically about karaoke microphones read this post very generally called karaoke microphone or the one about the best bluetooth karaoke microphone where you will find only the best models.