Best 5 Kids Wireless Bluetooth Karaoke Microphone Speakers
Are you looking for an innovative gift for kids? Do you know most kids enjoy music and like singing karaoke?
If you answered yes, maybe you are looking for a kid's karaoke microphone.
You are in the right place if you want to learn more about what to pay attention to when buying a children's microphone and speaker. Besides that, I will suggest you some of the best karaoke microphones for kids currently available on the market and link you to where you can purchase them. Continue reading if you want to find out more about their features and main characteristics.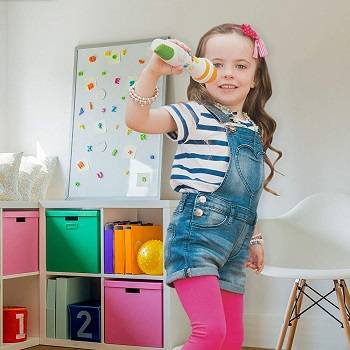 What To Look For In Kids Karaoke Microphones?
Kids Wireless Microphone
Kids karaoke microphones are most of the time wireless. When they are wireless they are battery-operated and the recharging isn't a problem since they come with a corresponding charging cable. This type of microphone can be more practical than the wired one, but not necessarily better quality.
Brain Workout For The Kids
It has been proven that practicing music and singing can work wonders for kids. It helps work the memory, phonemic awareness, develop the auditory system but also advances reading skills when lyrics are included. Also, it can help kids gaining confidence from a young age and socialize with other kids when having a duet or group singing.
Childrens Microphone Stand
If they are not wireless, most of the time karaoke mics for kids are microphone stands. This makes the young ones feel like superstars. Some of the benefits are that these are extendable so they adjust to kids' height and easy to store after use.
Safe To Use
Since we are talking about the best karaoke microphones for kids, one of the keys is safety. Besides being easy to use, they should be safe to use, meaning that they are built of safe and sturdy materials and sometimes even have a rubber cover.
Works As A Great Gift; Where To Purchase It?
By now you probably realized toy karaoke microphone can be a perfect gift for your kids, nephews, friends' kids or other. By the end of each model review, I will leave a link for Amazon purchase since there you may stumble upon great deals, read customers' reviews, consult user manuals and other good things.
Best 5 Kids Microphones Reviews
Best Kids Microphone With Stand
Vtech Kidi Super Star Karaoke System With Mic Stand
Stand Up Microphone Toy
Vtech Kidi superstar microphone consists of one wired microphone and a microphone stand with a control panel and a phone holder. The stand is adjustable and can be extended up to 4.5". Also, you don't have to use the stand; you can simply plug in the microphone if the kids prefer to hold it in their hands.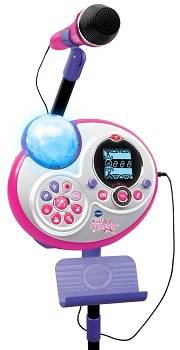 Built-In Songs And Effects
Kids will surely enjoy this feature. Vtech Kidi star microphone has 8 built-in songs they can enjoy directly from the karaoke machine. Also, some sound effects can bring more fun to their karaoke party with effects like audience applause, cheering, laughter and even voice-changing effects.
Disco Ball Lights
A disco ball is one of the main parts of this karaoke microphone stand system. You can choose between seven disco light effects and also control the brightness so kids can create their karaoke atmosphere.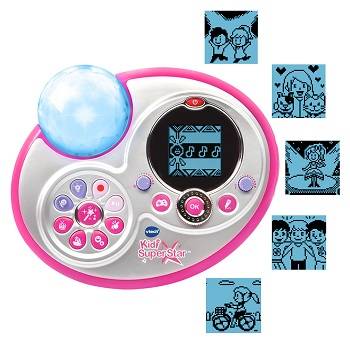 LCD Screen And Built-In Games
The control panel features also an LCD screen. This one isn't made for lyrics but for built-in games which is certainly a rare karaoke machine feature. Games like a funky monkey, music pop, balloon tunes, and others can keep the kids occupied for hours and those waiting for their karaoke turn more patient.
Music Magic Mode
Music magic mode is a special feature Vtech superstar mic uses to remove or reduce main vocals from songs. This mode can be applied for the 8 built-in songs but also most MP3 songs. Once you selected this option, I recommend recording kids' performances so they can listen to them back at any time.
Main Characteristics:
A microphone stand that extends
Built-in games and songs
Recording option
Removes vocals from MP3 songs
Best Toy Microphone
Frozen Karaoke Machine Microphone
Affordable Kids Karaoke Microphone
You will rarely come across a karaoke microphone this affordable. Microphone Frozen karaoke can be purchased for less than 10 pounds on Amazon. This is perfect when looking for a last-minute gift.

Design And Dimensions
I previously said you may not find a cheaper kids' wireless microphone, but you may also not find one more lightweight than Frozen karaoke microphone. It weighs only around 5 ounces. It has all of the Frozen characters on the front as well as an ice-berg shaped microphone head.
Built-In Songs
To make kids karaoke even simpler (especially for young ones) the fact that this microphone has built-in songs you can shuffle, is a big pro. Especially, if they like Frozen, they will feel like they are in the movie.

Connect To Smartphone
If you decide that the kids need more choice of songs, you can also connect the microphone to your Smartphone or other devices with an audio jack. Keep in mind the auxiliary cable isn't provided with the purchase.
Main Characteristics:
Frozen characters design
Lightweight and small
Built-in speaker
Best Wireless Kids Microphone
Kids Singing Machine Microphone
Kids Bluetooth Microphone And Speaker
Next children's microphone karaoke is also a 2-in-1 machine. It is a portable Bluetooth speaker and a karaoke microphone all in one. There are compatible karaoke machines you can purchase separately if you want to plug this microphone into them as well.

Different Design
Singing Machine kid's microphone has an almost cartoon-like design. It is shaped like a microphone that has human features so it will be amusing to the kids. It is also easy to hold and very user and kid-friendly.
Battery-Operated
Once the rechargeable battery dies, you will simply plug in this kid's wireless microphone into the provided charger and leave for a few hours. Afterward, kids will be able to enjoy up to 4 hours of singing and music streaming.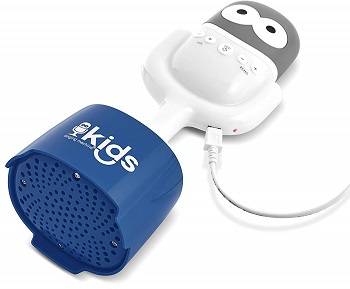 Glow Effects
Unlike most karaoke machines or microphones that feature LED lights, this microphone's whole structure lights up once you decide to activate this feature.
Compatible Apps
The device is Bluetooth compatible as I stated earlier. Once you connect it to your phone you need to open streaming or karaoke apps. Most of them can be found on iStore or Google Play. The Singing Machine has its app that you can also check out.
Main Characteristics:
Bluetooth compatible
Glowing microphone
Rechargeable battery
Echo effects
Best Toy Microphone For Toddlers
Kidzlane Karaoke Microphone
Safe-To-Use Toddler Karaoke Microphone
When looking for a toddler karaoke microphone make sure it is made out of toxin-free, good materials. That is the case with Kidzlane microphone that is made to last and be safe for all ages.

Compatible With Multiple Devices
Since it is Bluetooth compatible like most microphones nowadays, it works with most audio devices. Some of them include Smartphones, tablets, laptops, PCs, MP3 players, Bluetooth speakers, and other similar devices.
10 Nursery Songs And Lyrics Book
Another thing that makes this microphone good for toddlers is the preinstalled nursery rhymes. There are ten of them and some of them are known like The Wheels on the Bus or Itsy Bitsy Spider. For all of them, you or the kids don't know the lyrics too, there is also an illustrated songbook with lyrics that comes with the purchase.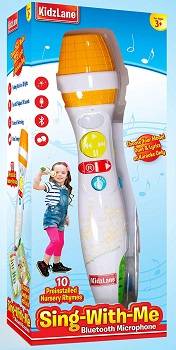 Voice Changer
There is a voice changing feature kids can use and normally enjoy. It is placed under the same button as the record option so you can put on the voice changer and then record kids' performances. Add applause effect at the end to motivate them.
Warranty
In case you don't like the microphone once you receive it, don't worry. You have a 90-day limited warranty so you can return it and get your money back or just try to solve the problem with friendly customer support.
Main Characteristics:
Duet mode
Appropriate for kids and toddlers
Illustrated songbook for pre-installed songs
Applause crowd effect
Best Kids Bluetooth Microphone
KOMWOX Karaoke Microphone
Amazon Best Seller
Not sure if it is its sleek updated physical design, microphone quality or both but this microphone is one of the best selling children's microphones and speakers. It also has a great price-quality ratio so that might be the reason as well.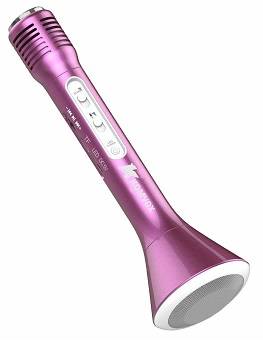 Toddlers, Kids Or Teenagers
KOMWOX microphone can be used with kids of any age, from toddlers to late teenagers. It doesn't have a typical kids' karaoke microphone cartoon-like design and is much simpler. So consider this microphone if you are looking for a great family gift.
High-Quality Microphone
The microphone head has a wide capture range so you can sing even from a distance and still have your voice caught. To ensure the best quality there is a three-layer net to reduce extra background noise.

Dual Playing Mode
Dual playing mode means there are two possibilities to introduce music to this device. The first one is by using Bluetooth technology and compatible devices. The other one is by introducing a micro SD card with playlists you created in advance.
Other Features
It is worth also mentioning that this microphone has a great 6-7 hour battery life. Also, there is a colorful LED light feature at the base of the speaker.
Main Characteristics:
Classic microphone design
Echo effect
Multicolor lights
Microphone and speaker
Conclusion: What Is The Best Karaoke Microphone For Kids?
You won't make a mistake if you decide on any of these models I reviewed today. However, if I had to narrow down my choice I would choose two models. KOMWOX karaoke microphone is one of my favorites since it is the most versatile one when speaking about age groups and has a good microphone and sound quality. Similarly, Kidzlane karaoke microphone works very well for both toddlers and kids and has a lot of great features one of them being the 10 nursery songs with a book.
If you want to see what else is available on the market I invite you to read this post on karaoke machines for sale. For those wanting to continue in this direction and need more advice on kids' karaoke microphones and machines, more models can be found here: kids karaoke machines or kids karaoke microphones.