Best 7 Singing Karaoke Machine & Microphone In 2020 Reviews
If you enjoy karaoke evenings and you started looking into getting a new karaoke machine and microphone system and you don't know which one to chose, keep on reading this best Singing Machine for karaoke.
I will try to help you chose the best products for you by their technical specifications and their main features. In this article, there will be mentioned several different models of Singing karaoke machine so you will be able to compare them to one another and decide which version is the best for your taste. Also by the end of the article, I will guide you to some other posts I wrote that mention different karaoke systems from other brands if you want to continue exploring.
About Singing Machine Company
Brand's History
The Singing Machine brand is founded in the USA over 30 years ago. From the starting years, the company was based on production and manufacturing karaoke machines for home use and thus was the first brand in the States to introduce karaoke systems for home entertainment.
Today's Offer
Singing Machine is today a leader karaoke products company and manufacturer. They specialize in home karaoke equipment, accessories, and music-oriented toys. The company also has a line of electronic drum sets.
Models For Every Budget
The prices of Singing Machine products vary depending on the size of the item and its features. However, the brand is renowned for its high-quality items at affordable price points, so a good price-quality ratio is expected.
Where Can You Purchase Singing Machine Products?
Singing Machine products can be purchased from their official website and through many wholesalers and most retail stores. If you prefer online shopping I would recommend looking also on Amazon where you can find the best offers, compare different items and read other customers' reviews.
Warranty And Instructions
Most of the Singing Machine products come with a 90-day limited warranty that you get with the purchase and can also be consulted online on the official website. On there you can also look up start guides and instructions for each product for an easy product set-up. For any additional information, you can contact the brand's customers' service through the website.
Singing Machine Classic Series
Best of Singing Machine karaoke machine models I will present to you just below are all a part of the Singing Machine classic series. These systems are said to be the easiest to use, right out of the box. All of them have classic karaoke features like multiple musics and audio streaming options, dual microphone jacks, rich music library, and many other options. I classed them by price and performance quality so you can hopefully find the best karaoke system for your needs.
Besides the karaoke systems that will be mentioned in the next part of the article I would like to underline a few other models that are also worth looking into like; Singing Machine SDL9040, Singing Machine Kids Pedestal, Singing Machine Karaoke Cube, Singing Machine STVG529BK, Singing Machine SML650W, Singing Machine SML343P, Singing Machine SML283P, Singing Machine SDL9035BK Carnaval Karaoke Machine, Singing Machine SMK1010 and many others.
Best 7 Singing Karaoke Machine & Microphone Reviews
The Singing Machine SML343 Karaoke System Pink
Look And Design
This Singing Machine SML343 is one of the smallest and most practical ones in the Singing Machine classic series mentioned above. It has a box-like design and has a top handle so it is extremely easy to carry around from place to place, plus the machine weighs only about 6 pounds.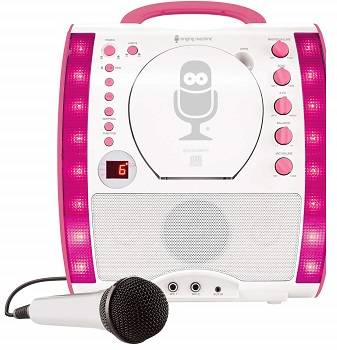 Disc Player
On the front side, just above the integrated speaker, there is a disc player. This way you can easily play any music from a CD or a CD+G. Connect the Singing Machine SML343 to your TV to be able to sing along to your favorite lyrics.
Voice And Karaoke Effects
This karaoke machine features all of the important voice control and modification options. Some of them are AVC, balance, echo, microphone and general volume control and others. There is even an LED disco light feature that makes any karaoke even more fun.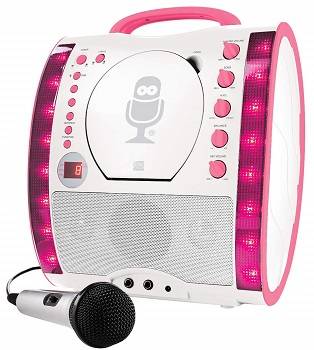 What Is Included?
Besides the karaoke machine itself, when purchasing this product you are also provided with one wired microphone (two microphone jacks), RCA cables, AC adapter and a demo disc with 5 free karaoke songs.
Main Characteristics:
Lightweight and portable
Easy to use and to set up
Main karaoke features
Other Versions Of Singing Machine SML343
Singing Machine SML343BTPK Karaoke With Bluetooth
This is another version of the Singing Machine SML343. It has all of the same features as the previous one except that this one is more modern and has a Bluetooth connectivity option which gives you more freedom when streaming audio. The design is mostly the same except that this one comes in white color, while the previous one was pink.
Singing Machine SML385BTW
Modern Design
This singing karaoke machine has a stereo speaker-like design. On the front panel, the bottom half is occupied with a speaker that is covered with interesting perforated glass design which gives this karaoke machine a modern look.
Physical Features
On each side of the Singing Machine SML385BTW karaoke machine, there is one microphone holder that gives it a really compact look and makes it easy to store. There is also a top-loading CD player that plays music from CDs and karaoke CD+G songs and lyrics.
Wireless Streaming
Besides CD player, you are able to stream music using Bluetooth from any phone device, tablet or even computers. Singing Machine created also an Android and Apple app where you can download thousands of karaoke songs from different genres.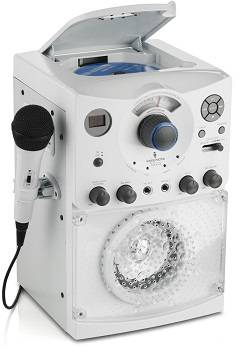 Flashing Lights
Another great feature about this specific Singing Machine karaoke machine is the disco light show. There are over 50 LED light options that change color and spice up any karaoke party.
Other Features
Like most karaoke machines, it has voice and microphone effects that can be adjusted on the front panel. One Singing Machine microphone is also provided with the purchase but if you desire to bring another one, there are also two microphone jacks.
Main Characteristics:
Interesting design
CD player
Wireless Bluetooth streaming option
Compatible with all karaoke and music apps
LED light show
Other Versions Of Singing Machine SML385BTW
Singing Machine SML385UW Bluetooth Karaoke System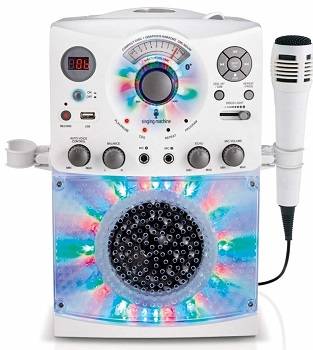 This is an updated version of the previous Singing karaoke machine mentioned. Singing Machine SML385UW has also a USB connectivity option which allows you another music streaming option and also an option to record your performances.
Singing Machine SML385BTBK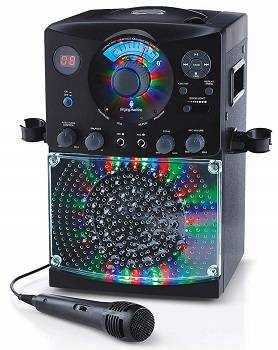 Another version also with USB reader but this time in sleek black-colored design is available on the link below.
Singing Machine ISM1030BT
Parts Of The Karaoke Machine
This Singing Machine Bluetooth pedestal karaoke system is composed of a few different parts; the main part which is the machine itself, two-tower speakers and two microphones.
Main Pedestal
The tall pedestal is the main part of the karaoke system. It has a control panel with basic voice and echoes control options. In the middle, there is a convenient CD player above which is placed a 7 inch LCD screen that allows you to sing along to the lyrics directly from the machine.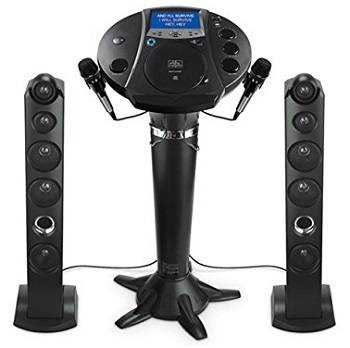 Bluetooth Compatible
Singing Machine ISM1030BT is also Bluetooth compatible. Once you connect your device there is also a convenient device cradle so you can read lyrics off even from your phone or tablet.
USB reader
This multi-format Singing Machine karaoke system supports also MP3 songs that you can play through any USB device. The USB reader is also on the front panel and gives you an option to even record your performances and look them back.
Singing Machine Duet Karaoke Microphones
Unlike most karaoke machines that come provided only with one microphone, with this one you get two so you can have singing duets or even duels. Both are placed on the sides of the main pedestal for easy access.
App Compatibility
Singing Machine ISM1030BT works with most karaoke and music streaming apps and platforms. There is also a possibility to download The Singing Machine mobile app to access and stream over 10 thousand different karaoke songs.
Main Characteristics:
CD and Bluetooth compatible
Includes two wired microphones
7 inch LCD monitor
Powerful speakers
Singing Machine Fiesta Voice Portable Karaoke System
Product Dimensions
Singing Machine Fiesta Voice is another portable karaoke system. It weighs about 20 pounds and its dimensions are 9.4 x 8.9 x 15.3 inches which makes it easy to carry around and also to store. Another bonus is that the machine has a built-in handle and wheels.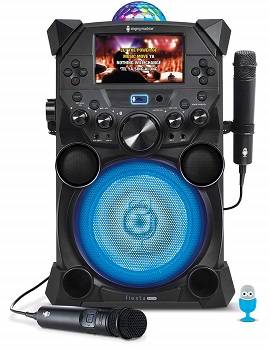 Strong Speakers
This karaoke system has integrated 8-inch speakers with two 2.5 inch tweeters that output up to 150 watts of power. This makes Singing Machine Fiesta a perfect karaoke machine for both smaller and bigger gatherings, inside or outside.
How To Play Music?
Singing Machine Fiesta Voice does have Bluetooth technology for digital audio streaming from your phone, tablet or computer. There is also a USB reader so you can play your premade playlists and record your performances.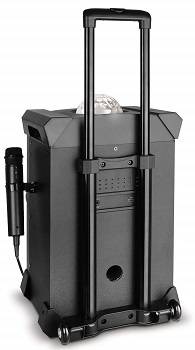 LCD Display And LED Lights
On this karaoke machine, there is a 7-inch color LCD display that shows any karaoke song lyrics you desire. Just above the screen on the top panel, there is a multi-colored dome that produces multiple different disco lights that illuminate any space.
Contents Of The Purchase
Besides Singing Machine Fiesta Voice portable karaoke system, if you decide to purchase this machine you will also get one wired microphone, another microphone with built-in remote control, 8GB flash drive and an AC adapter.
Main Characteristics:
Perfect for indoor and outdoor venues
Portable with handle and wheels
High-quality speakers
LED light show
Extra voice changing features
Conclusion: Why You Shouldn't Pass On Singing Machine Karaoke Machine Models?
Now that I presented a few different Singing Machine karaoke models, I would like to narrow my recommendations on two. The one that I would suggest to someone who is looking for the best quality karaoke system, in terms of sound, design, and portability, is the last one or Singing Machine Fiesta Voice karaoke machine. On the other hand, if you are looking for something more portable and affordable, Singing Machine SML343BTPK Karaoke With Bluetooth also has all of the necessary karaoke features.
If you want to learn more about other karaoke speakers from other brands, I would recommend reading my post about the best karaoke machines. If you are interested in higher quality karaoke machines, you can check out this post on the best professional karaoke system. In case you want to know more about amateur karaoke systems, read this article about the best karaoke machine for home use.